9 September 2022 will remain a dark day for J.A.C.K., its team, its residents and its Founders.
Just over a year ago, we woke up in horror. That night, unidentified people broke into the sanctuary and brutally kidnapped César, Hussein and Monga, leaving Banda and Bunia completely terrified.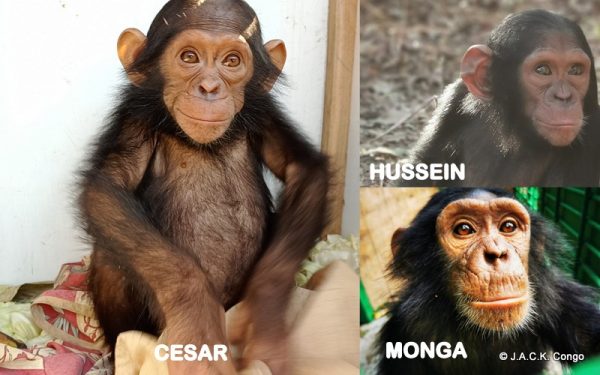 The three little chimpanzees had arrived a few months earlier after being rescued from the illegal trade of protected animals.
A few hours later, Franck and Roxan Chantereau received a video from the kidnappers showing the babies being held in appalling conditions and demanding a six-figure ransom, threatening to behead them one by one… Request rejected by the founders of J.A.C.K. rehabilitation center.
The Congolese authorities have been alerted to the situation, and an investigation has been launched to apprehend the criminals and find the chimpanzees in whatever condition they may be in. However, to date, the Founders do not know the progress of this investigation and fear that the worst has already happened to the babies.
Saturday 9 September 2023 marks one year since this atrocious incident, and the babies are still missing. Our concern for them will never weaken, because not a day goes by without our thoughts going out to them. We hope that they are alive and well and that one day they will return to us.
Continue to speak out and share their story so that the memory of these three little babies lives on and the investigations continue until justice is served.