Hi everyone!
.
Franck and I have been very busy recently as the Technical Advisor of JACK, Franck Chambon, who is also the animal keeper of the French zoo  that helped us after the sabotage, came to work with us for a while.
Because we needed help and advice, our friend and advisor, Franck , decided to take three weeks off from  the French zoo  where he works, paid his own ticket and flew to DRC.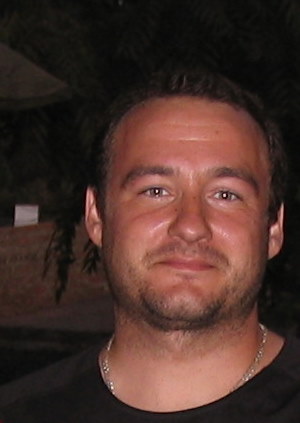 Franck Chambon
During his stay,  he devoted all his time to the improvements of JACK's facilities. I've told you already the orphans are now becoming stronger and taller and we absolutely must organize bigger and extra accomodation for them. Therefore, Franck drew the plans of the night facilities that we intend to build once we get the funds.
Thanks to Franck's visit, two important improvements already have been carried out:
(1) an extra outside enclosure has been finalized and this area full of trees will help the chimps for their future release in the wild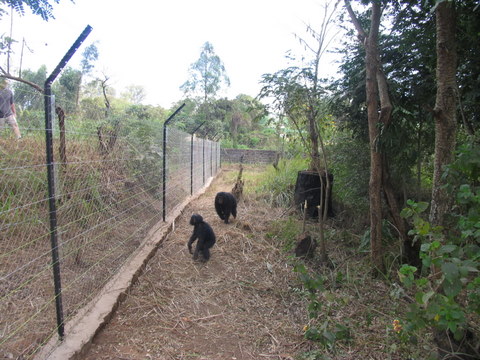 Chita and Wanza discovering the new enclosure
.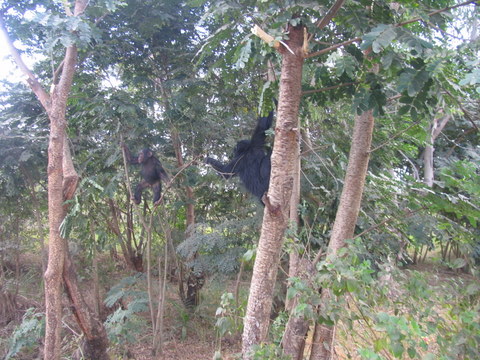 (2) Mwisho, the eldest chimp at JACK, has been given confidence. This chimp has been very aggressive to all of us since his arrival in December 2007. Seized in Kamina by Lubumbashi authorities in October 2007, the chimp couldn't be transferred from one city to another because  the seizure documents were said not to be legal…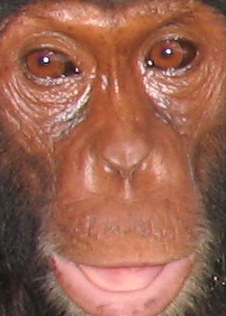 Mwisho, the eldest chimp at JACK
So, imagine, Mwisho who had been set in a small metallic cage, remained stuck in that same cage for about two long months with three big ropes around his neck.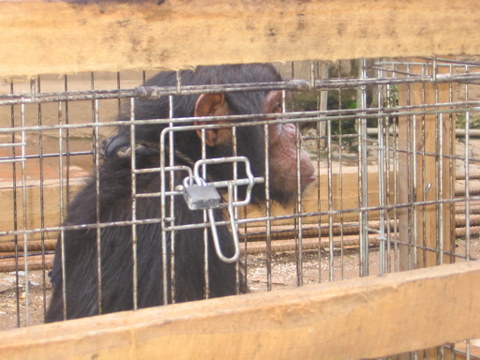 Stuck in a small enclosure for about two months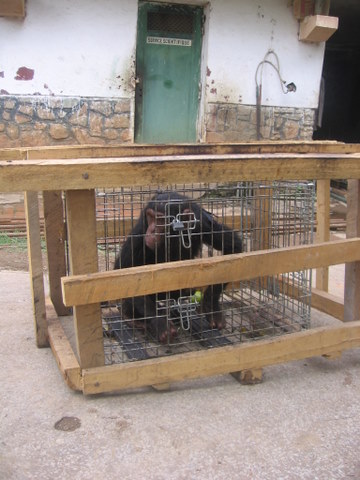 His owner had kept him with ropes and a wooden bar to control him as the chimp was known as very nervous and too active…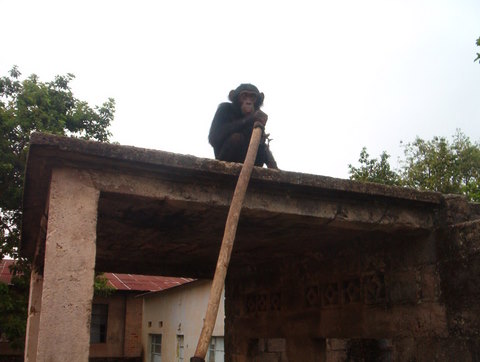 Mwisho at the place of his owner
.
Mwisho arrived at JACK with a severe psychological trauma and nearly bit the ones who came too close to him.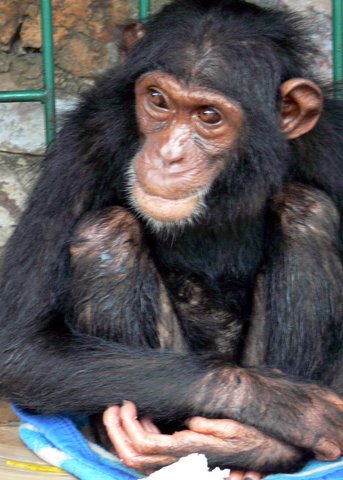 At the beginning, Mwisho stayed all hunched up in a corner refusing people to come close
Thanks to Franck Chambon's experience and knowledge in Great Apes, Mwisho has made a great step forward and now accepts to be touched and groomed.
.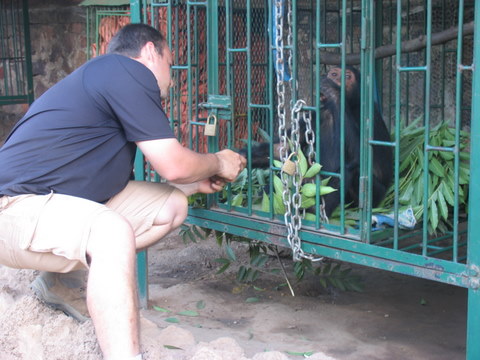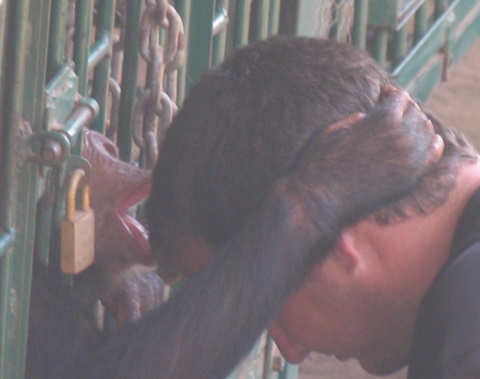 Coco, the latest newcomer, has been his neighbour for the last weeks, but you can still feel Mwisho remains on the defensive.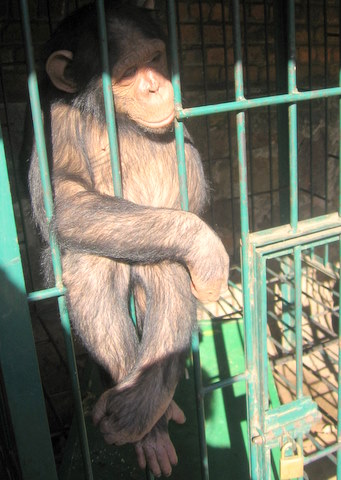 Coco
Mwisho is doing a lot better today, and still needs more of attention and care. Our friend Franck has done such wonderful job and we are really grateful to him to have come so far, to have spent time, patience and determination into the Refuge Centre.
THANK  YOU, Franck!
Dear Readers, here comes the last chapter of my weekly update: your donations! We couldn't believe our eyes when we received the Wildlife donation report this afternoon!! Really, we cried for joy because all the money you've sent will enable JACK  to buy the machine we need to build the facilities… Here are the donation details:(1) one time donations: Lucia C (100$), Dana J (50$), Ashley H (134$), Christine C (50$), Kevin C (10$), Pirjo L (50$), Susan A (200$), Oliver T (100$),Cathy R (150$), Wanda H (25$+25$), Sheryl B (25$), Anonymous (2000$) and (2) monthly donations : Anonymous (30$).
Again, JACK thanks all of You ! this is just a dream…..