We have just had a very hectic week! The corona virus is now spreading throughout Africa and our capital, Kinshasa, had its first positive covid case on March 10th
On Monday morning (March 23), our J.A.C.K. schedule  got totally  disrupted due to an announcement made by the local authorities: since 2 covid positive  passengers arrived from Kinshasa at our Lubumbashi airport, the Governor of our Province announced a total lockdown of 48h so as to find the 75 remaining passengers. Military roadblocks had been set all around the city and when trying to pass through to go to the sanctuary, we were stopped by soldiers and urged to drive back home.
Franck and I were extremely worried: how would the chimps be fed? get their medication? How would the team reach the sanctuary? We were ready to go to the sanctuary and just couldn't…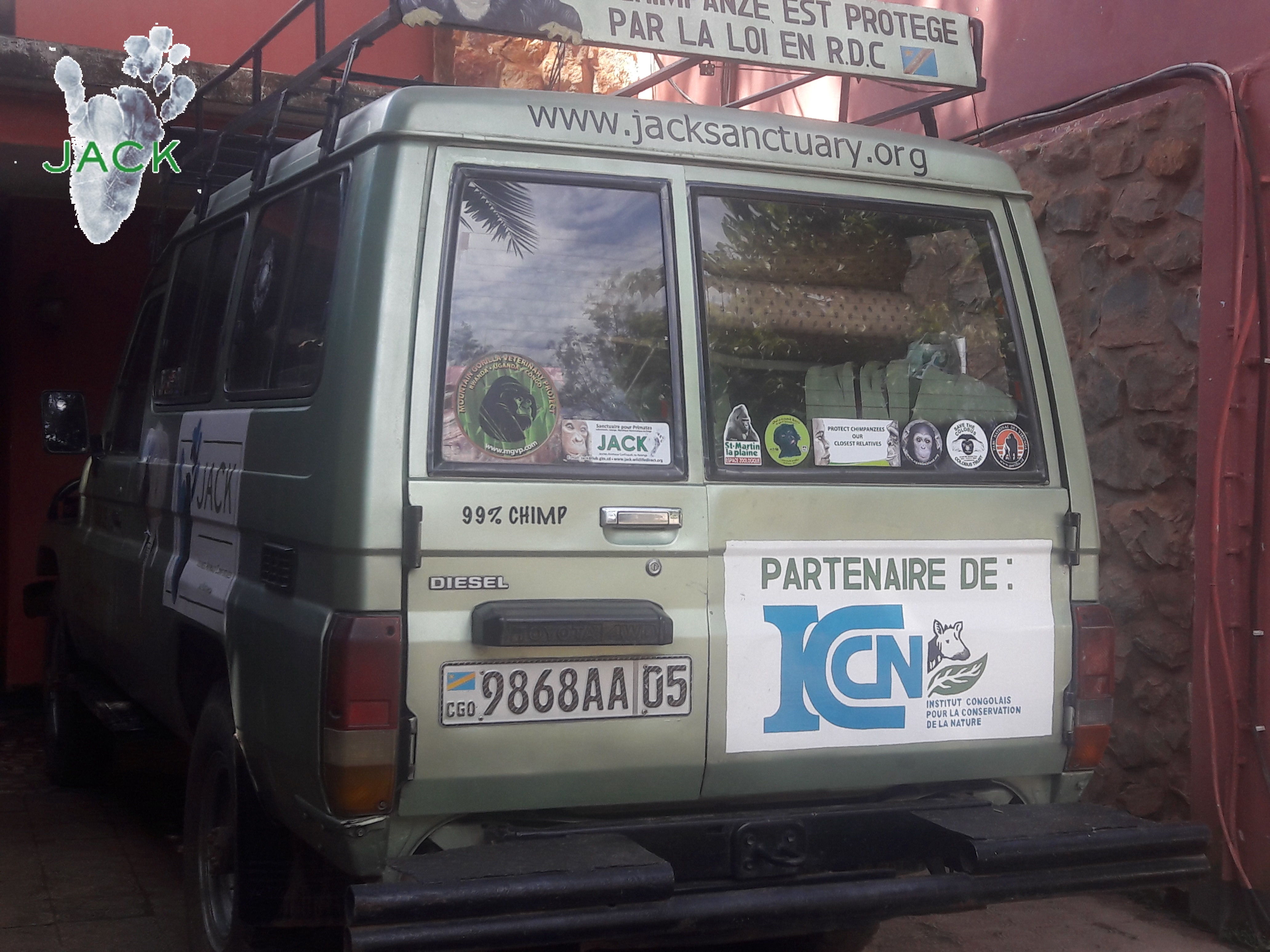 After many phone calls, Franck obtained an armed police escort from the Governor to drive through the roadblocks.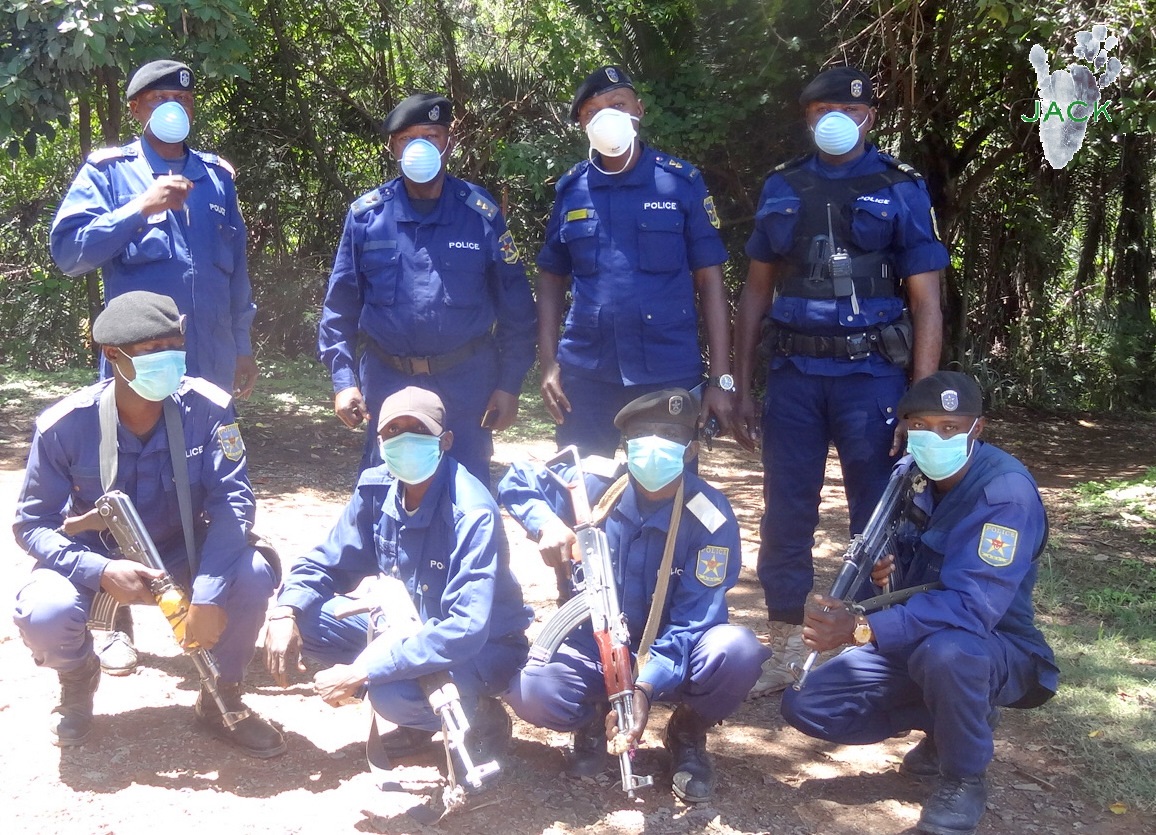 This was unenexpected luck – we managed to drop plenty of  goodies for both our team and our residents (thanks to some donors, we have been able to stock food and non-perishable goods at home)…
When we arrived at the sanctuary with our escort, Franck and I noticed our keepers had been able to skirt the roadblocks. They knew the chimps needed them more than ever in these particular times and some members of our team even climbed walls to get around the soldiers… Franck and I were happy to see the chimps were not alone and that we had responsible people in our team!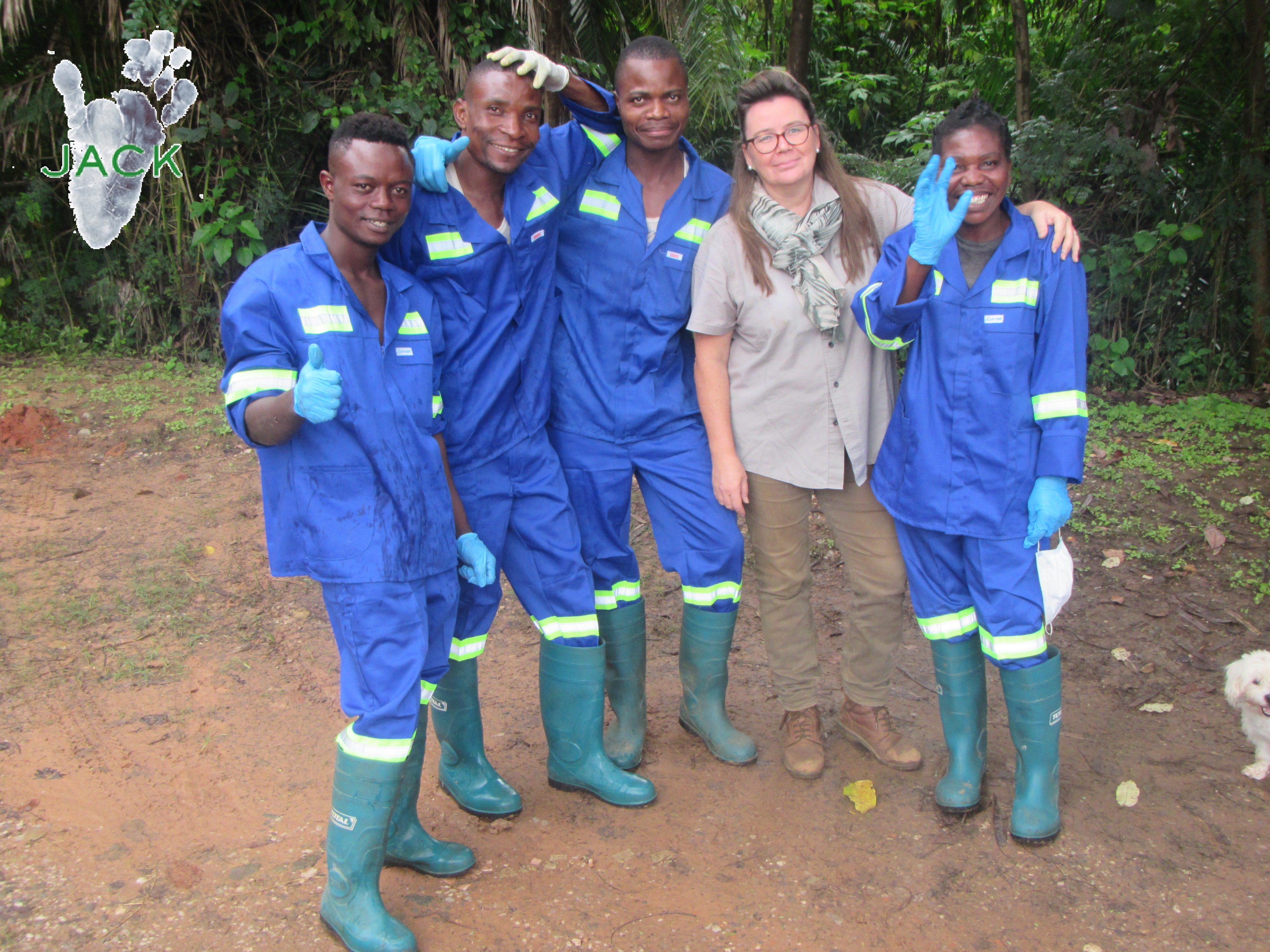 On Tuesday 24, the next day, we stayed at home knowing everyone had enough food.
However, we were shocked to learn shops had been opened and that people were in town … What about the lockdown?? Local authorities apparently had found 41 out of the 75 passengers (all negative except 1)… later on we heard that the 2 cases from Kinshasa were no longer positive… this situation started to be weird and we couldn't find any answers to our questions. Yet one thing got clear in our minds: at J.A.C.K. we can't rely on such yes/no situations and because the virus is causing so much damage all over the world, we have to keep our team and our residents safe from it through radical measures!
This is how, thanks to an emergency fund of the PAN AFRICAN SANCTUARY ALLIANCE (PASA), on Wednesday 25, we bought bicycles for our team. All our workers do wear masks when going or when coming from home. Now, thanks to their bikes, they won't use any public transport any more and meet less people which is a way to fight contamination.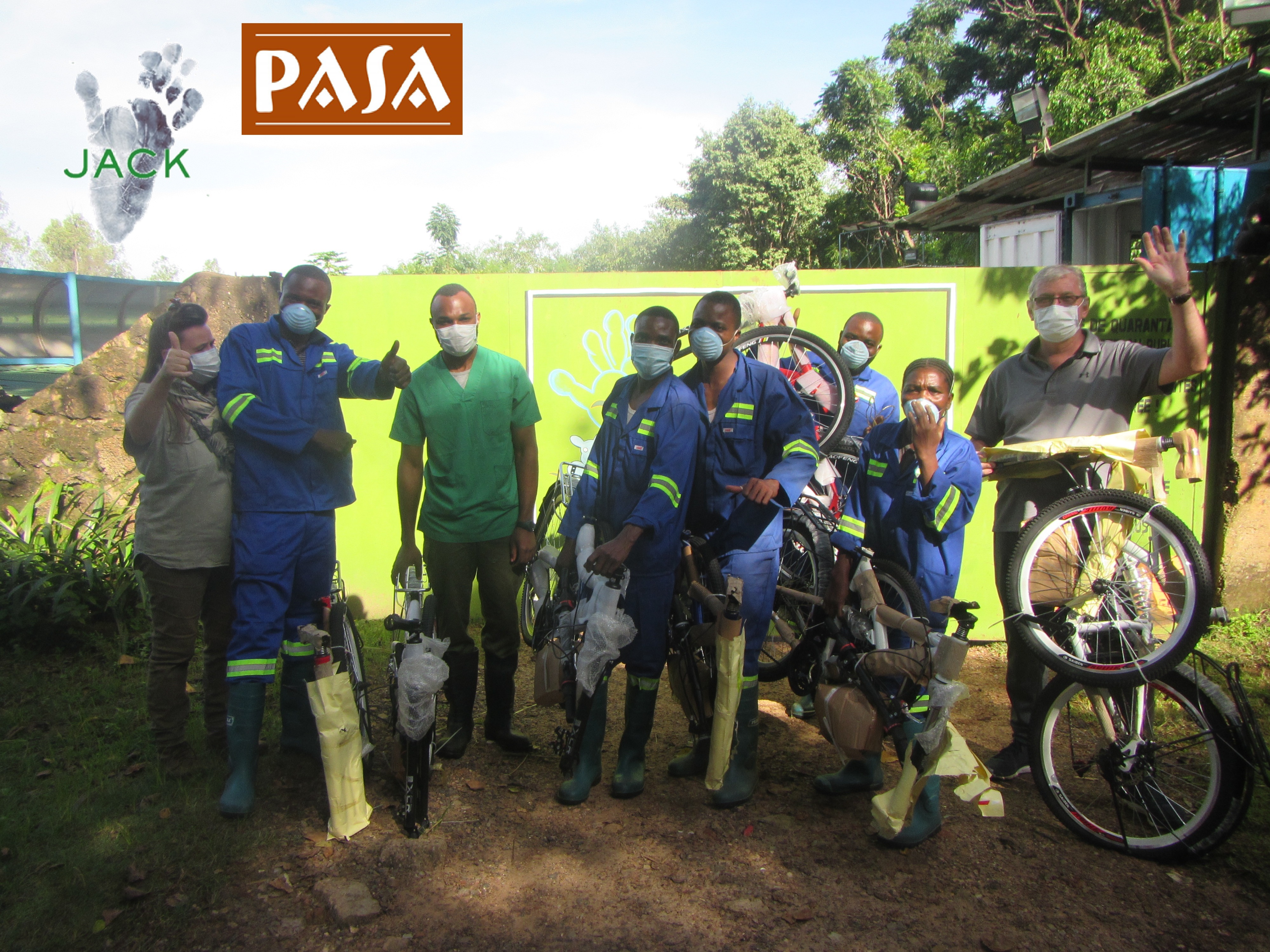 Also, since we don't now what is exactly going on in Lubumbashi (corona virus speaking), Franck, our team and I have thought of a total lockdown of the sanctuary. Chimpanzees get the same diseases as humans. Since this virus is new, we don't know if our residents can be contaminated or how they will react if infected. Chimpanzees usually have fragile lungs – flu can quickly turn into pneumonia!
Since the early beginning of J.A.C.K., our aim has been to protect these rescued creatures. This is the reason why the whole team has always been wearing masks, gloves and used footbaths to keep their boots clean with bleach.
Last January, because our town was still welcoming passengers  from Asia, I decided to improve these santitary measures: temperature of our workers was taken twice a day and I did the same with all the artisan workers who were on site for our different building projects (welder, painters, bricklayers, etc).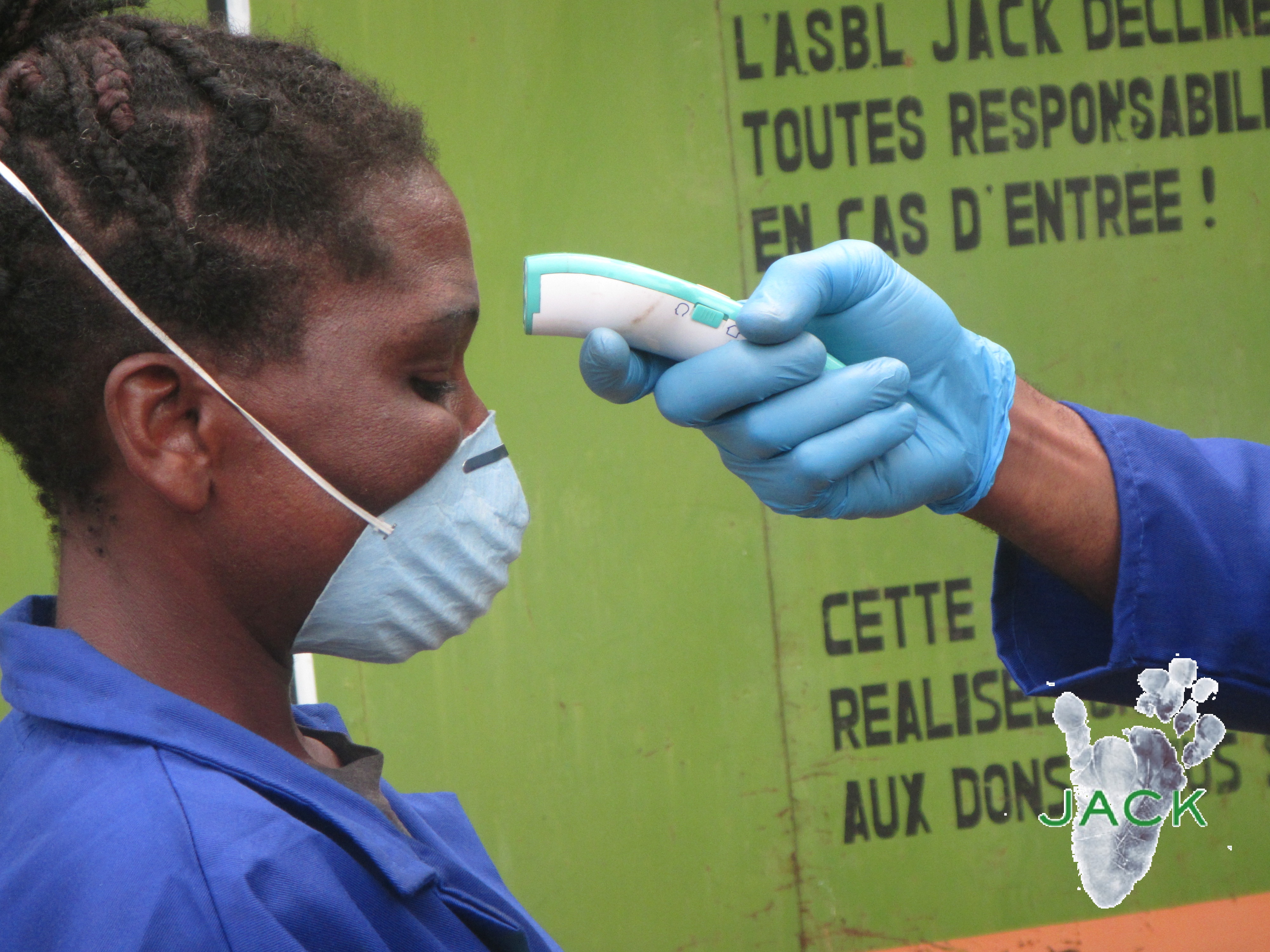 Today, Franck,  the team and I wish to go one step further: to lockdown totally our sanctuary! We have no other choice and, for the last few days, we have all been working on this project (buying matrasses, posquito nets, pots and pans, buckets, etc). This decision for sure costs us a lot of money and we have already spent private money in this since we are convinced this is the only way to keep J.A.C.K. safe from the virus!
Yesterday morning, on Saturday the 28th, when getting ready to drive to the sanctuary, we got stopped because of heavy fire: in addition to all the covid problems, to the curfew, to the growing famine (basic goods are getting unaffordable), we had rebels entering the city (close to our house) which caused fights and gunshots. People were killed. This wasn't the thing we really needed NOW! We are exhausted, under permanent pressure and going crazy – believe me!!!
Here is a link to a French article (I couldn't find an English one about this topic, but the mictures will make you understand what happened
https://afrique.lalibre.be/48416/rdc-affrontements-mortels-entre-armee-et-kata-katanga-a-lubumbashi-et-likasi/?fbclid=IwAR3WaOBpXMrJIvWRHB9MSisZL_VYUzwS0VJpQBlOddsCv1hpMJ8E6hq4xd8
Once all the gunshots were over, we drove to the sanctuary. Everything was quiet in town and  additional items were bought to start our lockdown at the soonest! We also had to be  ready to welcome the family of one of our workers: yes, Franck and I improved two buildings at our private house to accomodate 2 members of our team with their wife and children. Thus to keep them all safe and away from corona…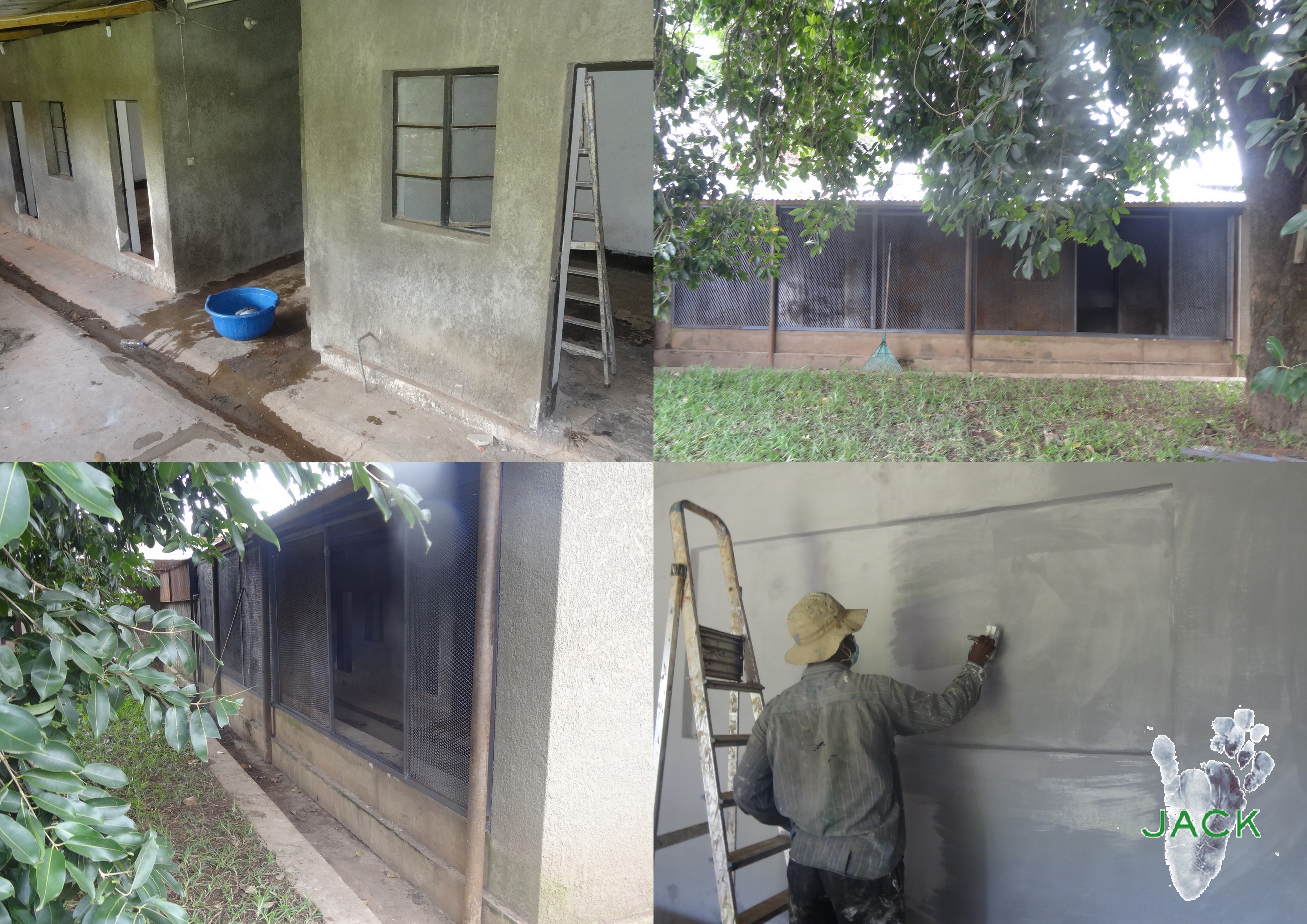 These are the latest updates on what is going here. I will do my best to keep you updated – I really must find enough time to sit behind my computer and, also,  my mind must be clear enough; sorry, I have to admit I am not Wonder Woman!
Before I end, I would like to thank again PASA as well as the few people who, despite their own corona virus worries, have sent us some donations. We all go through tough times and I understand what you are all going through. I have in addition to deal with our hairy friends who didn't ask to be with us and I have to remain concentrated despite the fact our 2 kids (the human ones) in Belgium have been in touch with people who didn't know they were covid positives… I really need your help; I can't do all of this on my own…
If you wish to help us, here are different links:
our paypal address is lesamisdejack2@gmail.com
on the 'How to help' page of our website ( http://www.jacksanctuary.org/how-to-help-2/) you can donate or even sponsor a chimp for a period of 6 months ($90) . I will be the one who will send you pictures and information on your sponsored friend.