In September, a truck smuggling monkeys from the Democratic Republic of Congo to South Africa was intercepted in Zimbabwe on a route that some investigators believe is commonly used to traffic wildlife before exporting them overseas. 
It's been two long months now that these primates are being looked after by different organisations and people in Zimbabwe. 
The Founders of J.A.C.K.congratulate the Wildlife Authorities of Zimbabwe (Zimbbwe Parks and Wildlife) for arresting the culprits and they also thank every single person involved who has brought appropriate care to these victims of the wildlife trade.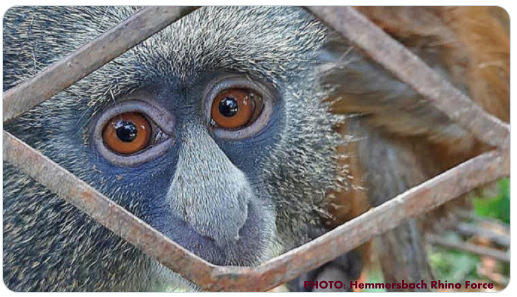 To the Founders of J.A.C.K., since these monkeys have originated from the DRC and are endemic to the DRC, their place is to be returned back to their natural origins!
Therefore, along with DRC Wildlife Authorities, J.A.C.K. has been working on their rescue with the aim the rehabilitate them in order to give them a chance to go back to their forests once they are grow older and stronger.
However, since J.A.C.K. is primarily a chimpanzee sanctuary, the Founders of the sanctuary have contacted their international donors and partners to build urgent facilities so as to accomodate these 25 monkeys at best. 
In addition to this, a fundraiser has been set up: funds are needed to provide these survivors with decent food and with appropriate vet care . Also, a new keeper must be hired and trained – a person that will take 100% care of them!
    Will you be part of this largest primate rescue?
Click on the picture below and see how you can help these 25 orphaned monkeys