Yes, the first chimpanzee Franck and I ever rescued was baby JAK and he arrived in our lives on the 6th of April 2006 – 12 years ago!
Today, 12 years later, although JAK was assassinated in this criminal arson of September 5th 2006, this first baby we rescued is still among us. His sad depart made our will to help these creatures stronger. We created our NGO and many other members of JAK species were rescued thanks to J.A.C.K.. Also, the illegal ape trade in our town has been stopped for about 4 years noW as no new chimpanzees can be seen on sale on the streets of Lubumbashi.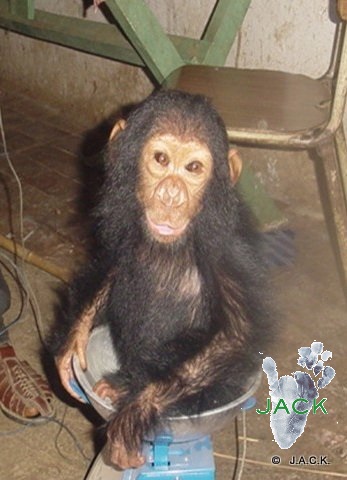 If we hadn't met JAK, our lives wouldn't be like it is today!
The team had a yummy Birthday cake and some soft drinks on this particular occasion and I felt o happy to see my team so happy and proud of what has been achieved so far! They all are part of the adventure too and Franck and I are grateful for our team's love and wish to take good care of our rescued friends.
https://www.facebook.com/LESAMISDEJACK.FR/videos/797250393797008/