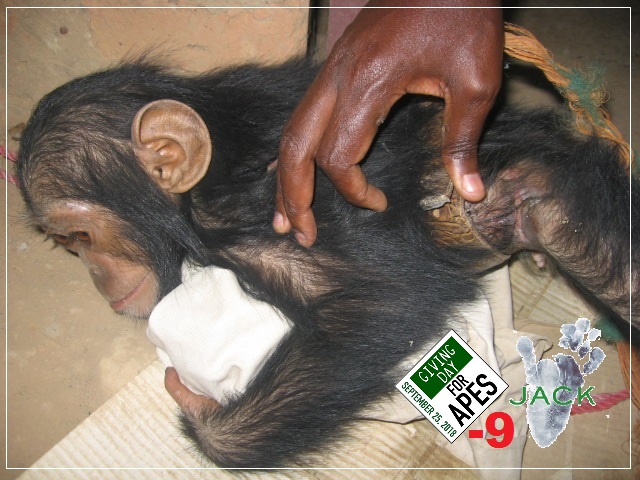 Yesterday we talked about  DOGUY, our one-eyed resident to whom we have dedicated this year's GIVING DAY FOR APES campaign. Every single donation will help our sanctuary cover the different costs of this important surgery .
From today on and till D-Day (Sept.25) we are going to tell you DOGUY's story and how he faced eye issues.
Keep in mind that this huge fundraising event will give DOGUY getting the chance of not becoming blind. Join our fundraiser here:   https://givingdayforapes.mightycause.com/organization/Jack-Congo
 *
D  Day -9 / DOGUY'S ARRIVAL AT  J.A.C.K.
DOGUY was rescued on May 11th, 2007.
DOGUY  had been seen on sale on the streets of Lubumbashi by a Congolese GO: Doctor Guy. This young man couldn't stand seeing the poor animal being mistreated & hurt and decided to buy it!
The baby ape had his hips covered with open and very infected wounds: his torturer had kept the chimp on a long rope and a leather belt which had cut the skin of the orphaned primate.
After a few weeks, the young chimpanzee was doing a lot better thanks to Doctor Guy!
The GP knew it was wrong to detain an endangered species at home and brought DOGUY  at the Ministry of the Environment to hand him over to J.A.C.K.
______________
(More about Doguy tomorrow!)