Our daily life has been turned upside down since September 9th. In the middle of the night, people not yet identified entered our sanctuary with the aim of stealing  young chimpanzees.
Monga (five-six year old female), Hussein (male, almost three years old) and Cesar (two and a half year old male) were taken to an unknown destination. Three babies who had just been saved and for whom the Founders were happy to be able to offer a second chance in life.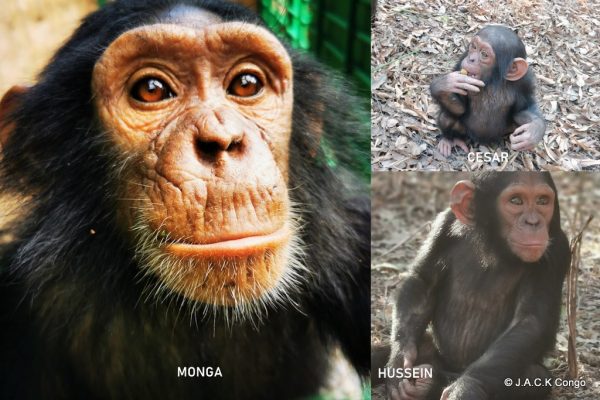 A few hours after this horrific kidnapping, the criminals sent a terrible video showing the traumatized chimpanzees while later demanding a colossal six-figure ransom to free them.
They also threaten to decapitate one of the babies and deliver its head to the sanctuary if their request is not met. These kidnappers did not hesitate to make death threats against the founders and their families if they try to involve the police.
This is a first time in the history of sanctuaries, that Great Apes has been targeted for ransom. By this act, these kidnappers have taken the traffic to another level because this could inspire malicious people to attack other sanctuaries in DR Congo or in elsewhere in the world.
A second video was sent  by the kidnappers, showing our babies in an unsanitary place but resigned to survive despite horrible detention conditions.
Since this last video, we haven't heard from the kidnappers or the babies. Which makes us fear the worst. Did they sell them? Are they dead? Cesar and Hussein, the two very small ones, can let themselves to die of grief and lack of attention, of affection. We are very worried and the three little ones are always in our prayers, in our thoughts.
Also, we are constantly on alert at J.A.C.K. and, ince the day the babies were stolen, J.A.C.K. Founders have urged to enhance the security at the complex. Nothing has been done so far. Founder Roxane, whose life was threatened as she was dealing with the kidnapppers at the early beginnng (husband Franck was abroad when the abduction take place), asked  for her own security to be nfoced, but her demand has never been heard…
Today, it has been a month the babies were stolen. As chimpanzees are the heritage of the Congolese state, it is the state that conducts the investigations. J.A.C.K. does not have the legal abilities to do so.
Unfortunately, the state isn't sharing any information with our founders. We do not know what is going on. However, one thing is clear: the babies haven't yet been found! We are alone and we feel abandoned when so many promises have been made to help us, to find them… It's really sad!
On our part, and despite the threats, we are committed to continuing to save and support these lives. 102 primates live to this day at J.A.C.K. and need more protection. Having no support also from this side from the state, we have launched an online fundraising to strengthen security. Every life matters; whether human or animal, our duty is to ensure the well-being of each individual present on the site and we have started safety work. All the door  locks have been changed, the same for some padlocks. We have added surveillance cameras. But there is still work to do because the complex is big, the number of animals to secure is high and we need help to buy more equipment. Hence the fundraising below online.
https://www.givingdayforapes.org/organization/Jack-Congo
HUSSEIN, little CESAR and MONGA ARE IN OUR HEARTS. KEEP THEM IN YOUR PRAYERS. LET'S CONTINUE TO SHARE THEIR STORY AND KEEP HOPE! THEY MUSN'T BE FORGOTTN