Hi everyone,
I just wanted to let you know that, while we were working and organising the PASA Vet Workshop, a new baby chimp arrived at the Refuge. His name is 'KIMO'.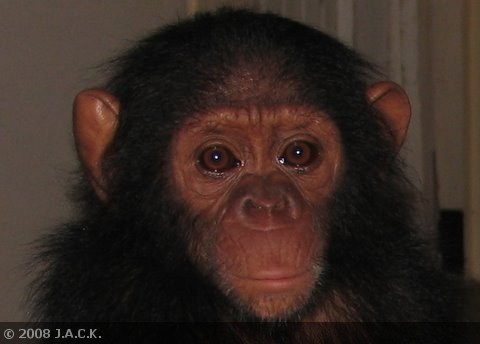 KIMO is a very young male (1  year and a few months) and is extremely small. He seems alright although since the early beginning of his stay, we noticed he had a slight problem in keeping his balance…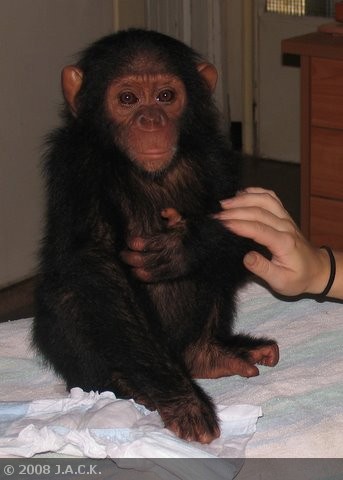 Thanks to the PASA vets who came at JACK a few days ago, it was diagnosed that KIMO had a neurological problem and that Vit B complex and a Calcium treatment might help. We really cross our fingers the deficiency will go away. It's very surprising to see the little chimp walking, playing  and to suddenly collapse!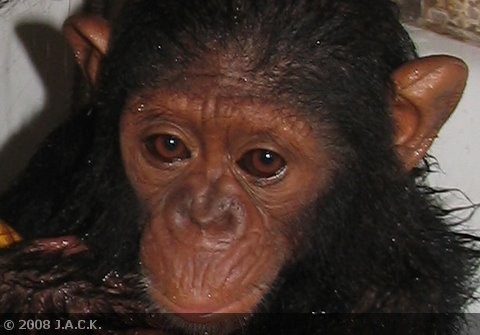 When he arrived at JACK, baby KIMO had been set in the quarantine area of the Refuge. But, rains and chilly weather made me changed this decision . Also, I couldn't stand seeing that very little one alone and lost behind the bars of its enclosure. Therefore, I changed my mind and since then, he's been spending his mornings at « school »  at the complex and he comes back home with us at night and in the afternoons – just the way Faustin did with Tongo…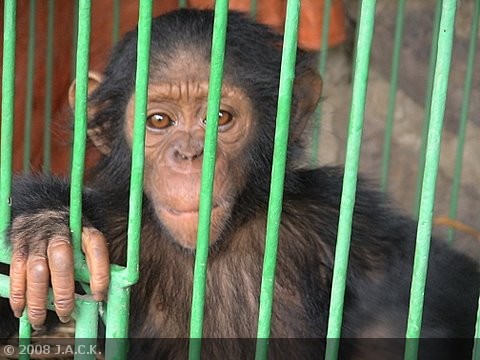 Of course, you can imagine the extra work a little baby one like this can give and that's why I absolutely need to introduce JOSEFINE.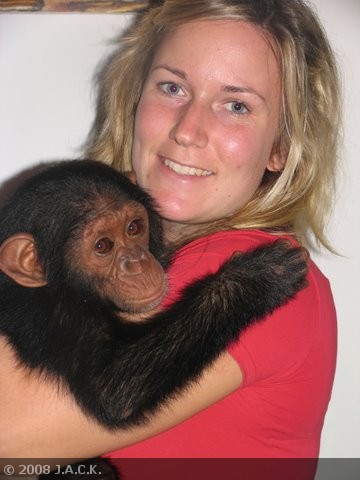 Josefine is Swedish. She works in the Furuvik Zoo of Ing-Marie Persson, a wonderful lady who created the Swedish Chimpanzee Trust and who actually donated JACK some funds in order to built bigger night enclosures….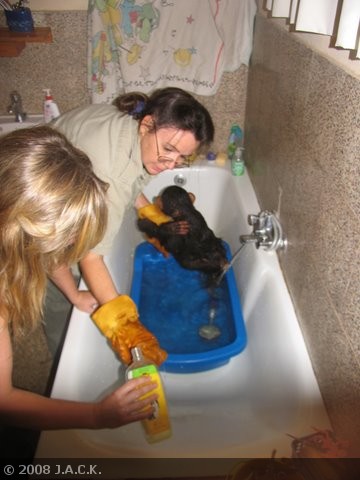 As we knew we would be too busy during the PASA stay in Lubumbashi, Josefine asked us to come for helping J.A.C.K. And this was a good decision : overloaded with  tons of work (new enclosures, fund raising in Europe,the PASA Workshop preparation) it was an excellent thing to have Josefine with us. She has become KIMO's mummy and she takes very good care of him …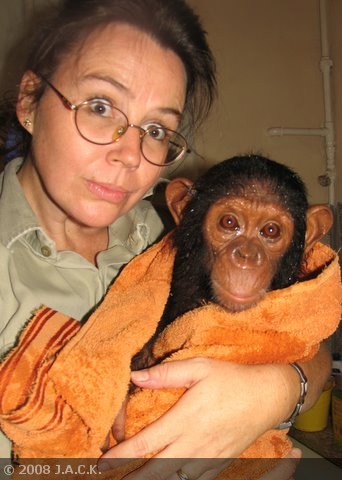 Little KIMO won't be alone that long any more. Mapima, the young female Samantha already spoke about on Gorilla.cd, is due to arrive from Goma on November 26th with Faustin. I think this will be an excellent experience to KIMO !
I'll keep you posted as always,
Roxane