Dearest Friends of J.A.C.K.
Many of you responded immediately to our appeal sent last week. As a result, our small sanctuary was donated 1045 USD and 400 EUROS ,  which will allow us the coming weeks to continue giving the best care as well as a safe, caring home to these wonderful creatures …
Special pant hoots from our orphans to Fran B., Amy M., Oliver T., Alain S., Marc H., Jacqueline M., Brenton H., Kinzli, Wade F., Kathy S., Cherie B., Patti C., Kim H., Sherri S., Christine C., Wanda H, Marie-Odile L., Eychenne E., Katherine Sp., Ryan K. and to Ine W for their generosity.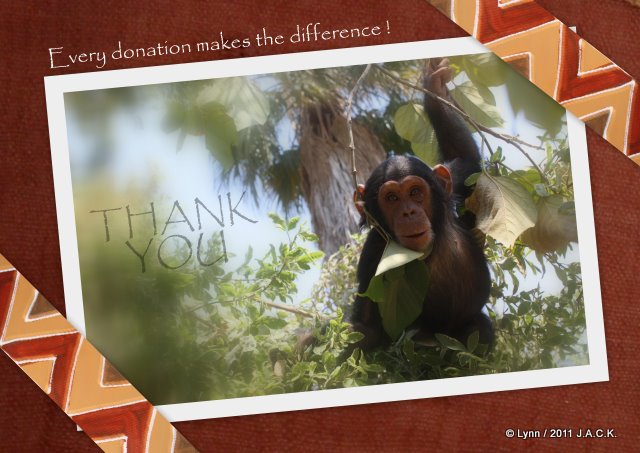 Thank You for supporting the orphan chimps rescued by J.A.C.K.. Times are hard in the DRC and your support is greatly appreciated!!!
J.A.C.K.