Thanks to the great generosity of 24 GUTE TATEN and PRO WILDLIFE, J.A.C.K. has been chosen to be part of the ADVENTSKALENDER event in 2022. Funds from this event are dedicated to the vervet pre-release project.
Vervets (Chlorocebus cynosuros cynosuros) are a widespread species in the Democratic Republic of Congo. Through the authorities, J.A.C.K. has rescued several from privates – making it one of the species with the highest number of individuals at the Rehabilitation Center among the small monkeys.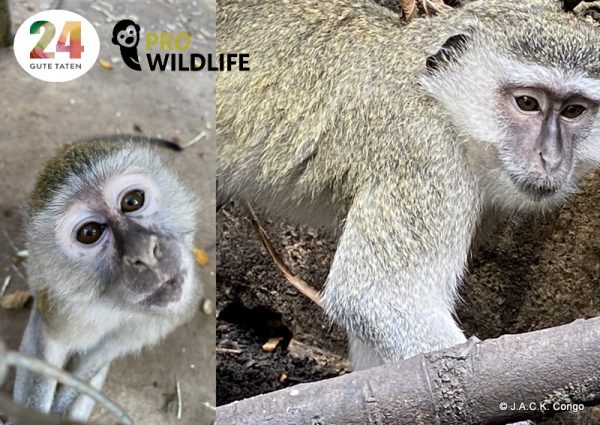 Due to the massive arrival of primates at the Center in recent years, J.A.C.K. decided to initiate a pre-release project for vervets, with the aim of releasing them in the near future in the Upemba National Park.
To complete the project, new facilities were needed to train the vervets for release. The German association agreed to finance the construction of 2 external enclosures and 4 night rooms. Our first mission is to put these animals in conditions that will be quite similar to the forest, by forming a stable group, training these primates to recover their instincts to live easily in the forest – swinging from branch to branch, looking for wild edible plants and fruits, and knowing how to recognize predators. Isolating them from humans is also an important aspect, and to this end only the veterinarian and a designated carer will have access to the project facilities.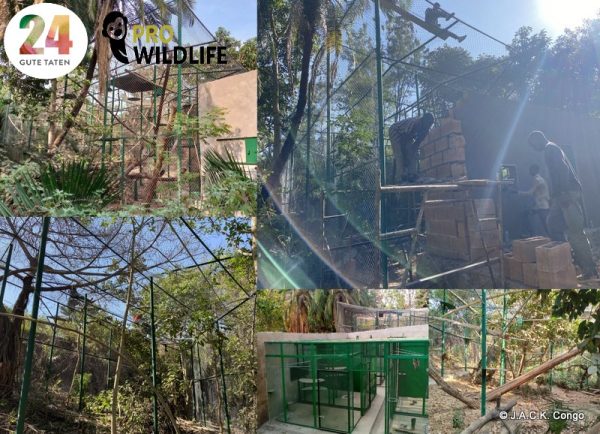 J.A.C.K.'s ultimate goal, beyond confiscation and rehabilitation, is of course the return of these animals to the wild. 
Thanks to this generous contribution from 24 GUTE TATEN and Pro Wildlife, J.A.C.K. is confident of successfully completing this project.