Hi everyone!
Here is the story of little WANZA, the chimpanzee baby who is sick and about whom I spoke in my comment of January 12th.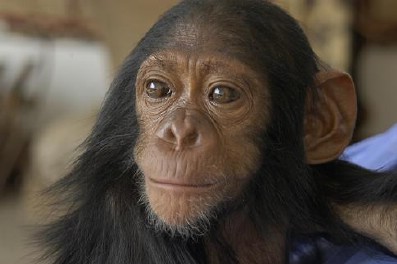 Wanza
Two weeks ago, visitors threw some food into the main enclosure. Although it is written and said not to feed the babies, people just do so and don't understand that chimpanzees get the same diseases as humans.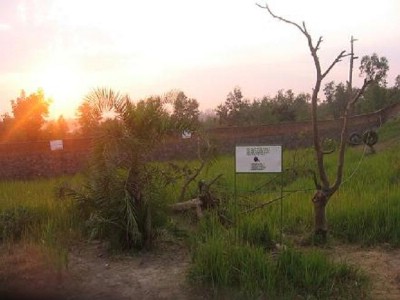 Main enclosure
WANZA got horrible flu as he ate contaminated food two weeks ago. He had a very bad cough, high fever and breathed with difficulty.
But who is WANZA?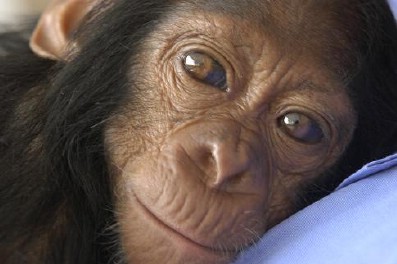 Wanza
WANZA is a male of 2 year 1/2 and isn't very tall.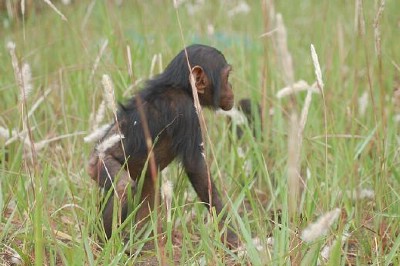 Wanza in December 2006
WANZA was seized in September 2006, just after the fire. At that time, a French Zoo called Saint Martin la Plaine had sent us an animal keeper to fix the new enclosure for CHITA, SHASA and BACHI and, when the young orphan arrived at J.A.C.K., he was named after the French Zoo ('kiwanza' in Swahili means 'the plain').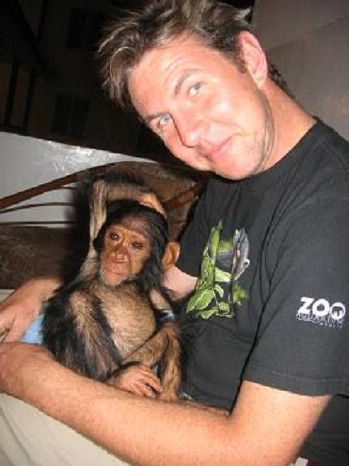 Wanza on day of arrival (sept. 2006)
In my next post I'll speak about Saint Martin la Plaine: they helped us A LOT after the fire and today, they still support J.A.C.K.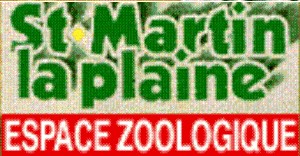 The French Zoo supporting us
Wanza was the smallest chimp we have ever had. Although he wasn't in a very bad condition, authorities allowed us to keep him the first weeks at home (we didn't have any quarantine area at that time).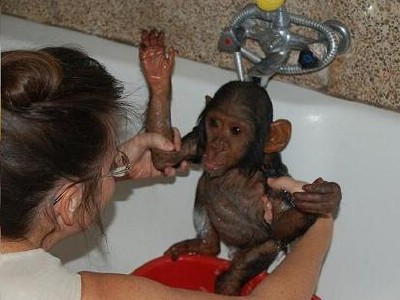 Wanza having a shower
But, to feed him was not easy. WANZA ate peanuts and bananas only. He didn't know what an apple was and even refused milk!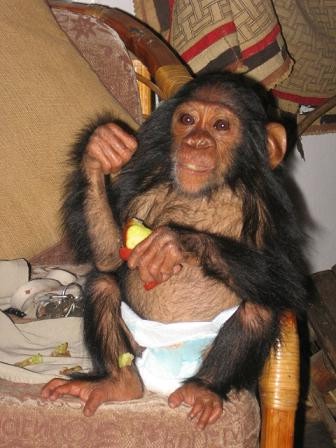 The first apple!
The owner of Wanza went all nights in different bars and gave him beers. So,imagine, the little ape got drunk every night and because the baby chimpanzee made funny things and tricks, people paid his owner…
So, Wanza underwent something like a treatment for alcoholism once he arrived at J.A.C.K. and it took us about 54 days to make him appreciate milk. At the beginning, Wanza had water with some sugar or syrup and fruit juices. One day, while preparing the milk bottles of the other chimps, some milk powder fell on the floor. Wanza licked it and asked for more. He then got one bowl of water and one with some milk powder. As he went from one bowl to another, he thus started to prepare his own milk mixture which helped him in drinking a real milk bottle.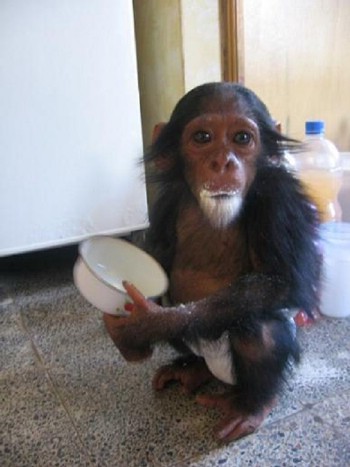 Wanza eating milkpowder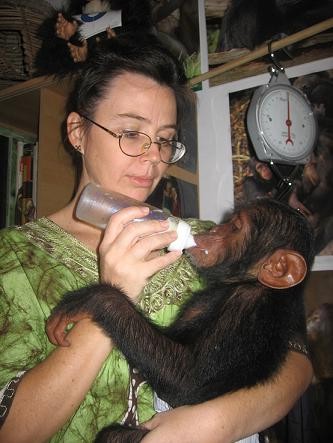 The first milk bottle
Introduction of Wanza into the group went fine: Wanza got on immediately with Chita, the alpha male.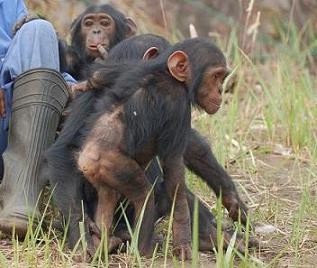 Wanza in the group
Because Wanza has taken in so much alcohol, his growth has been slowed down. Compared to the other babies, Wanza is still very short and hasn't put on much weight. Alcohol can also have an influence on hormones, and, maybe, Wanza will never be able to have babies. Therefore, blood samples of Wanza will be taken and send to Europe in order to check his hormones. You can't carry out such analysis here in….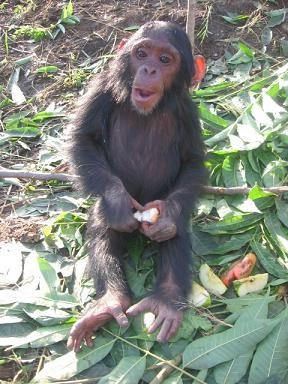 Wanza
Well, it seems you now know a bit more about Wanza. Today, we can say his flu is nearly over as he's again playful and is doing a lot better. Fever was so high last week that I decided to keep him home for a few days. The vet came last weekend and made some injections (antibiotics + vitamins). Not an easy task! Wanza was very nervous and aggressive. Therefore, the vet decided to make him sleep for a while. Fortunately, everything went fine ! (I hate anesthesia!!)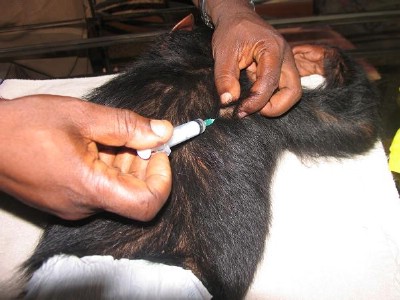 Anesthesia last week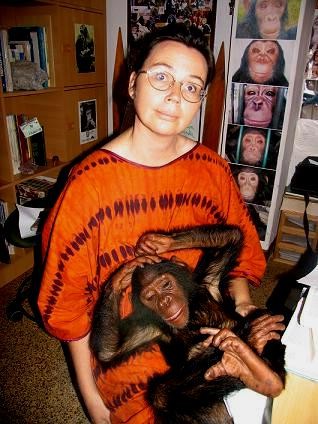 After anesthesia I was trying to send my post with Wanza waking up on my knees
Since Wanza had his injections, his condition has improved. He's now in quarantine at the Refuge Centre were most of the others are coughing, sneezing and having a running nose. Ten out of our 13 chimps have been contaminated by the visitor's stupidity and 7 of them have had flu and some fever. These seven are now isolated for treatment and will stay in quarantine for at least one more week.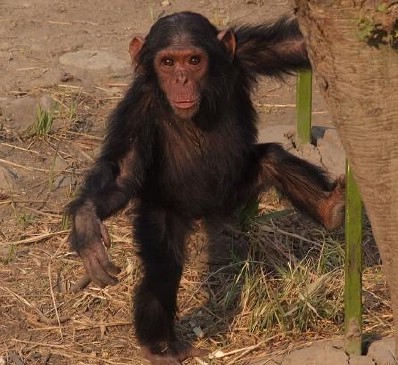 Wanza
Dear Cathy, I hope I have answered your question. Franck and I are very busy as, in addition to the Refuge Center, we have our own jobs. I really wish I could write you more often about J.A.C.K. and I'll do my best to send you posts more than once a week.
Before ending , the chimps of J.A.C.K. want to thank Theresa for her monthly donation (30$) as well as Wanda (20$), Cathy R (50$), Pamela R (20$) and Antonio C (60$) for their single donations. As most of the group is sick and need medication, these donations will help us giving the orphans all the medical assistance they need.
Thank YOU for THEM!
Roxane, Franck & the chimps

Technorati : chimpanzee, congo, drc, iccn, wildlifedirect