Good morning everyone!
This post is very particular as it gives you more information on how we started. But, before giving you all these details, J.A.C.K. wishes to thank Theresa for her wonderful donation that will help us electrifying the day enclosure for the quarantine chimps. Quarantine babies will in that way enjoy an open air area full of trees instead of remaining in their quarantine cages. Thanks again, Theresa!
Also, before reading, keep this in mind: J.A.C.K. is the name of our NGO, JAC is the baby that arrived last September (the little one you know already)and JAK is the first baby we started with.
Well, our story started on April 6th 2006 when the FIRST seizure of a chimpanzee baby ever took place in Katanga. The sick little one had been seen for sale in Lubumbashi on the back of a bicycle and if Franck and my brother hadn't called the director of Katanga National Parks (I.C.C.N.), the baby would have been sold.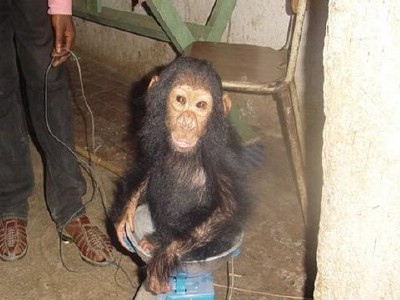 JAK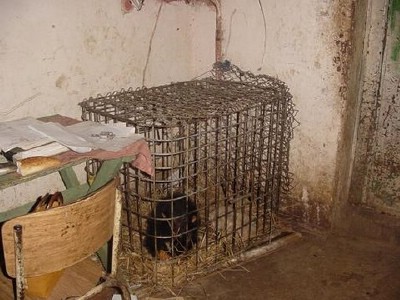 JAK at the Zoo
That's the way JAK came into our lives. The authorities who had seized him brought him at the Lubumbashi Zoo. The baby was very dehydrated and suffered from terrible diarrheas. Having poor chances to survive, the authorities accepted to hand over JAK to Franck.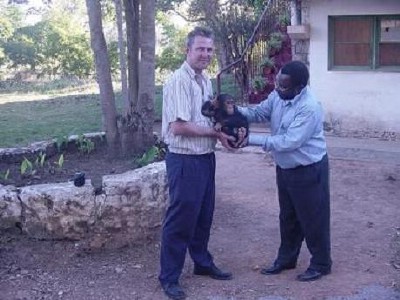 JAK handed over to Franck
JAK was a young ape of about 1 and ½ year. When he arrived, he was very weak and couldn't even walk!! He stayed with us for about 2 months.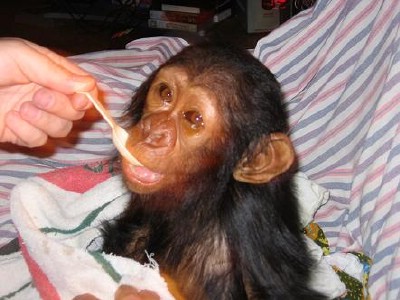 JAK sick
Meanwhile, other seizures took place in Lubumbashi and Kinshasa (capital of DRC) and, thanks to an agreement Franck had made with the director of Lubumbashi Zoo, we managed to get an old enclosure at the zoo where to put the babies. The abandoned enclosure was made of two small islands restored by Franck: the chimpanzees could run, play and enjoy the sun in their new open air enclosure that was surrounded by a moat. This was the beginning of our NGO.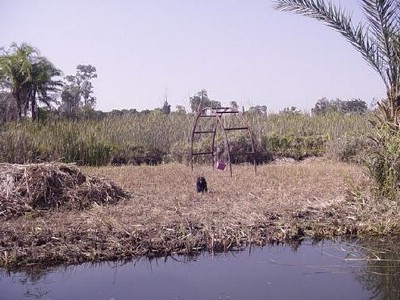 The small island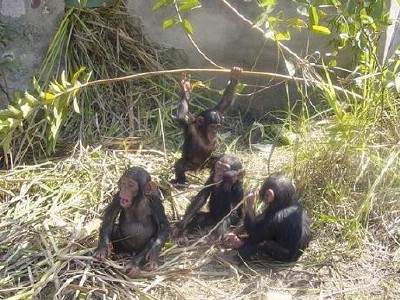 4 happy chimpanzee orphans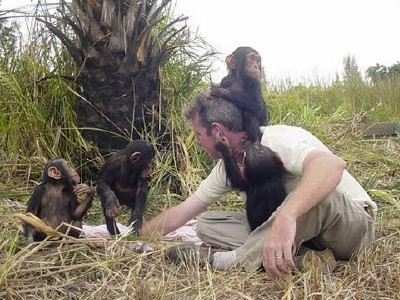 On the island
By September 2006, we were taking care of five little chimpanzee babies during day. There were four males (JAK, BACHI, CHITA and TOUZO) and one female, SHASA. JAK was doing great and had a very good friend: TOUZO. Inseparable, they shared the same games, the same nests.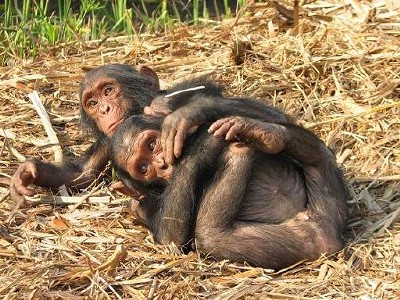 JAK & TOUZO
But our story went through terrible moments. On the 5th of September, very early in the morning, saboteurs set a fire in the night enclosure of the five sleeping babies. Three survived (CHITA, BACHI and SHASA), one died (JAK) and one was severely burnt (TOUZO).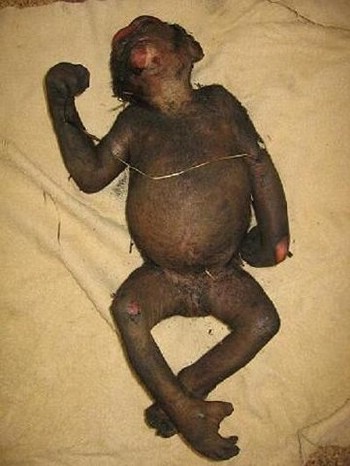 JAK burnt to death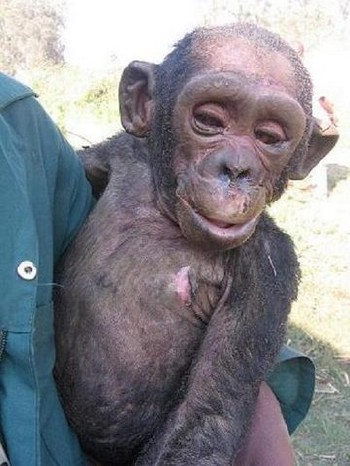 TOUZO severely burnt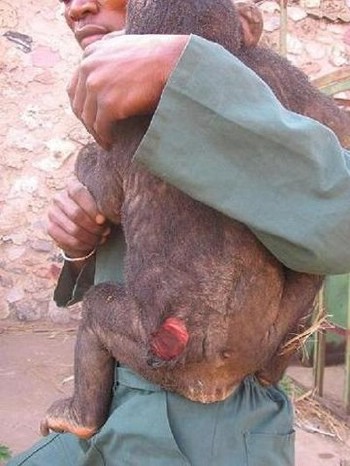 TOUZO
Franck and I were prostrated with grief. JAK had been the first baby chimpanzee we had started with and now he was gone forever….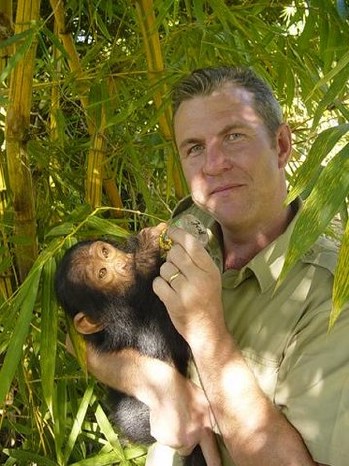 Baby JAK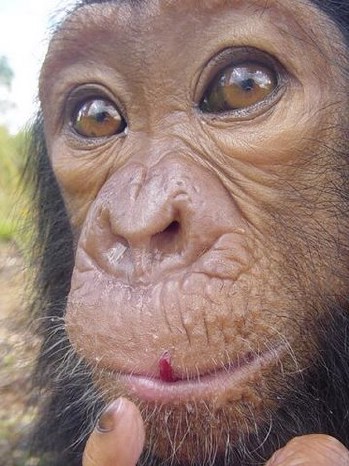 JAK
Baby JAK had been taken away from us and we couldn't let these cruel and barbaric people win. This sabotage was obviously meant to stop us, but we couldn't stop all we had started. CHITA, BACHI, SHASA and TOUZO needed us more than ever and Franck and I decided to continue our work.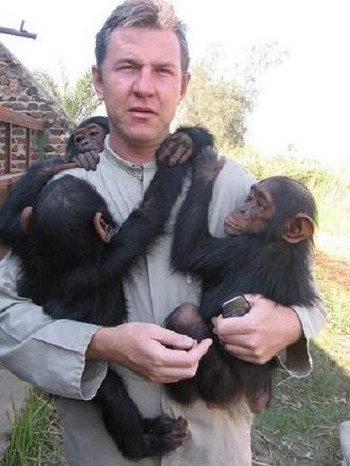 CHITA (on Franck's back), BACHI (left) and SHASA (right)
The manager of the Lubumbashi Zoo had insisted on burying JAK at the zoo, not far from the place the tragedy had occurred. Authorities and friends joined us on that very, very sad day.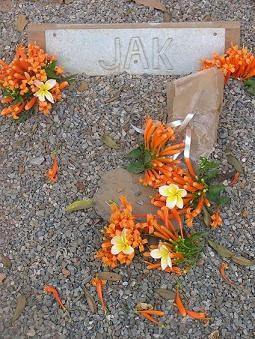 JAK's grave
Thanks to Mr. Doug CRESS of PASA (Pan African Sanctuary Alliance) and to Mrs. Sylvia SIDDLE of CHIMFUNSHI WILDLIFE ORPHANAGE (Zambia), a Zambian vet qualified in third-degree burns was sent to Lubumbashi in order to help us. TOUZO was badly burnt as he had jumped through the flames. Special medical assistance was needed to give him another chance.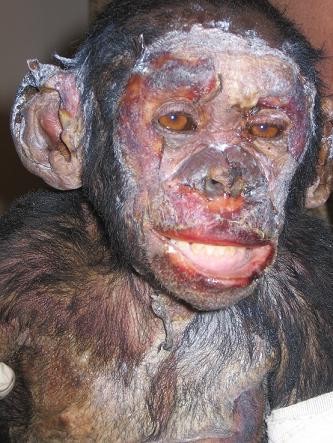 TOUZO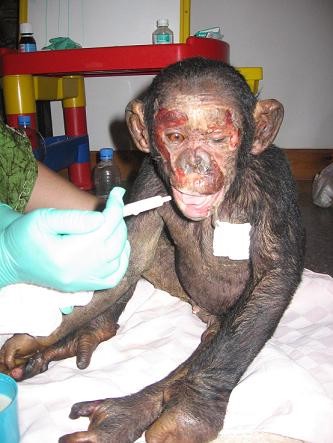 TOUZO
TOUZO strove against pain for one week. The Zambian vet, Ian, did all he could to improve TOUZO's condition and to heal his wounds.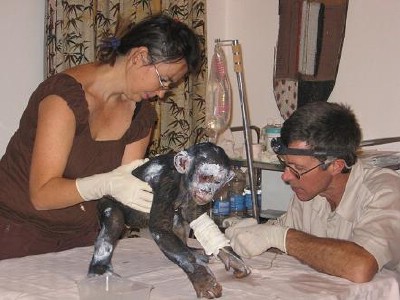 Vet Ian and TOUZO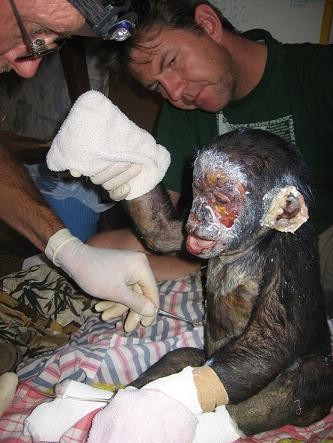 Vet Ian did a wonderful job! Thank you, Ian!!
But the burnings caused severe damage to his little body: TOUZO was losing fingers and toes, his left eye was lost, his right ear was falling off and about 90 % of his body was peeling … Little TOUZO wouldn't have been able to walk anymore as the muscles of his legs were completely destroyed.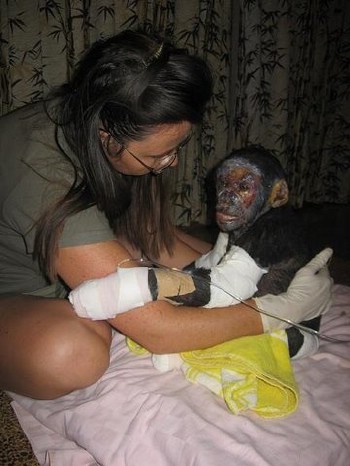 TOUZO was dying and still loved to be hugged
Little TOUZO died just one week after the fire. He now rests in peace next to JAK as they had been inseparable and very best friends.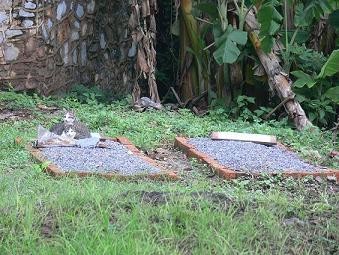 JAK & TOUZO together to all eternity
As I told you in my former post, « life here can be very tough ». Some of the pictures I have sent aren't nice at all, sorry for that, but they are part of our history and people must exactly know what happened. This event was a real nightmare, and Franck and I were deeply affected because two very precious and cherished creatures had been taken away from us.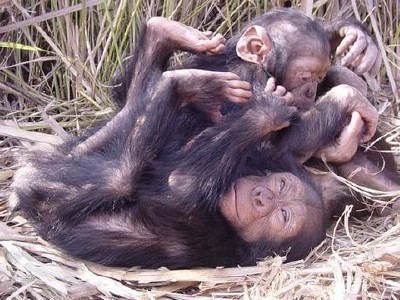 Farewell precious little ones…
In order to keep that first seizure still alive in our minds, Franck and I decided to use JAK's name for our NGO. To put emphasize on the seizures, a « C » was added to obtain « Jeunes Animaux Confisqués au Katanga » (= Young Confiscated Animals in Katanga).
The tragedy was a tough experience, but it made us stronger as people around the world – and in DRC! – started to have some interest in our work and now we can feel we are no longer alone.

Technorati : chimpanzee, congo, drc, jack, lubumbashi, wildlifedirect