Today I am taking the time to write to you personally. My name is Roxane and I am the co-founder of J.A.C.K., the Primate Rehabilitation Center located in Lubumbashi, in the South of the DR Congo.
There are those encounters that one does not forget. Words, exchanges, looks, gestures that can mark your life or at least have an impact on it.
I don't hide the fact that the kidnapping affected me mentally and physically and that it left me with a bitter taste about humans, confirming to me that they can be the worst creatures without heart, without respect.
That's why I turn more and more to animals who have a lot to teach us and who have the values that we, poor and stupid humans, have lost.
Rasco is one of those individuals who, despite his very young age, had a lot to give, to share.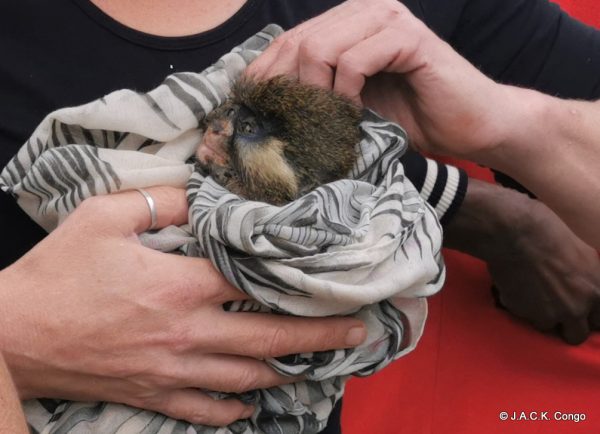 Very young, he had probably come by train from the interior of the country where his species lives and he was put on sale in the streets of Lubumbashi. Like so many others, Rasco was a by-product of the bushmeat trade. Like so many others, he saw his mother killed and eaten in front of his eyes…
We rescued this baby red tailed monkey from the traffickers a few weeks ago. The young animal was in a pitiful state.
Infested with fleas, ticks,  worms of Mango flies, the little primate had purulent sores on its arms and legs. He was vulnerable, in need of attention and affection. He ran away every time I tried to cuddle him, to comfort him. The traffickers had kept him in lamentable conditions and had most certainly beaten him… He had lost his left ear.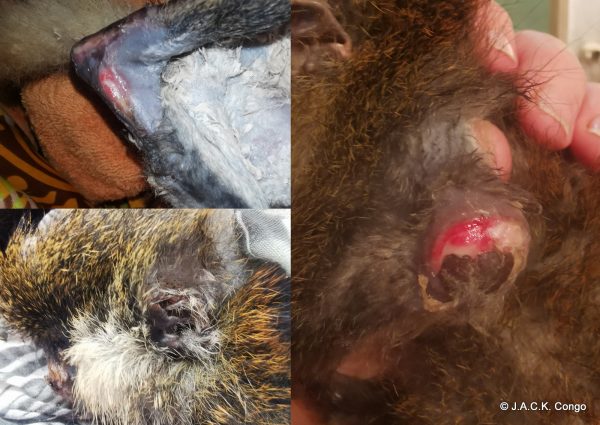 It was only after a few days that Rasco opened up to me. He would even call me to come and hold him so that I could take care of him. In the meantime, he developed a horrible skin disease (scabies) and the skin on his hands and legs was falling off every day. We did everything to help him recover at the soonest.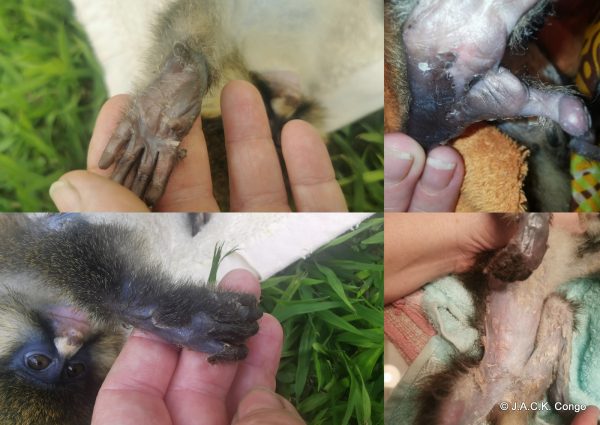 Despite of this, Rasco gave a lot of interest and love to those around him. He was in pain, some of his wounds hurt him badly, but he had the joy of living and brought me a lot as well as to the people of our family. He was a ray of sunshine in this gloomy and traumatic situation of kidnapping and I will never thank him enough for all that he gave.
But incredible stories always have an end. Rasco's story is a sad one. While he was getting better mentally and was in good hands, he decided to go away leaving a huge void behind him. Perhaps he chose me to accompany him at the end of his life. Perhaps he knew he was going to die and knew that, with me, he would leave loved and cherished. I am happy to have been able to give him everything he needed and, even if his departure left me with many questions, I comfort myself by telling myself that, today, he finally has the Love he was waiting for: that of his mother whom he missed  enormously!
Farewell my baby Rasco. And thank you for all the love you have given us. I/we will never forget you!