In our country, primates and other animal species are in a critical situation. Many of them are victims of poaching, illegal bushmeat trade,  exotic pet trade, habitat destruction, traditional practices and so on. Very few of them survive to the trauma caused by the terrible reality of these criminal practices.
Once again, our colleagues in the field were faced with cases of vulnerable/endangered primates who were rescued in time thanks to our intervention. This time, 8 young primates were confiscated from their torturers in the town of BUTA in the Bas-Uele Province. They are 2 chimpanzees, 1 agile mangabey, 1 De Brazza Monkey and 3 red-tailed monkeys…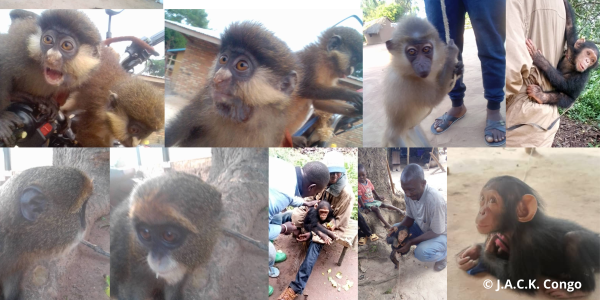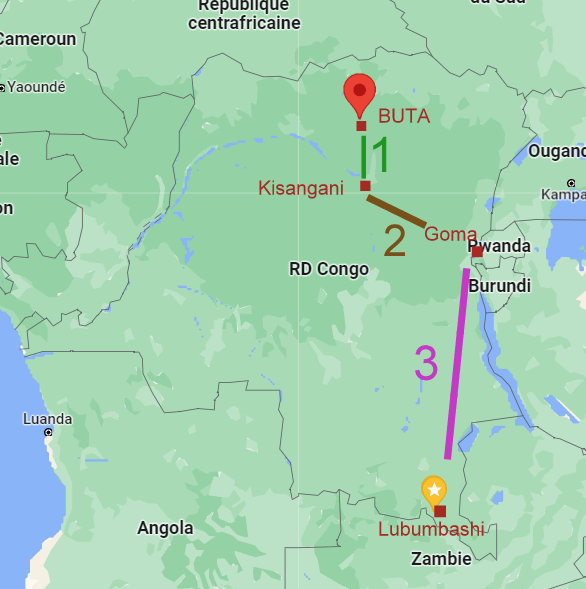 Rather than transiting them via Lodja, a new route was established to get these orphans to our sanctuary in Lubumbashi as quickly as possible. It was therefore decided to transfer them from Buta to Kisangani by road, and to put them on a regular flight from Kisangani to Lubumbashi via Goma.
So, they crossed the Buta forest towards Kisangani by motorcycle. And it wasn't the chaotic roads that made them lose hope! This was the most difficult stage of their trip, which they crossed with great courage.
The arrival in Kisangani was a particular relief. No more bad roads! They boarded a plane for Goma, where they were welcomed with open arms by Dr. Kizito of the COPHEGS association.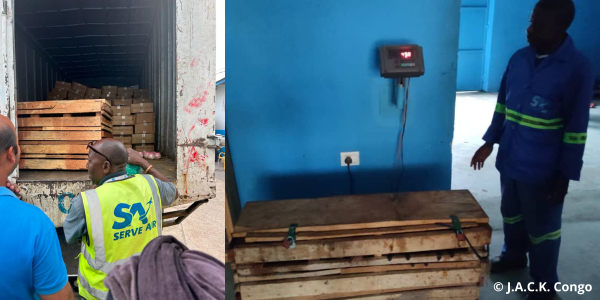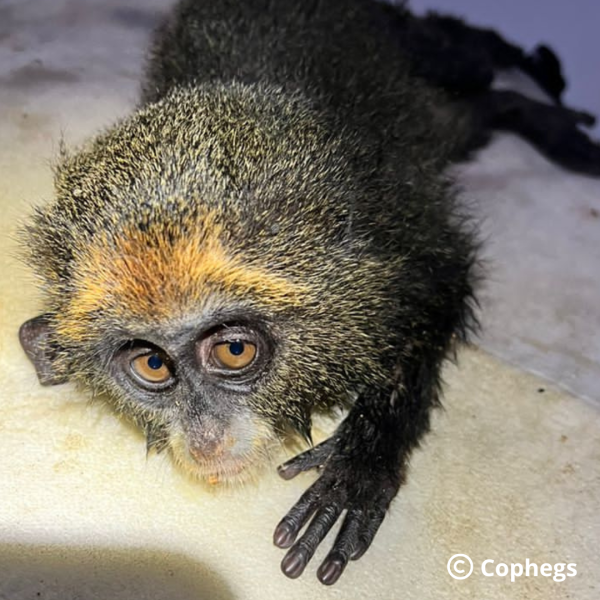 Unfortunately, on the night before his departure for Lubumbashi, no doubt traumatized by the massacre of his mother, baby De Bazza monkey did not survive despite the care of the Doctor and his team. He was extremely tired and chose to join his mother in a world where no human could harm him/them again…It was with a heavy heart that the 7 others took the last flight to Lubumbashi.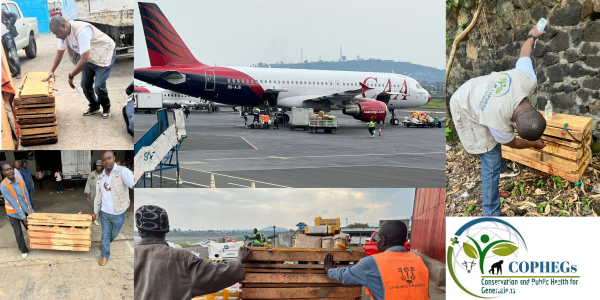 Once the orphan babies landed in Lubumbashi, they were welcomed by the J.A.C.K. Founders who immediately drove them to their private homes as they did not yet have a suitable nursery at the sanctuary to house and rehabilitate them.
When opening the crates, the Founders did not know in which condition they would find the new orphans.
The newcomers were all checked and given the necessary first aid. They were hydrated, their ropes were cut, they were washed to better appreciate the state of their wounds, disinfected, etc. Some of the babies are in very poor health. Their bodies bear the marks of human cruelty (abdomens lacerated by ropes, broken legs, open wounds) and it's incredible how these little beings, so young and vulnerable, have already suffered so much and are still alive despite what they have endured. We'll tell you more about them in the coming days. Some  deserve to be known, and for you to know their story!
Thank you to all the people and organizations who were involved in any way in this rescue. Special thanks to Dr. Kizito for his invaluable help during those long moments of uncertainty. As of today, these 7 babies are ready for a new life, ad if you want to be part of their new adventure, please, consider making a donation to help them.