Dear All,
Today, 1st of May, is Labour Day, and we wish to thank our team which works every day at the sanctuary in order to give the rescued orphans the best.
Serge and Pierre are the two people in charge of our green house:thanks to their hard work J.A.C.K. provides fresh vegetable to its boarders! Maman Angeline works in the kitchen: she cleans, cuts and prepare the food for the chimps. Augustin, Eddy, Marcel, Pierre and Mike work directly with the chimps: they feed them, observe them, provide care but also security, and they also keep their night quarters and outdoor playgrounds neat and clean….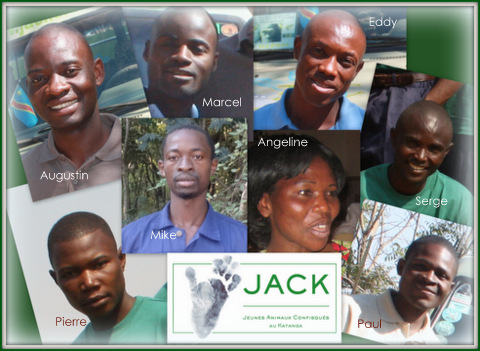 MERCI beaucoup à vous TOUS! Many thanks to the 8 of you for your daily dedication to the chimps, Franck and I are very happy to work with you all!
Roxane/ J.A.C.K.