Hi Everyone!
Two weeks ago, I wrote you about that terrible fire and about the painful loss of JAK and TOUZO. I now want to tell how we did to improve the condition of the three remaining chimpanzee babies just after the fire.
The first thing we absolutely wanted to organize after the tragedy was to find out a safe place where to put CHITA, BACHI and SHASA. Therefore, Franck and I had a look at the different abandoned enclosures of the Lubumbashi Zoo.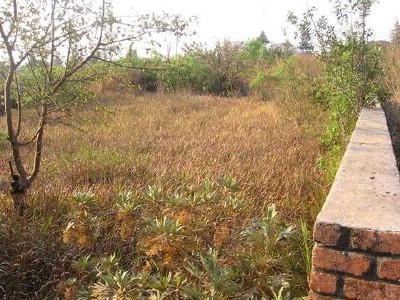 Trying to find the most suitable place
Several aspects had to be taken into account to improve the babies' security and welfare:
– large enclosure = enough space to play and run;
– high walls = to prevent chimps from running away and to keep visitors distant;
– night facilities = a night enclosure with enough space annexed to the main enclosure;
– extra land to build quarantine area, more open air enclosures, a kitchen, an office, etc.
The day TOUZO died, and with vet Ian's participation, we found the most appropriate place to settle the Refuge Centre.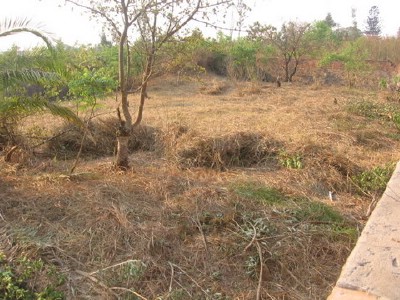 The new enclosure
Works could start the day after: all that high grass was cut and burnt and the night enclosure was fixed and painted.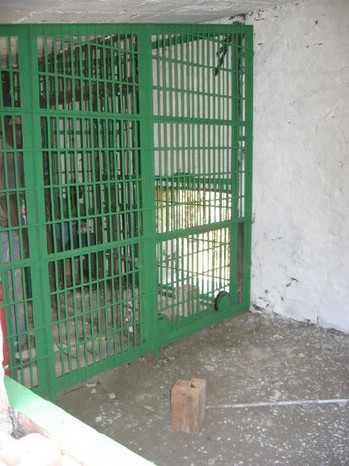 Restoration of night facilities
CHITA, BACHI and SHASA were introduced to their new environment about a week 1/2 later. As it was completely new to them, at the beginning, of course, they were very afraid and it took some time before they felt ready to leave our arms…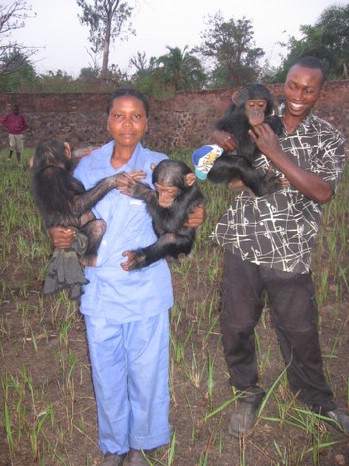 Angeline, our first surrogate mother introducing the little ones to their new environment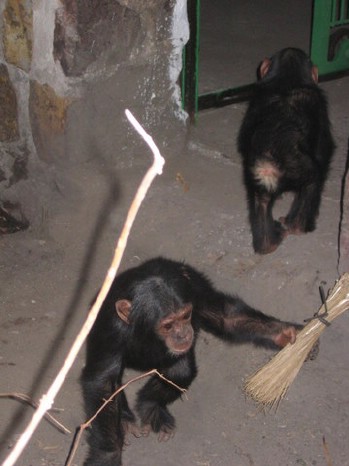 The first games in the new enclosure
But, we weren't alone to do all this. Since the fire, two very important and generous people helped us as they believed in us and wanted to support us.
The first person who said:" ok, Franck, I'm going to help you" was a French man called Monsieur Pierre THIVILLON. He actually runs the ESPACE ZOOLOGIQUE of SAINT-MARTIN-LA-PLAINE which is a place in France known for its gorillas (remember, I spoke about this place in my previous post!)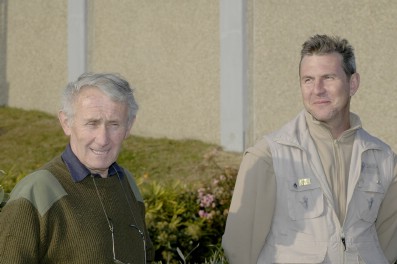 Mr. THIVILLON and Franck
The day after the sabotage, Mr. Pierre THIVILLON collected money to buy plenty of medical stuff and an electrical fence working with solar panels. He sent us all these things accompanied with one of his gorilla keepers: Mr. Franck CHAMBON.
My husband has known Mr. Pierre THIVILLON for years because, when he was a child (Franck comes from France), he used to visit the gorillas of this place very regularly. We can say that Franck's passion for Great Apes started there thanks to Mr. Pierre, an incredible man!
Mr. Franck CHAMBON, the animal keeper, stayed with us two weeks. He gave us details on how to take care of the three remaining chimpanzee babies psychologically affected by the fire and he also showed us how to organize the new enclosure. We learned a lot during his stay. Since then we have become close friends.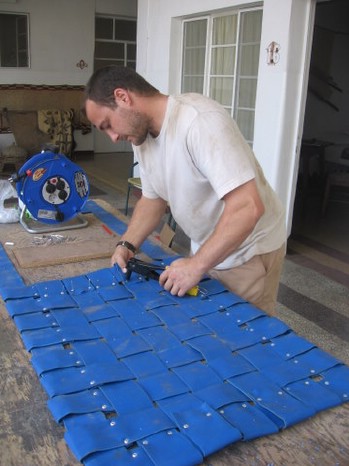 Franck, the animal keeper, building nests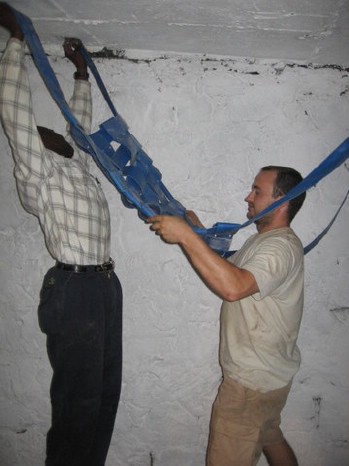 Nests being fixed in the night facility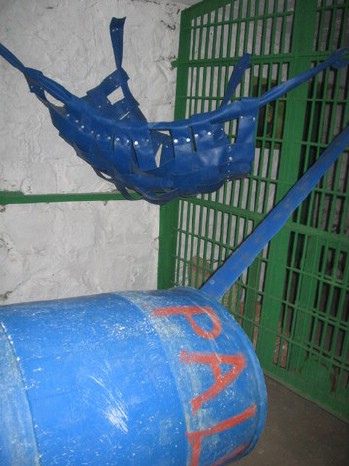 Restored night enclosure
But, the new paradise for the little ones couldn't be restored without the amazing aid and donation of the second generous person I told you about a few lines earlier. This man is actually our main local sponsor without whom the Refuge Center wouldn't have been established. His name is Monsieur Robert LEVI and he is the C.E.O. of one of the biggest bank recently created in Katanga: the TRUST MERCHANT BANK (TMB) .

Mr. Robert LEVI gave us paint, new gear, cement, uniforms for our workers…all the necessary we needed for a good start!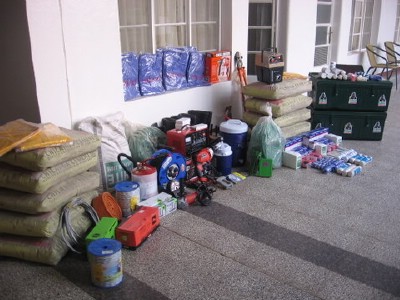 JACK's first donation
You see, before the fire, it was very difficult to find people eager to join the cause. Most of DRC natives aren't rich. Here in Katanga, you've got plenty of NGO's working with poor people, beggars, etc. and, when Franck tried to get local sponsors, many of them dryly answered: "Sorry, I already support human orphans, why should I help monkeys???" That's why, at the early beginnings of JACK, Franck and I had no donations at all and covered all expenses by ourselves….
Therefore, I again want to thank Monsieur Pierre THIVILLON and his team of SAINT-MARTIN-LA-PLAINE as, even today, they still help us and give us many tips (veterinary, logistics, animal behavior, etc). Also, thanks to Monsieur Robert LEVI who is still our main local sponsor and who still believes in what we do. His aid has been vital ever since we started.
This is what happened just after the sabotage. At that time, we had 3 little orphans and the sponsorships of SAINT-MARTIN-LA-PLAINE and the TRUST MERCHANT BANK were vital to the Refuge Centre. But today, JACK takes care of 13 chimps, which means that the chimp population at the Centre has been multiplied by 4 and that we need more donations to give these growing little ones all they need!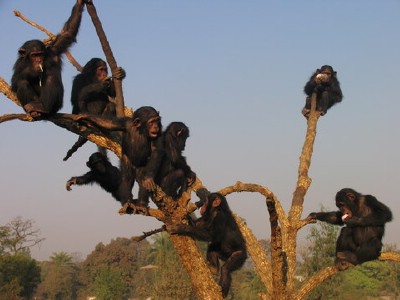 The orphans of the Refuge Centre

Before ending this post, I wish to give a particular attention to a very good friend who has been with us before and after the tragedy. Yes, SIMON, I'm going to talk about you. Mr. Simon HICKS of Conservation Works worked for years in Conservation and, since May 2006, Simon has brought a lot to JACK – and to us !- Franck and I are very grateful to him for all he has done so far. Thanks, Simon!
Dear Lucia C, JACK has appreciated your donation ($ 200 ) as well as Cathy R's ($25) and Kevin C for the $10 monthly donation. All your donations are very important and helpful! "aksanti mingi" (which means 'thanks a lot' in Swahili)
Roxane, Franck & the Chimps.

Technorati : chimpanzee, congo, drc, iccn, wildlifedirect