Stressful times here at the moment at J.A.C.K…
Yes, last night, keeper Yannik saw a torch glowing in the night. Light beams are easily to be seen at J.A.C.K. since we haven't yet power every where at the sanctuary (we hope to get funds from our sponsors this year to put electricity all over our complex!).
Yannik fortunately was with the Ranger we are hiring to ensure J.A.C.K. day & night security. Together, they slowly and silently walked through the bush to where the unknown visitor was. They noticed the man was alone and that this time he was looking inside the night rooms of the Nursery group. The chimps apparently didn't move nor shout according to what Yannik reported…
Our team decided to remain hidden in the bush to see what would be happening next. Then, suddenly, the unwelcome guest whistled as if he were calling others. The Ranger than immediately charged his machine gun because he knew the visitors would hear this alerting noise. The visitor ran and our team ran behind him but couldn't go too far: they know they have to remain within the security perimeter of our complex and that they have to stay close to the chimps… So, the unwelcome guests disappeared in the night while Yannik and the Ranger patrolled and patrolled till sunrise…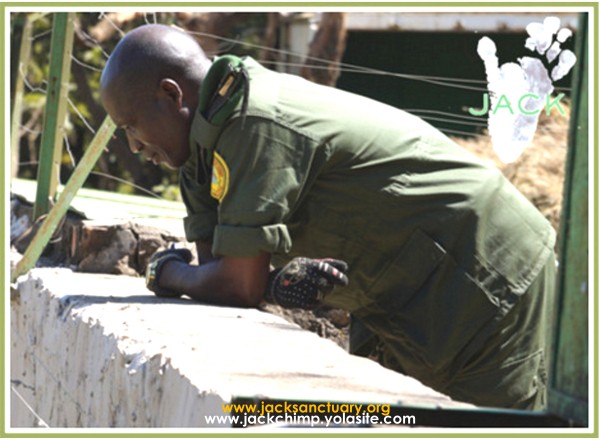 Today, we are worried. Why was that person at J.A.C.K.? Why was he looking inside the night rooms? People who follow us know we have twice been through sabotage: during the first sabotage, two chimpanzee babies were murdered and in the second sabotage we partly lost our education centre… So far, no criminals have been found for these terrifying acts…Since the arson of 2013, two Rangers work at J.A.C.K. to protect the chimps & the team and we really hope Ranger Nkulu managed to permanently dissuade the unwelcome visitors last night…
Dear friends, this is all too bad and scary… it would be extremely catastrophic J.A.C.K. went through tragedy again…
J.A.C.K.  rescues chimpanzees from the bushmeat trade and from the exotic pet trade.
J.A.C.K. is a sanctuary, a chimpanzee orphanage and not a legal entity entitled to put people into jail…We don't have the legal power  to confiscate wildlife – only the DRC Ministry of the Environment has. So, because we rescue all these traumatised and abused souls, poachers and traders probably believe we are the ones who have to be punished for stopping their trade…
We need your prayers to bring and keep security at J.A.C.K.!
Please send all your positive thoughts to the chimps and to J.A.C.K. ! We are extremely worried…
Thank you for THEM!
J.A.C.K.