Yes, dear Friends, this is a very sad report…
All that poaching and slaughter brings  so much bushmeat and too  many orphans on local markets and just a very small number of these latters are  « lucky » to be saved, given shelter, security and love after so much pain…
Our sanctuary was established in April 2006. Since then, 41 Apes were rescued among which 3 lost their lives. It means that for the last 4 years, 2 orphans arrived at J.A.C.K.  every 3 months! To give you an example, look at the picture below: these fellows are the 9 Great Apes J.A.C.K. rescued in year 2010: 8 common chimpanzees and 1 bonobo… This is too much!
9 rescued apes in 2010
 J.A.C.K. has reached its full capacity. Stronger enclosures and secure land are needed to give these wonderful creatures a decent life. J.A.C.K. needs you more than ever. Yes, JA.C.K. can't do everything by itself and needs you to make the difference.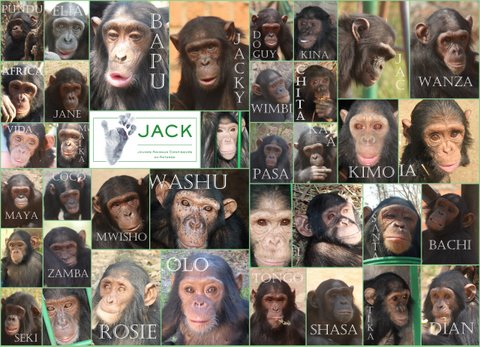 Two apes confiscated every 3 months represent a lot of hard work, money, patience, worries and sacrifices. Because in captivity they can live about 50 to 60 years, your support is crucial to give them the future they deserve.
Your help is greatly appreciated and different ways to participate to our action are given on our page « How to Help » on this Wildlife Direct website.
Remember that any donation goes straight to the welfare of the JACK orphans and will also help to stop this dreadful hemorrhage that is currently emptying our DRC forests…
THE CHIMPS OF J.A.C.K. REALLY NEED YOU,
THANK YOU for what YOU  can DO!
Don't forget that together we can make a difference…
J.A.C.K.