Mata is doing fine and is slowly recovering from all the trauma he went through before arriving at J.A.C.K.  He is eating well, has put on weight but has however  lost a lot of hair probably because of the bad conditions he had been kept in a few months ago. His fur is now hopefuly growing back, which is a good sign!!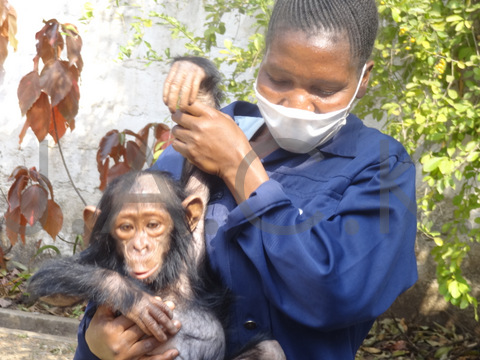 Maman Angeline is taking good care of him. Mata has become extremely playful with more selfconfidence than before: he doesn't want to have naps any more as he wants to play and play and play all the time!!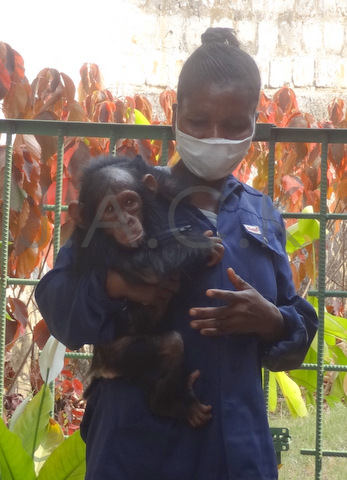 This is the reason why we decided Mata would spend his days at J.A.C.K. We can feel he is ready for new experiences and being at J.A.C.K. is important since he can see, hear and smell the others. Mata vocalises a lot when he hears the other chimpanzees but he also shouts on the big noisy ones!!  This is a new step for him which makes him understand he isn't alone! Angeline regularly takes him for walks through the forest and Mata keeps on watching and observing each and everything!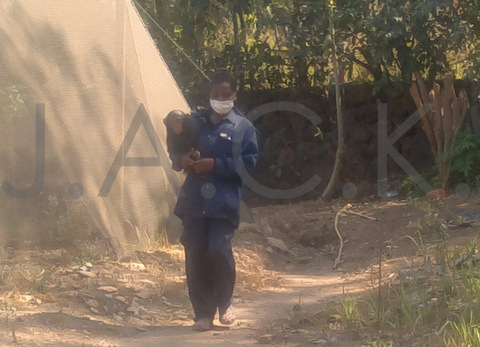 Another good thing is that Mata now likes to drink milk (he refused milk for nearly 3 weeks!) and to have a milkbottle with a teet (which he also refused several weeks ago!). However, there is still a little problem: Mata  can't hold his botlle in his hands and has found a Plan B  : he lays the bottle on the table  to drink his fruit juice very easily! Very clever, Mata!

Maman Angeline is doing great too and she is happy to be with the team again at J.A.C.K.! Her body isn't sore any more and she is just as fit as before – a real miracle!!!