Friends of JACK,
You have already met Shasa, our eldest chimpanzee female who now takes good care of JAC.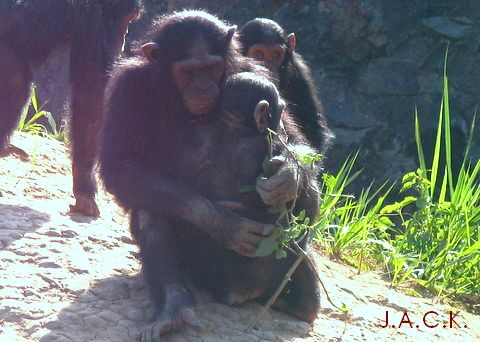 Shasa arrived two years ago from Kinshasa, capital of DRC. A friend of us, Karen, had seen her for sale on a famous Kinshasa market and Karen managed to move heaven and earth to make the local authorities seize the baby chimp.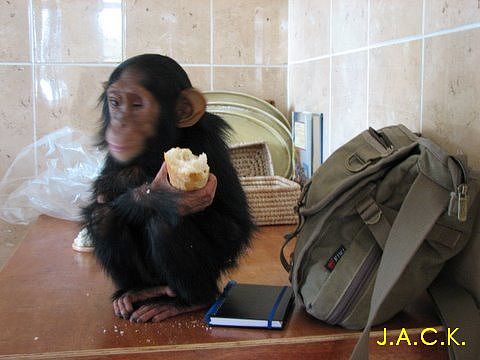 Shasa arrived at Jack in July 2006  and stayed a few weeks at Karen's place who wanted the little chimp to adjust herself to her new life…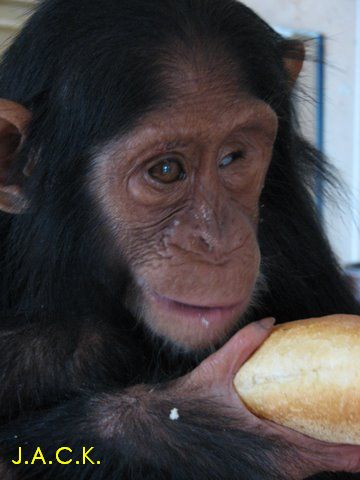 Shasa also is a survival of the terrible fire that took place in September 2006.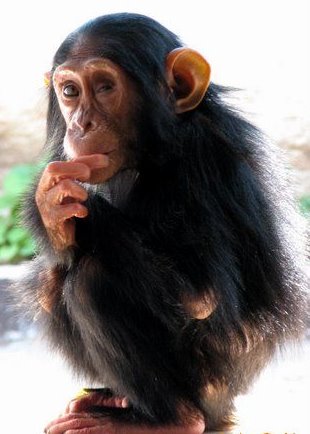 This young female chimpanzee is amazing and has several particularities :
(1) she is blind in one eye
Little Shasa lost her left eye during seizure. Once the police arrived to confiscate her, the owner of the little chimp just put her in a bag and ran away. While trying to escape, the man hit the bag against a car…and, when Shasa came out of the bag in the police station, her left eye was bleeding. A vet had a look and said the eye was lost…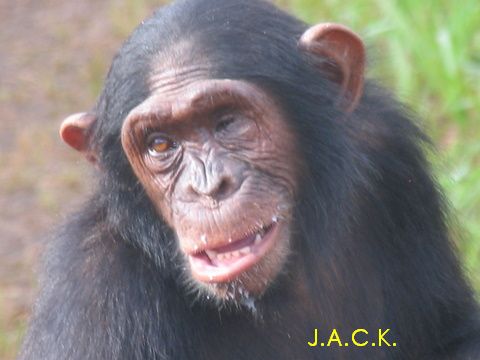 (2) she has very long limbs and might belong to a rare chimp sub-species
There are  different sub-species of chimpanzees and most of the chimpanzees of Eastern DRC are short, strong and thickset.
Given Shasa comes from Northern DRC, we believe she belongs to a very rare sub-species called « Bili Apes » (named after a local Congolese town) known to have a totally different culture than common chimpanzees. Bili apes are ground-nesting chimps (they don't build their nests in trees)  and are said to have a « lion-eating reputation »… (Read more about these Apes in the Guardian)
Shasa's morphology is different from the other orphans of the Refuge.  If you compare the picture here below, you'll see that JAC (= coming from Eastern DRC) hasn't got the same morphology as Shasa (=Northern DRC).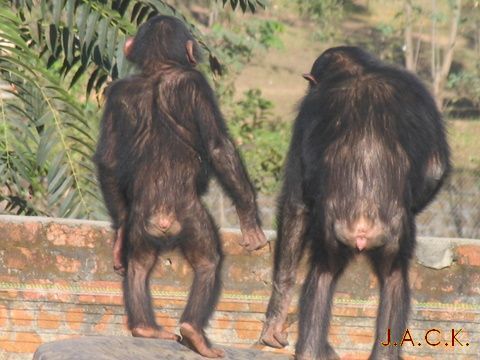 Jac(left) and Shasa (right) 
Chimpanzees have longer limbs than humans. Shasa might belong to this tall and strong species of chimps  and DNA analysis will be carried out to know it for sure. I'll keep you posted!!!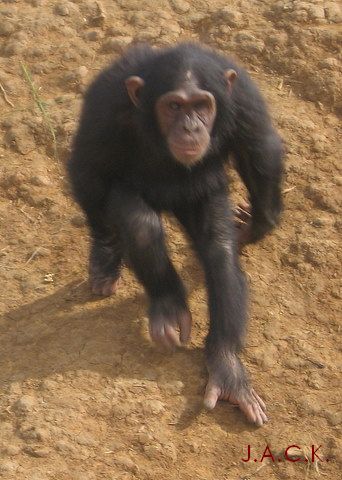 Franck and I have seen a male of that sub-species in Chimfunshi Wildlife Orphanage (Zambia) and, Bili (that's his name) is very very unusual. He was brought at the Zambian sanctuary in September 2004 thanks to Mr Karl Ammann, a famous independent wildlife photographer and author who made investigations on the existance and the nature of these Bili Apes.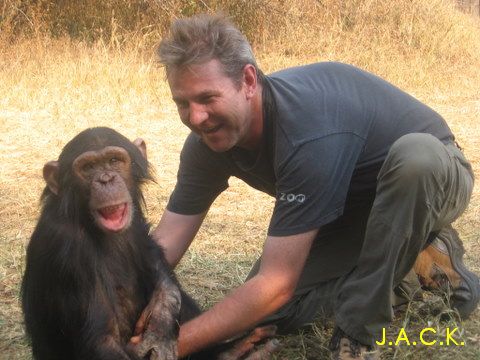 Franck and Bili
(3) she loves water!
Yes, chimpanzees usually hate water because they can't swim.
Well, Shasa apparently seems to be very different because she loves bathing!
She swims at least three times a day – and more when the weather is very hot!
And then, she climbs on the highest branch to dry herself in the sun….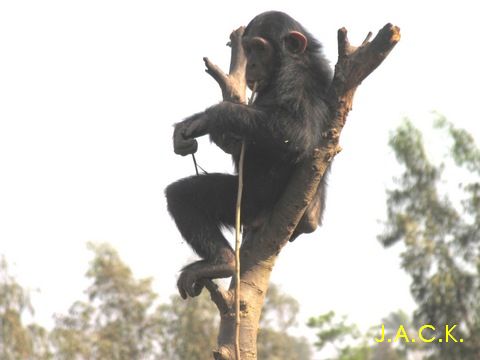 A few weeks ago, I mentionned Shasa was JAC's mother. Today, she has got a real influence on him as, imagine, every morning now, JAC has a bath. See by yourself on the following picture!!  Incredible!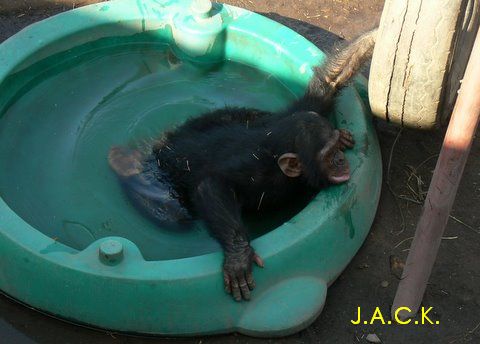 Jac bathing
When she arrived, Shasa was just a tiny little baby chimpanzee.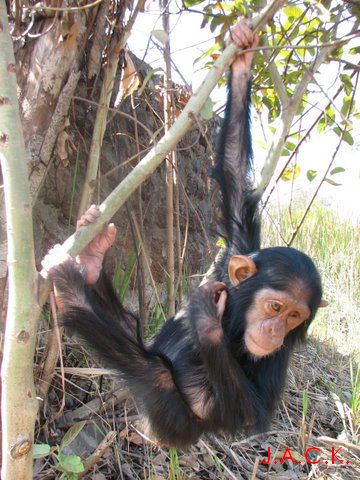 Shasa 2 years ago
Today, she has become a very big chimpanzee with a lot of power in the main group.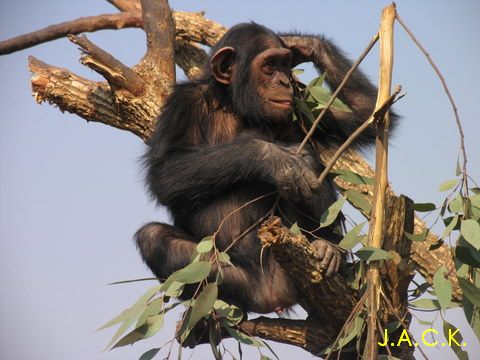 Shasa today
If Karen, our friend, hadn't seen her, Shasa would have been lost and we wouldn't have had the opportunity to know this wonderful female. Thank you again, Karen !!!
Roxane