Dear Friends,
These days have been extremely busy because a new baby chimpanzee called JANE was seized and brought a few days ago at JACK.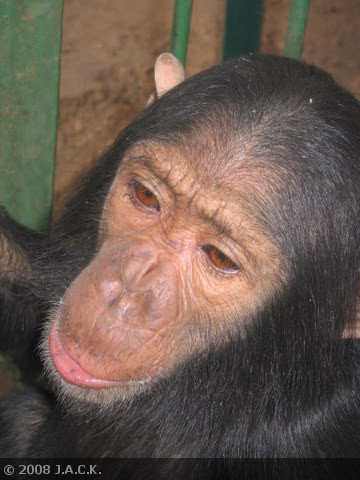 Just like Coco, JANE has gone through a long story.
We have known about her since October 2007.
 One day, a Congolese man came to visit our Refuge and mentioned his uncle was detaining a young chimpanzee in his back yard.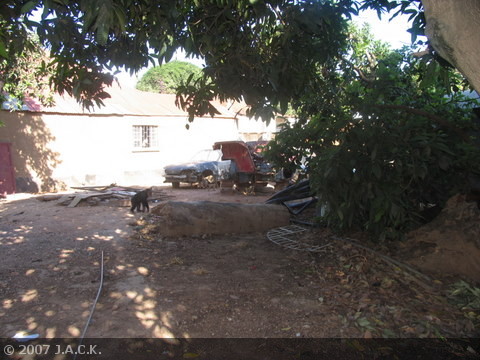 When Franck and I saw the little chimp for the first time, we had a shock. The baby was a female chimpanzee of about 2 years that seemed to be in a healthy condition.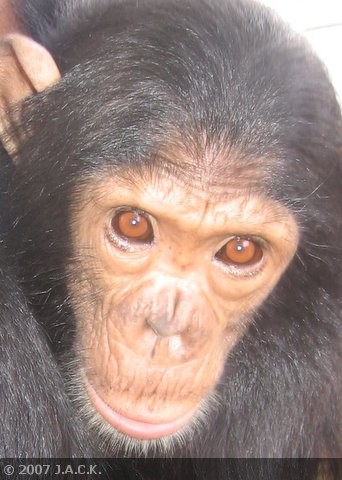 But, her enclosure was terrible! Imagine, the chimpanzee was kept in …a car!!!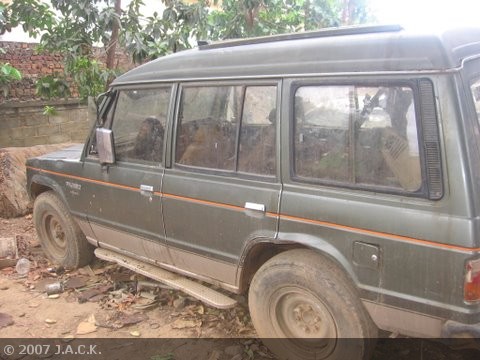 Yes, « Tarzan » (that was her name) was living in an old 4×4 Pajero and wasn't very often allowed to leave her enclosure…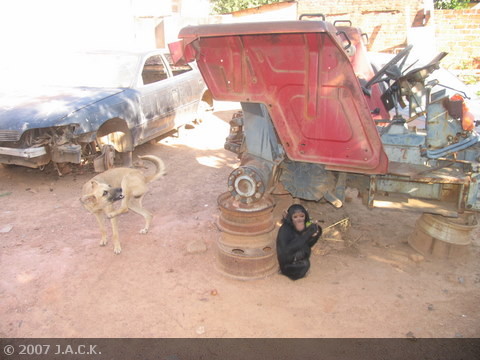 The car was horrible! The dirt was never removed …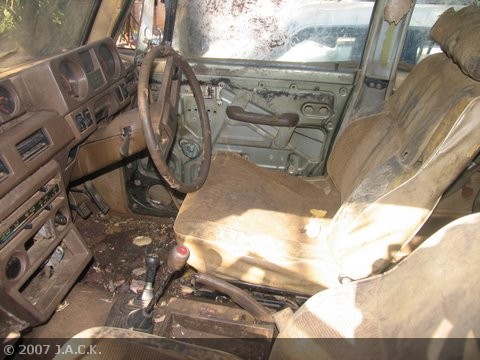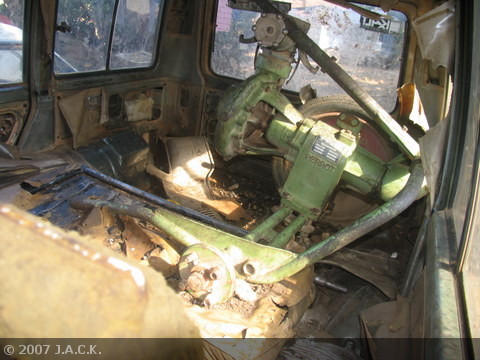 …and the young chimp used to sit at the window to get some fresh air.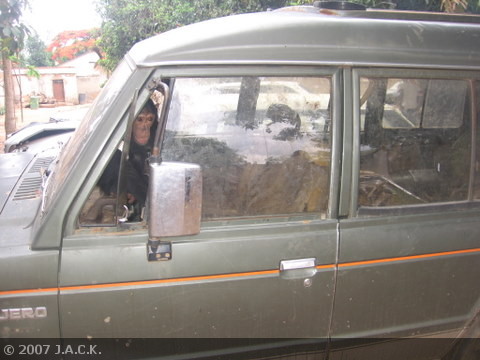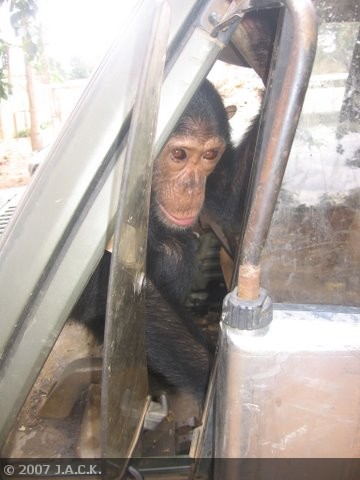 A few days later, the nephew of the owner called Franck saying  » you can come and fetch « Tarzan« . She must stay with animals of her own kind ».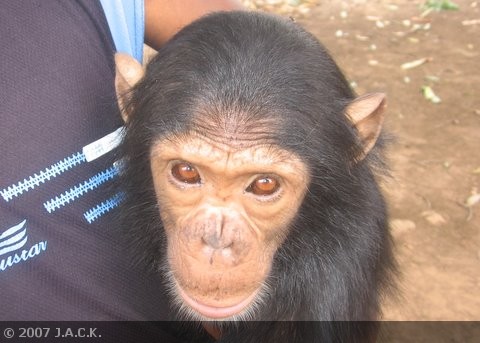 When Franck arrived at the place with the inspectors of the Ministry of Environment to seize the ape, « Tarzan » hab been moved to another place, the nephew had left and the other people of the house said the owner didn't want his chimp to be taken away from him…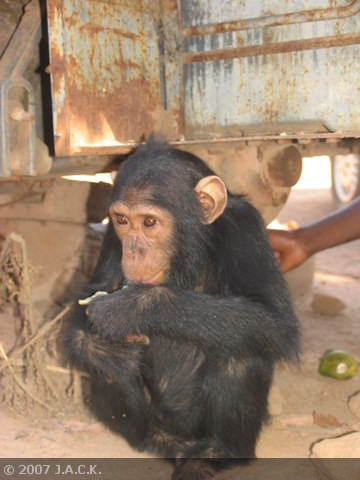 How strange? What was going on?
After long investigations, the Ministry of Environment heard the owner of « Tarzan » was extremely powerfulin the DRC.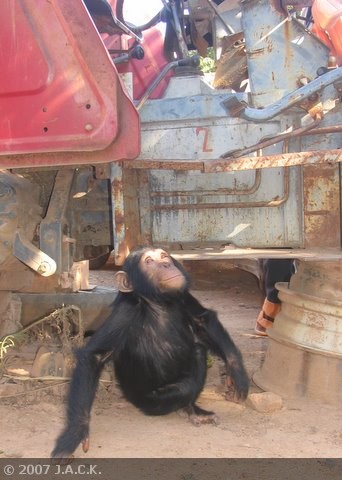 Imagine, what was to be done?  No-one can go against such highranking person. Who is going to confiscate something from him?
So, to us, it meant « Tarzan » was lost and her name was to be written on the list of all the  « unseizable » young chimpanzees kept by high authorities of the DRC.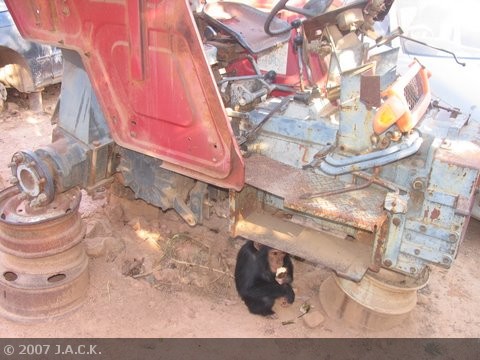 Last week, Franck received another call. This time, it was said the owner of « Tarzan » wanted to get rid of her because she had started disturbing the whole neighbourhood.
Franck didn't have a lot of expactations, went to see « Tarzan » and noticed that she was fine but that she had « shrimped » in size. She looked smaller than last year. The inspector of Environment accompanying Franck had the same impression.
But then, « Tarzan's » life took a new turn. Franck met her owner who frankly explained « I am an authority and I must be an example« . Franck couldn't believe his ears. This meant that all this work that JACK has been achieving for two years now is slowly getting results. Unbelievable!
Once the seizure documents were signed, « Tarzan » left her Pajero and was driven to JACK.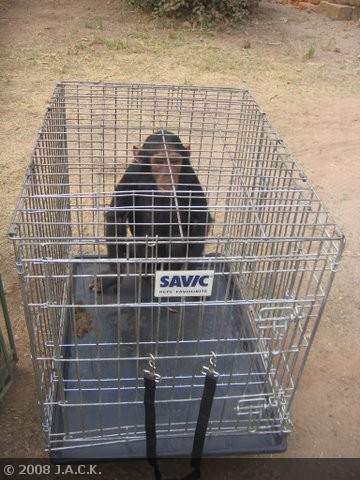 At JACK, the two boys of our quarantine, Mwisho and Coco, saw her immediately, made welcoming noises and were very excited.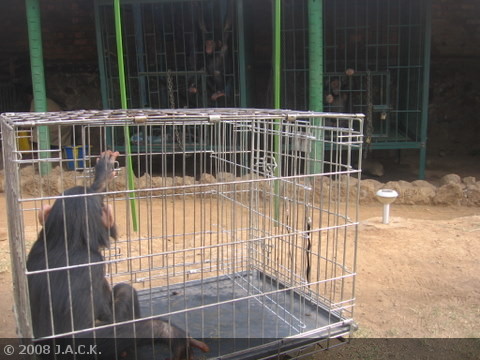 « Tarzan » was very scared and hold my hand tightly…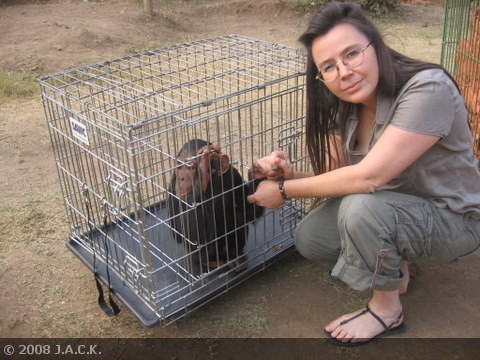 Today, little « Tarzan » is doing fine.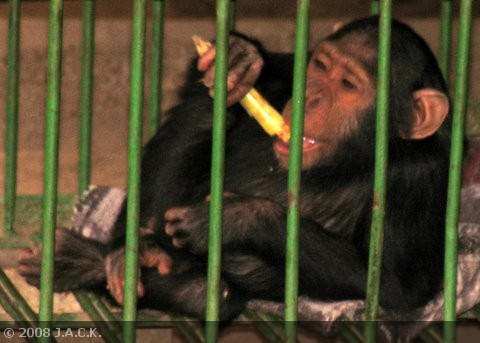 Although she is very slim, but I am sure time will help her to recover and to enjoy this new life full of attention, love and care. Also, she has got a new name as Franck decided to call her… JANE !
With JANE arriving at the Refuge Centre, it means that we are now taking care of 16 young chimpanzees and that today an average of one infant ape is  seized by local authorities of Katanga each 3 months!! Your donations are crucial to the development of the legal Refuge for seized Chimpanzees of the DRC.
Before ending, JACK wishes to thank the owner of « Tarzan » for what he has done for the State of Congo – this man must be a model to so many others !
Thank You,
Roxane