Dear Friends of J.A.C.K.,
Some of you know already about the primates near Goma that have been abandoned by their owners wishing to start a sanctuary and who left the DRC because they ran out of money.
5 chimpanzees (2 adults and 3 youngsters), 1 red-tailed guenon and 1 black mangabey were found in bad conditions (dehydration, malnutrition)  –  some even showed signs of depression, especially the adult chimpanzee female…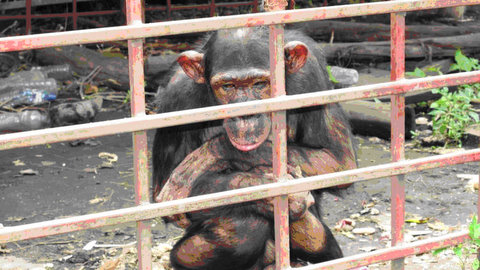 Thanks to a solid team made of PASA and different local organisations (Virunga National Park, the Africa Conservation Fund, the Mountain Gorilla Veterinary Project and the Congolese Wildlife Authority-I.C.C.N.) the abandoned animals have been given proper food, water and attention for the last weeks.
The red-tailed guenon and the mangabey were sent on January 18th to the Lwiro Primate Center.
The two adults should be sent to proper sanctuaries ready to accommodate them and the 3 young chimpanzees will be transferred to J.A.C.K. in a near future (next week!).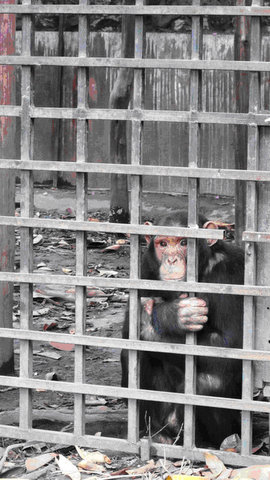 Faustinis already working with the chimps in Goma and tries to get a good contact with them as he'll fly over to J.A.C.K. too. We hope he'll stay a bit longer this time!
Although J.A.C.K. recently had to cope with  6 new  comers in 6 weeks, we agreed to take these 3 younger ones to give them a new chance.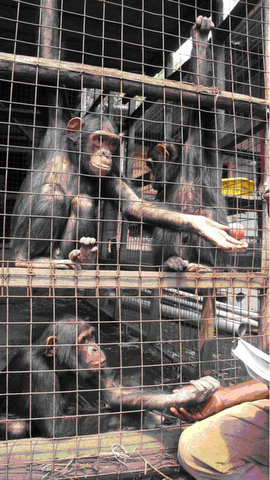 That's why J.A.C.K. has been building extra quarantine facilities and has improved former facilities to make them stronger ) and more adapted to the growing chimpanzees of our sanctuary (the chimps at J.A.C.K. are getting older and develop their strentgh every day!).
We also had to accelerate the introduction programe as to get more space in the quarantine area… But the alpha male is giving new comers a hard time and things have to be slowed down on that side… we don't want babies to be hurt, nor traumatised!
Since end 2009, we have been working hard to welcome these 3 new comers and I hope they'll settle in fast as they are quite older (5 to 6 y) than the orphans we have rescued till now…
The story of this poor animals is a real nightmare: they have been the victims of human ignorance. Running a sanctuary isn't an easy task and you can »t start « something » with wildlife like this!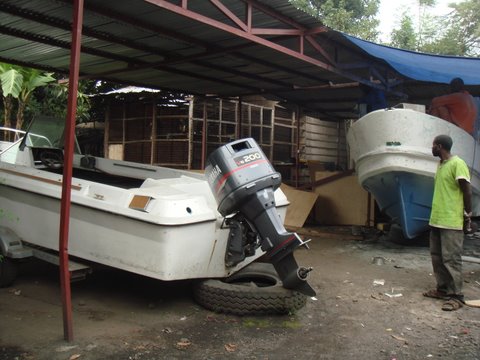 We haven't finished building yet and we still urgently need  funds. We still need you! Thanks to you, we have been able to start constructing the quarantine facilities and we hope we'll be able to end these on time again thanks to your participation.
I'll send more soon,
 Thank  YOU for THEM
 Roxane