Dear Friends of J.A.C.K.,
Sorry for updating so late: power cuts have been part of our every day life for the last weeks not to mention the heavy rains preventing any Internet connection.
Remember, some days ago, Rosie was introduced to the baby group. She has now found a place in this group and Santa is taking good care of her. On the picture below, Santa is hugging both Rosie (left) and Dian…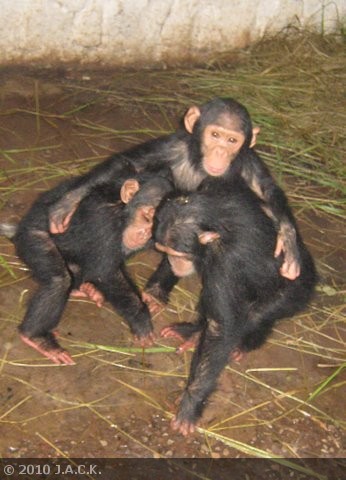 This time, Pasa and Africa, the 2 eldest babies of the 'Kivu 4' group that arrived last year in February have started their introduction program.
Yes, because J.A.C.K. is running out of space and must get funds to build extra quarantine facilities, we have no other choice than present chimps to one another (if they are ready and strong to do so!) and to empty our current facilities…
At first, both have been introduced to the big open air enclosure of the main group. The group was already inside for the night and Pasa and Africa have been allowed to discover this new area.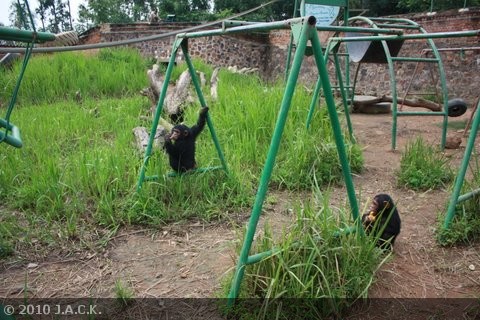 It seemed they were completely lost!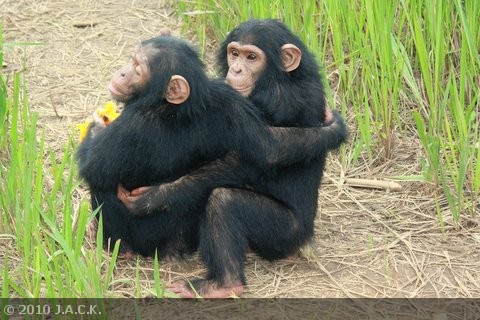 Then, the little ones have had the opportunity to meet young members of the main group.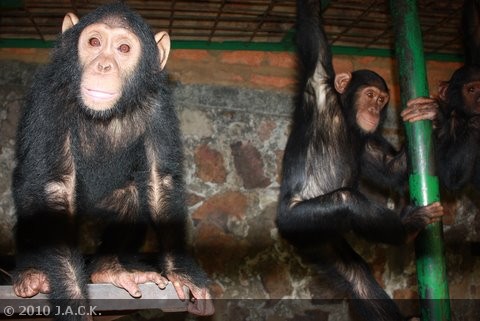 Pasa and Africa do get on well with youngsters such as Doguy, Zamba, Wanza. Our dominant female, Shasa, also does take good care of them and this is a good sign.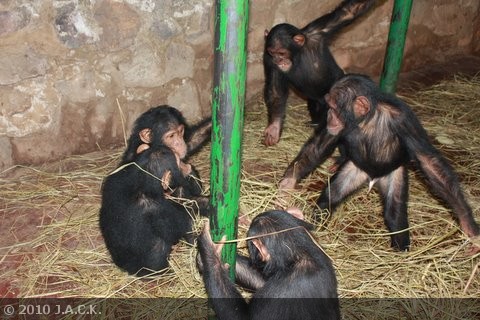 But it was high time Africa and Pasa met 'the boss': Mwisho, the alpha male. The first presentations went well and Mwisho really appeared to be protective.
[kml_flashembed movie="http://www.youtube.com/v/w-YlgY1sYyQ" width="425" height="350" wmode="transparent" /]
The second day (yesterday) was horrible: once the gate open, Mwisho simply attacked to 2 babies who tried to run away and sought for help and protection from us….
Today, Africa and Pasa spent some time with the others of the main group, not with Mwisho as we absolutely wanted the babies to get confidence in the chimps again…
What about Dian?
Dian, the 3rd baby of the 'Kivu 4' and because of her very young age, she still remains with the others of the baby group. When rains are not pouring and devastating everything, Mama Angeline and I take these little ones in the small bush we have around the project and they all enjoy climbing and playing in the trees…
[kml_flashembed movie="http://www.youtube.com/v/ywNJKwe2CfM" width="425" height="350" wmode="transparent" /]
I'll try to come back soon with more news
Thank You,
roxane