After DJONGA, the first Lesula monkey confiscated in Lodja and arrived at J.A.C.K. few weeks earlier, another Lesula female was confiscated in Katako Kombe, a city located more than 100Km away.
The baby was seized by a Congolese army captain from the hands of a bushmeat seller ready to leave to sell the animal in Kindu in Maniema province.
The NGO APPACOL-PRN was contacted by this same captain to come and rescue the primate, which had horrible injuries to her left foot and tail. Very quickly, Mr Héritier MPO, president of the APPACOL-PRN association, called on J.A.C.K. to rescue the Lesula and to have precise details as the care to be given to him. This is how J.A.C.K.'s veterinarian, Dr. Christian, is in constant contact with Mr. Héritier and funds have been sent urgently from J.A.C.K. to buy the necessary treatments.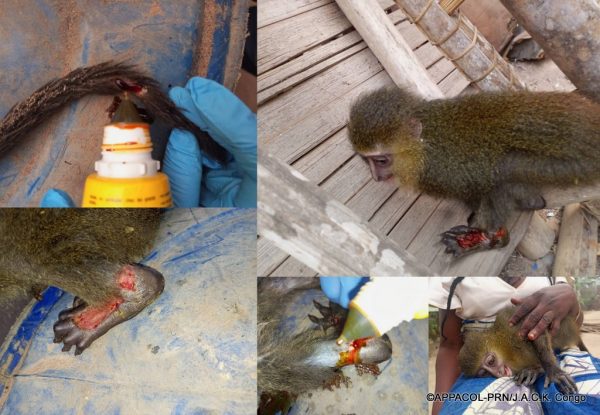 We are now reassured to know that the primate is in good hands. The situation with her foot remains worrying as she still does not walk but we hope that she can be transferred as soon as possible to J.A.C.K. to be further supervised.
Send her all your positive thoughts so she can walk again and heal as soon as possible.