Dear Friends!
Chers Amis!
It's been 3 years now that we've met you all on this blog and we wish to thank you all for reading, following,  encouraging and for being with us during good times and hard times…
Cela fait aujourd'hui 3 ans que nous vous avons rencontrés sur ce site et nous vous remercions de nous lire, de nous suivre, de nous encourager et d'être auprès de nous dans les bons et les mauvais moments…
Know that for us this contact with you is important because it makes us feel less alone in this remote area of Africa. We wish we could write and blog more, but Franck and I have plenty of things to deal with every day as, remember, we both are volunteers at JACK and we do have our professional  AND family lives in addition to this wonderful project!
Sachez que ce contact avec vous est très important car il nous fait sentir moins seuls dans cette partie retirée de l'Afrique. Nous aimerions pouvoir écrire plus souvent, mais Franck et moi avons beaucoup de travail au quotidien car, souvenez-vous, nous sommes tous les deux volontaires à JACK et nous avons chacun notre vie professionnelle et nos responsabilités familiales à gérer en plus de ce magnifique projet!
So, for all of you who are reading and helping us, this greeting card is for you! It is young female Kina who has been selected this year to share our Best Wishes and to express all our gratitude. Her 'hairy' friends and herself indeed wouldn't have been assisted so well if some of you hadn't organised fundraising events, nor handn't  donated to help the sanctuary…
Donc, pour tout ceux qui nous suivent et qui nous aident, cette carte ci-dessous vous est destinée!  C'est la jeune Kina qui a été choisie cette année pour exprimer nos Voeux les Meilleurs et pour vous faire part de notre gratitude. En effet, ses amis « poilus » et elle n'auraient pas été si bien encadrés si certains d'entre vous n'avaient pas organisé de collectes de fonds ni envoyé de dons pour aider le sanctuaire…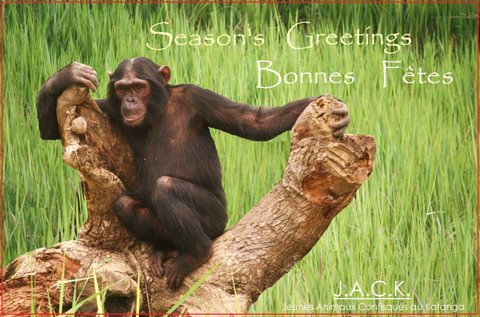 In a few words, Franck and I simply wish to say « Thank you for THEM! »
En quelques mots, Franck et moi tenons tout simplement à vous dire « Merci pour EUX! »

Happy Holidays!
Joyeuses Fêtes! 
Roxane & Franck