Dear All,
This morning, the chimps had a terrible fight during feeding time (milk) in the night enclosure. There was such agressiveness and nearly all the group was involved into the quarrel we actually couldn't see who was fighting against who…
The keepers shouted and managed with Franck to separate the group. But it was too late… Tongo had been taken into the fight and we do think the biggest males tried to emasculate him. He defended himself, cried and some females came to help him, licked all the blood…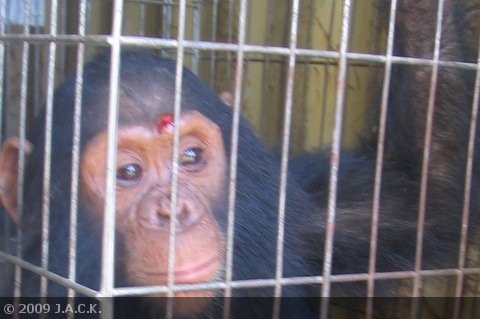 Tongo waiting for the vet to arrive and licking his wounds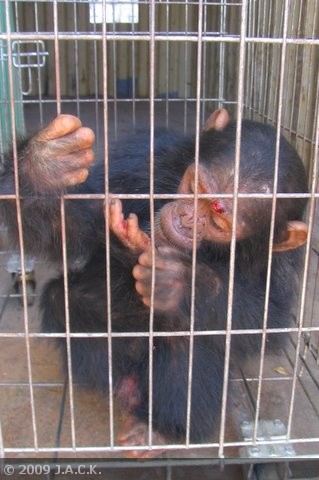 The vet arrived. We sedated Tongo as he refused to be hugged. The vet had a closer eye on the different injuries: a small piece of his penis has been bitten off,  the arch of his left eye brow needed a stitch and his right foot showed traces of deep bites.
Chimps are known to like conflicts and war. But this is the first time we attend such violence and, from my side, it's really heartbreaking, as poor little Tongo didn't deserve this!
I'll keep you posted about Tongo's progress. Tongo has now waken up and had something to eat at lunch time. He's doing all right and has started antibiotic and anti-inflammatory treatment already…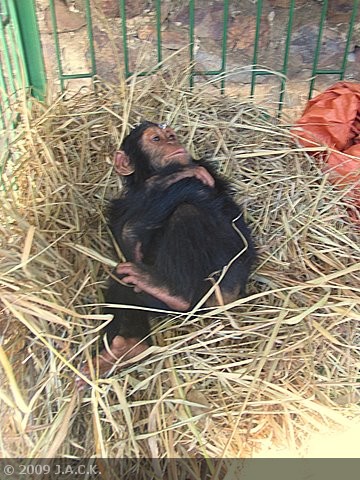 Tongo waking up
Roxane