J.A.C.K. Sanctuary started in April 2006 with its first rescue: baby JAK, the first orphan chimpanzee ever confiscated in Lubumbashi by DRC wildlife officials. And it took us 6 long months and the painful depart of two orphans to be finally legally recognised  by DRC government!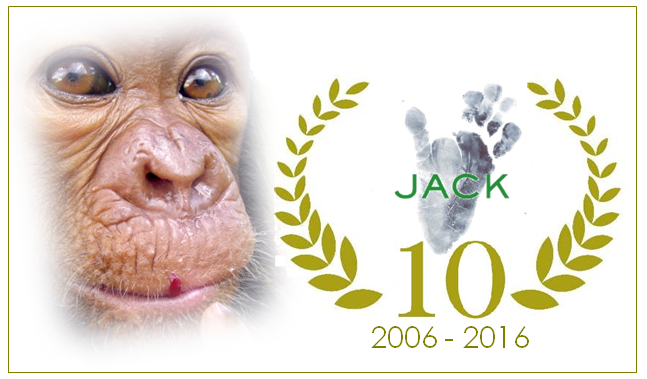 Our friends who have lived in the DRC before and people who have been following us all these years  indeed can understand how tough it is to live and create such rescue project in this part of the world.
It isn't just the fact of creating an organisation. You must be able to live it and make it live every day despite the so many obstacles our beautiful country offers ! Franck and I have been through so many hard times (different types of sabotage, arsons, 2 orphans assassinated, armed attack, threats, etc) that we would have quit the country a long time ago already!
But Franck and I keep strong ! Yes, our mission to rescue these poor souls has also become our passion! And know that without passion, without that little flame burning in the deepest of your heart, you can't withstand such pressure made of sacrifices, daily issues and the constant demand of being on top of your condition 24h/day 7 days/week all year round…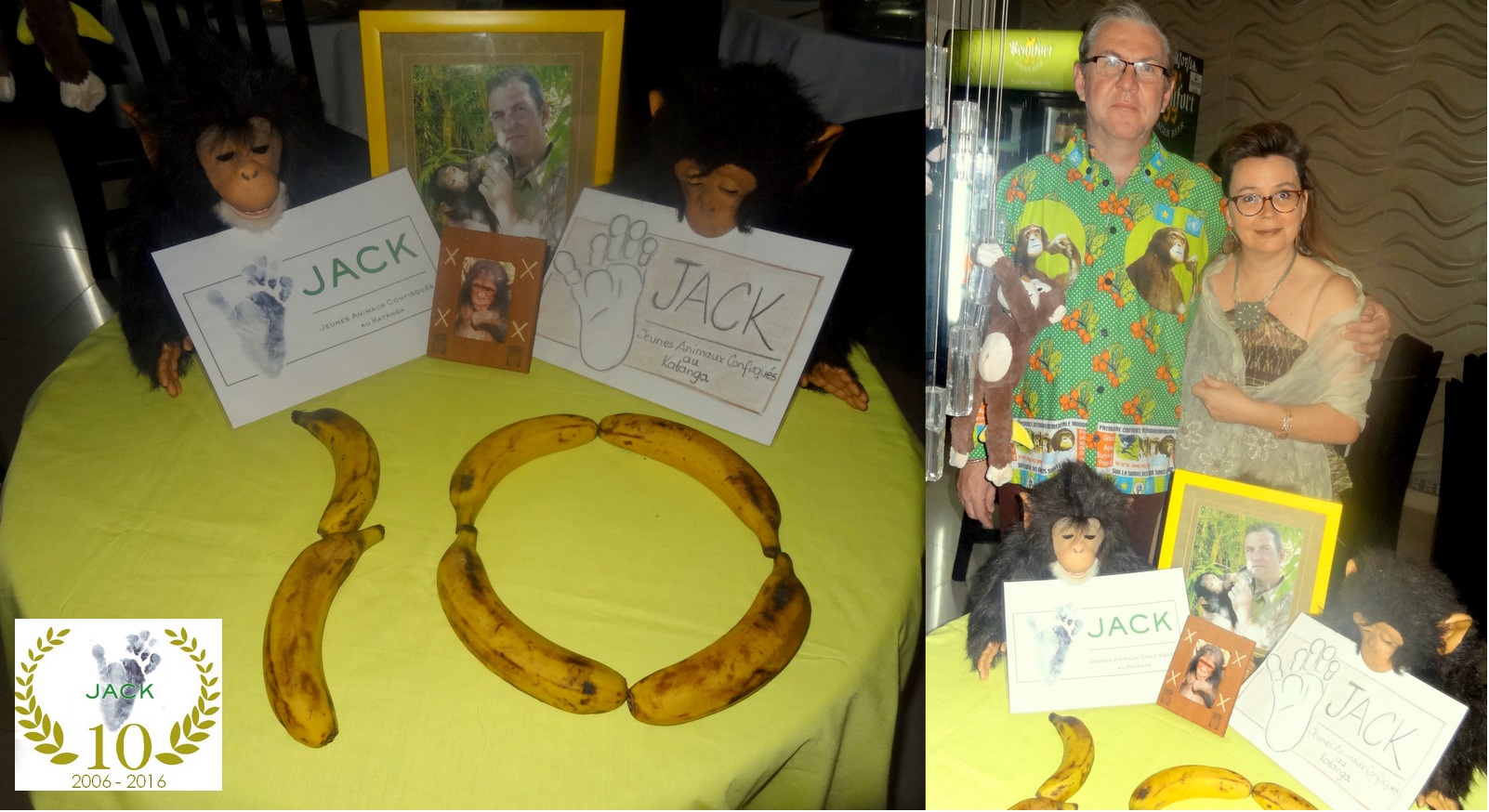 Because this October month was our 10th Anniversary, Franck and I personnaly wished to mark the occasion by organising a small party for the team of J.A.C.K..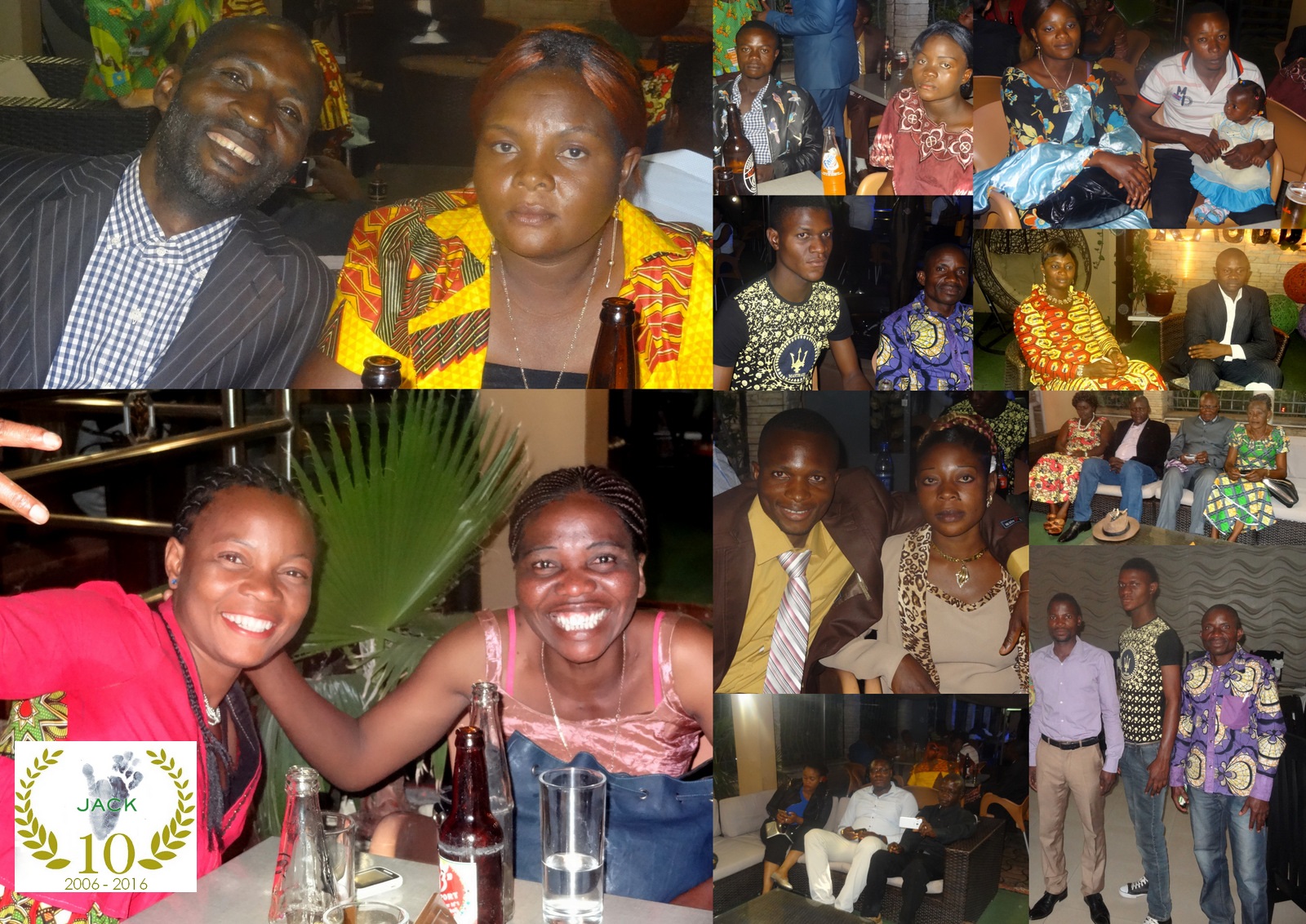 Were invited: all our keepers and their wives but also all our volunteer friends who make J.A.C.K. work possible (veterinarian, accountant, cashier, wildlife officials in charge of ape confiscations,etc).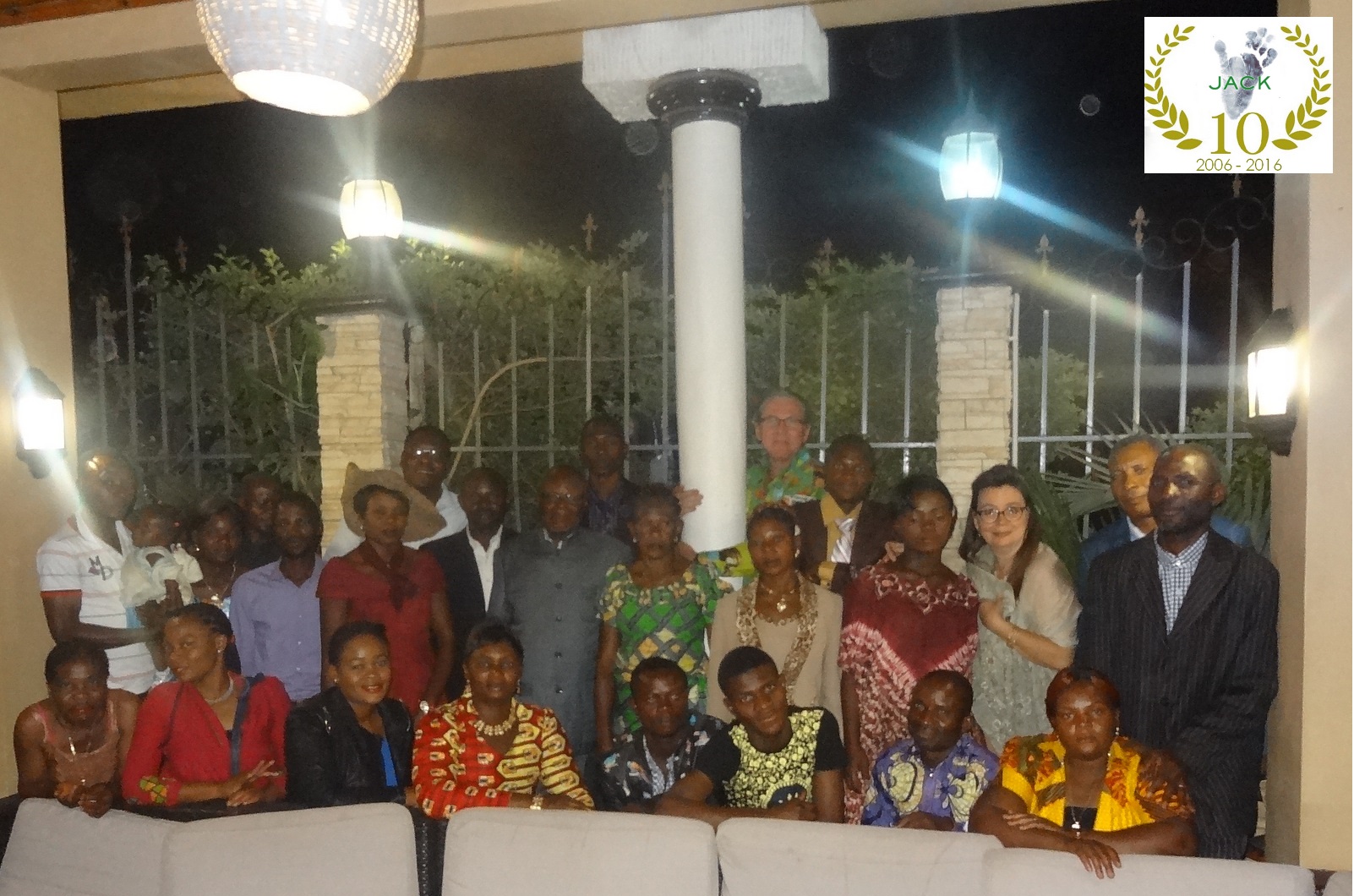 It was very nice to have everyone enjoying a good beer and a wonderful dinner!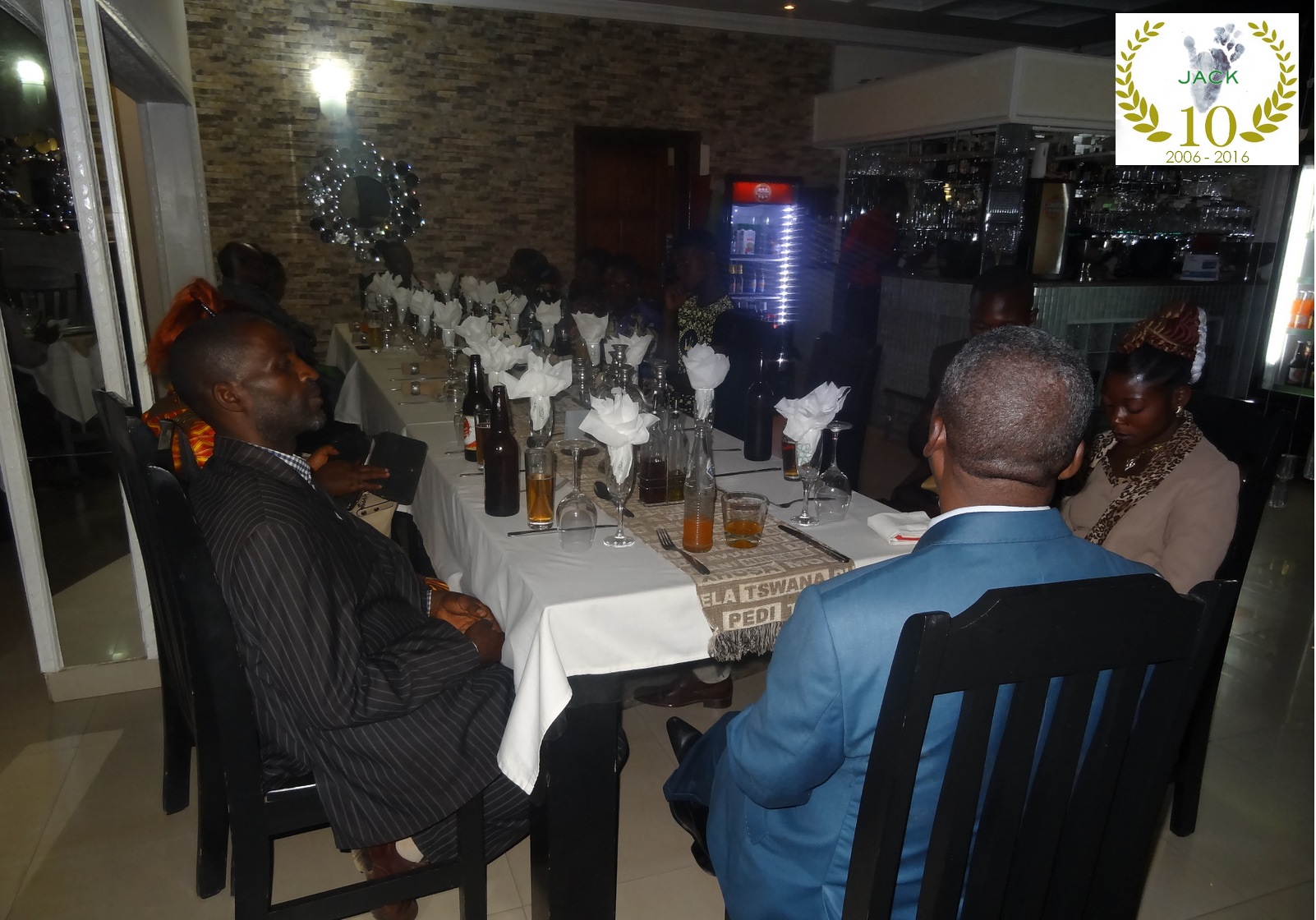 A present was offered to a member of our team who has been with us since JAK departed in September 2006. A person who has been treating these orphans like her own kids – yes, you know who I am talking about: Maman Angeline!!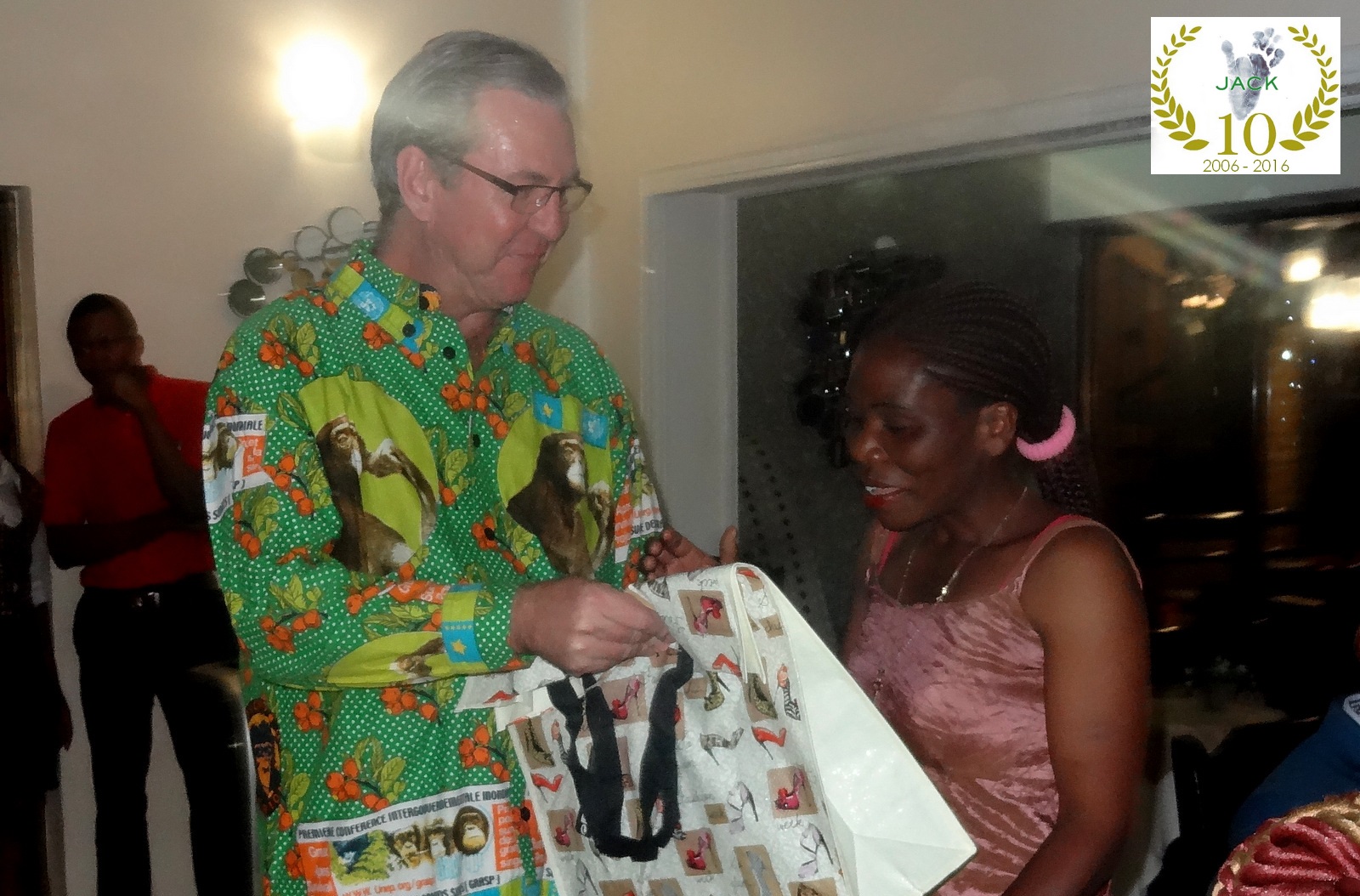 A tasty cake with J.A.C.K. logo brought the event to its end: since unrest is now on the increase especially at night in Lubumbashi, we wanted our team to be safe at home before 9.30 pm.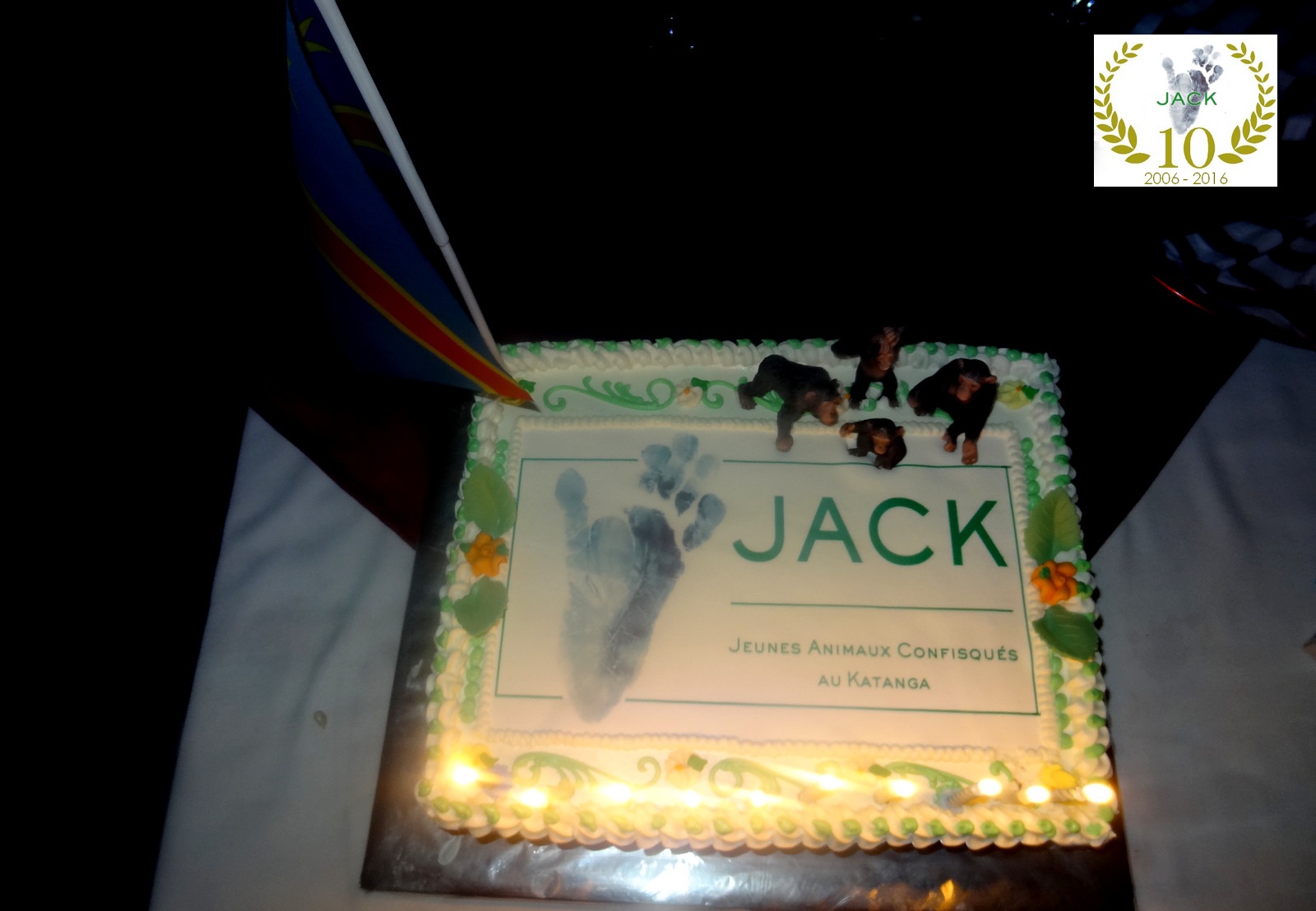 Many , many thanks to our team for its commitment and devotion!
Many thanks to our volunteers who participate to our action!
Also, many thanks to two Friends who believed in us in 2006 and who have been supporting us since then: Mister Thivillon Pierre (Espace Zoologique de St Martin-la-Plaine) and Mister Levy Robert (Trust Merchant Bank). Without your trust, J.A.C.K. wouldn't have become the sanctuary it is today!
Finally, a thousand thank yous to all the people who help us grow and who provide the chimps with the best care: all the sponsors, donors, members, adopters of J.A.C.K. and of our French charity 'Les Amis de JACK'.
Thank you all! Without your Love, Franck and I wouldn't have blown the candles of J.A.C.K. 10th Anniversary!