A new chimp orphan arrived at the sanctuary several days ago: Mata, a young male  a bit older than 1 year old.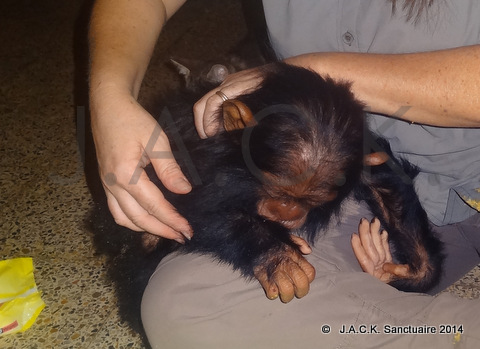 Weak, déhydrated, extremely thin (4kg) because of malnutrition and very stressed, Mata took a lot of time before accepting his new environment and before realizing a chance of better life was offered to him. His stomach was so shrunk he hardly could digest small quantities of food and liquids. It's with a lot of love and patience that we finally managed to get him eat without any problems of regurgitations.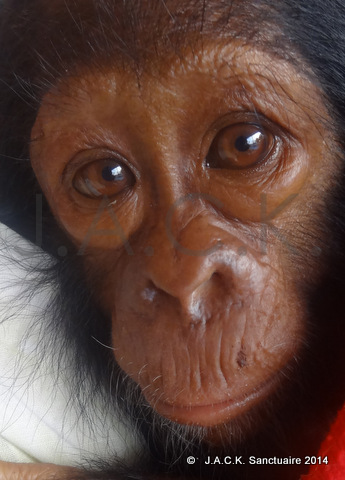 Mata's first nights were awful. He was so stressed he needed company all night. He woke up many times, had nightmares and needed contact constantly. Since Mata is having his quarantine at our place (we don't have yet the quarantine facility for little ones like these at J.A.C.K.), I take care of him at night and give him all the love n care he needs.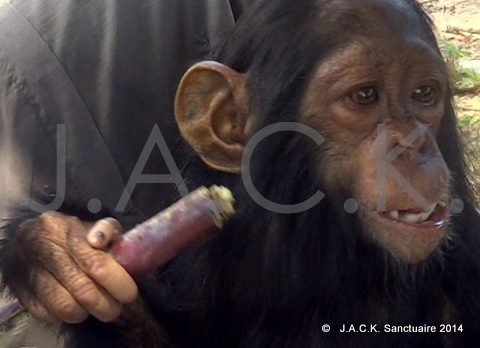 Today, baby Mata has put on weight, has gained in selfconfidence and is no longer stressed. He likes to walk around on hiw own (no longer in the arms) and to discover his new environment. Mata has regular visits at J.A.C.K. where he can see other chimpanzees and realize he is not alone. I thought he would be interested in the very young ones (Kaly, Luna), but Mata actually loves to see the 'big' juveniles such as Mwisho and Washu… they probably remind the newcomer of members of his (lost) group…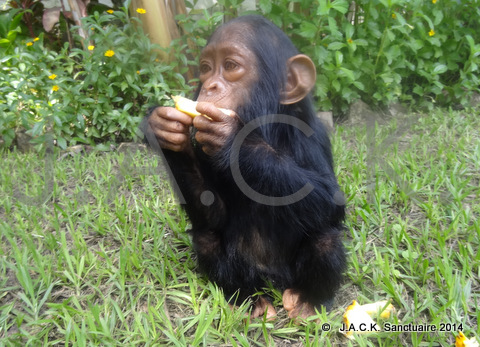 I'll keep you updated…