Our sanctuary today looks after 39 rescued chimpanzees. All of them have been saved from the bushmeat trade and from the illegal exotic pet trade. They are divided into two groups: the main group  and the nursery group.
From the early beginning since we started this refuge centre in Lubumbashi in 2006 together with the Ministry of the Environment, our project has been promised land to start a pre-release program to teach the chimps how to live in the forest. These orphans are Congolese orphans and must go onto state land; so far, we are still waiting for this bushy area to slowly move our rescued friends to their natural habitat!
So, becasue J.A.C.K. can't yet start this pre-release program, the sanctuary must adjust to the augmenting needs of its boarders and improve their evironment.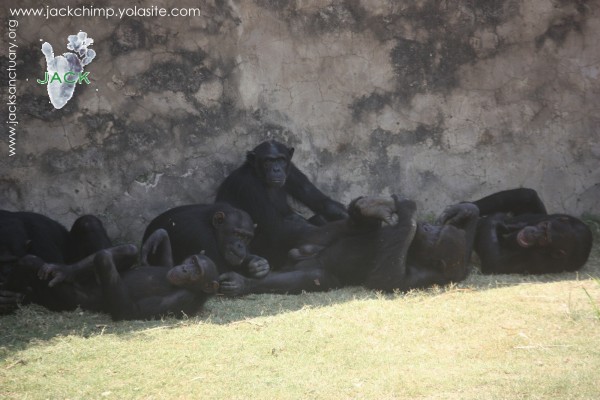 The main group is living on a huge open air playground which is directly connected to the different night rooms. This open air facility used to have trees before but all have been destroyed and/or eaten by the growing chimps.
Therefore, many years ago, one of our sponsors offered  different play equipments that the chimps really loved! The one they preferred was a huge tower which unfortunately hasn't withstand the developing strength and vigor of the main group chimps (17 individuals aged now between 9 and 11 )! A few  equipments are still available on their playground but they really need a huge tower again to satisfy their chimp needs of climbing, hanging and swinging.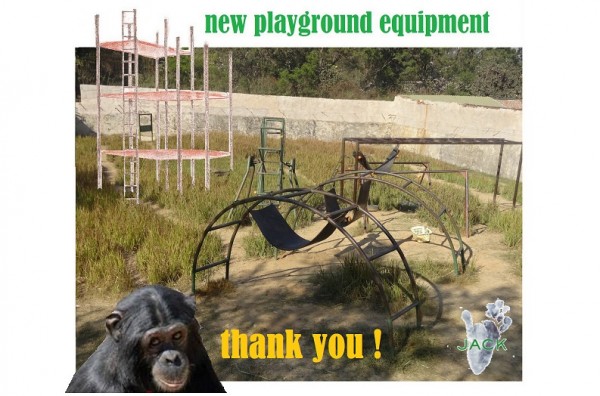 Our Christmas project this year is to collect some funds to offer the main group that special play equipment which, in addition of being great enrichment, will also provide shade and shelter. When the weather is too hot and when rains are pouring, the chimps have no other place to go than in the night rooms. The tower ( 196 inches high – 118 inches wide) would be extremely helpful and this is the reason we call on your generosity today: looking after chimpanzees in a country where so many things are missing is an everyday challenge and once it comes to develop their environment it becomes a nightmare since most building material is imported (concrete, metal) and…very expensive!!
A GOFundMe event is online and JACK and the especially the big boys of the main group would really be grateful if you could support their Christmas project!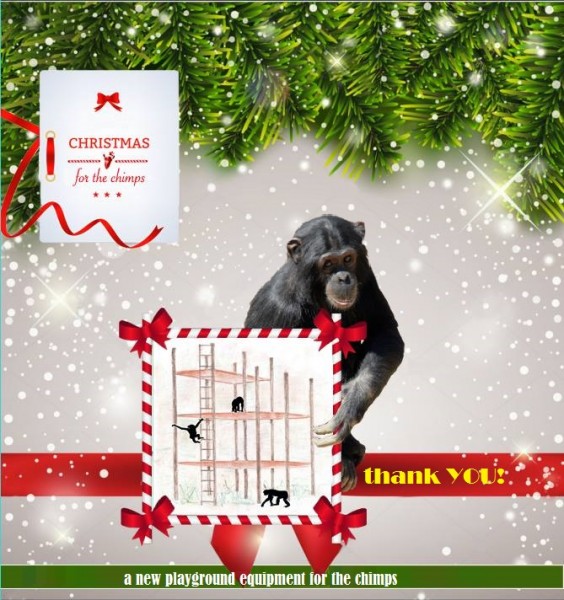 Thank you for your interest and generosity! We really hope this project will come true some day as the chimps of the main group need it!