As  promised yesterday, here is the report of Tommy's second day of introduction into JACK nursery group.
The first day, Tommy, Nalia & Ekolo were presented to Santa, Maïka & Kimo. These 3 chimps of nearly 4 are usually very calm and quite maternal towards new comers. Especially Santa who loves to have very little ones in her arms.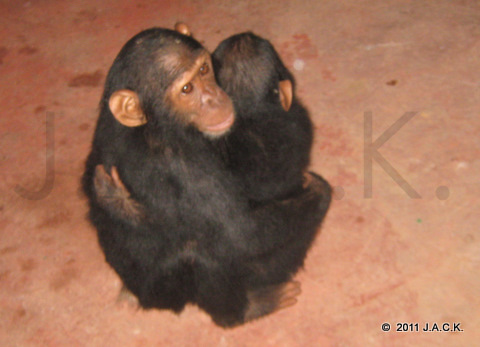 Today, another step was reached! It was high time the 3 little ones met other members of the group: Bapu, Pundu, Dian & Rosie.
And, in the afternoon, the elder infants were presented: Africa, Pasa and Elia.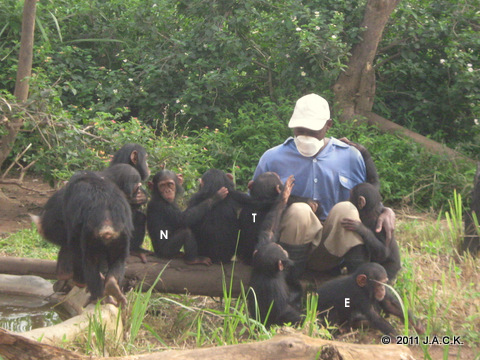 All went quite well. Papa Augustin and Franck stayed for hours with the little ones and the nursery group in their outside enclosure and although Elia and Pasa were tempted to impose themselves, they didn't do anything to the 3 new ones.
Ekolo played in the trees.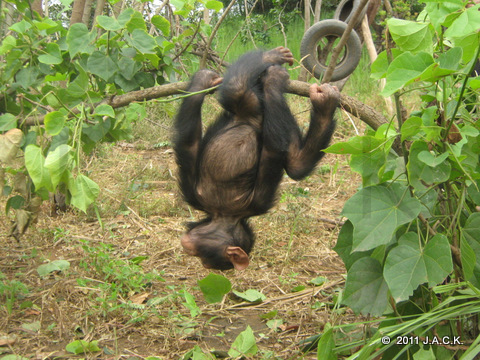 Tommy went high up in the trees.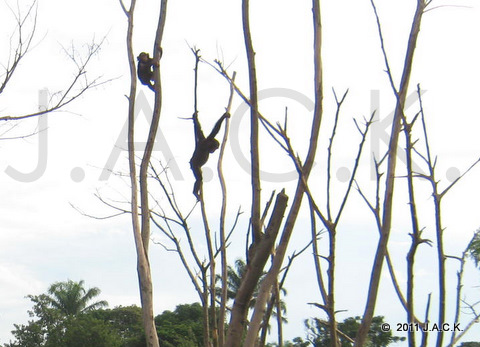 And Nalia decided she'd rather stayed close to Papa Augustin and Franck. She sometimes joined Tommy in the trees but didn't stay too far from Papa Augustin.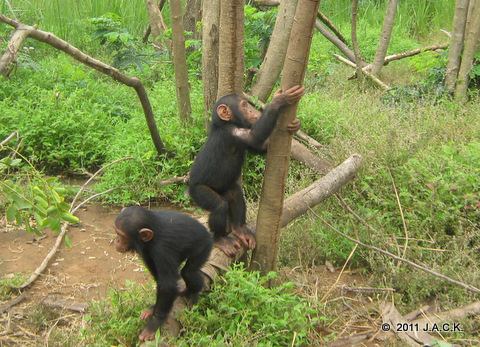 Then, suddenly, by the end of the day just before feeding time, Pasa started to be naughty with Nalia.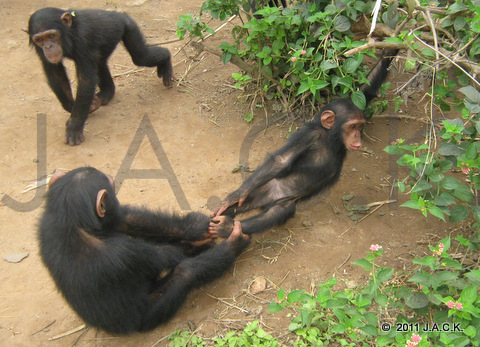 ….Elia couldn't stop teasing Ekolo….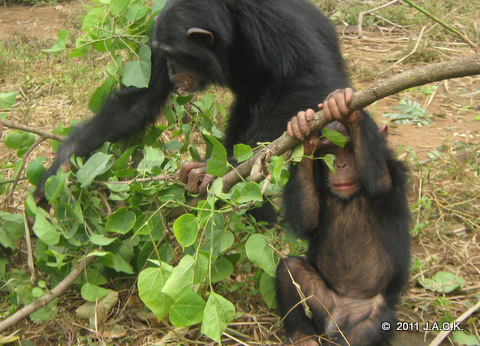 And even Kimo wished to imitate Pasa and hit Nalia's back just to show her he's the boss…[kml_flashembed movie="http://www.youtube.com/v/rpLrG8M3pao" width="425" height="350" wmode="transparent" /]
Not funny, indeed, and therefore, at the end of this second day, we took the decision to keep the 3 little ones slightly separated from  the bigger ones (Elia & Pasa) . Africa was fine, she's been very patient and is usually a very maternal female… Remember, Africa is the one who took care of Vida last year when Vida was introduced to the same group….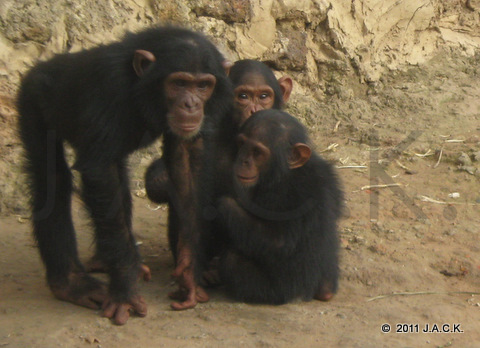 The second night, Santa, Maïka and Kimo again shared their quarters with the 3 newcomers and this time it was Kimo who took Ekolo in his nest. Tommy & Nalia slept together in a corner not far from Kimo & Ekolo.
Although the elder infants were a bit rough, I think the newcomers had again a great experience today. Let's see what tomorrow brings!!!
Thank You
Roxane/J.A.C.K.