Sorry for editing so late; had to leave DRC for three weeks because of medical problems. Now, all is fine, and I can finally send you the latest news.
It was a real pleasure to us to welcome Samantha Newport ( Communications Director of WildlifeDirect) end of last January. She had decided to come to Lubumbashi for 1 1/2 day in order to visit the Refuge Centre and also to train me in blogging. So, Franck and I knew we would spend just a few hours only with her and that the visit would be immensely short!
Samantha appreciated a lot the Centre and loved to see all the young apes running and playing around in the main enclosure. CHITA had become her favorite chimp: he's the alpha male and is an adorable and very pacific "boss".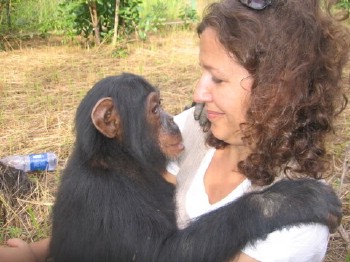 Samantha and Chita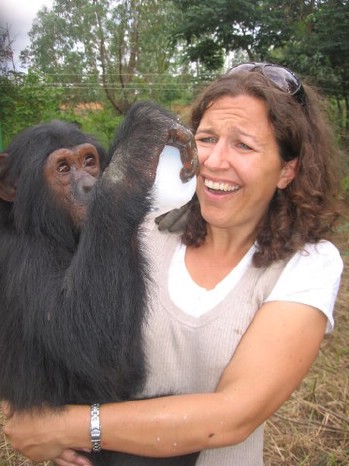 Chita enjoying his milkbottle in Sam's arms
During her stay, Samantha noticed the different things that have been recently built thanks to your donations in order to improve security. Remember, in a previous post, I told you visitors liked to lean and climb/sit on the wall of the main enclosure to watch the chimps.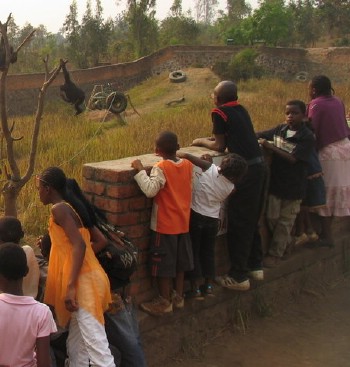 Visitors love to climb and to sit on the wall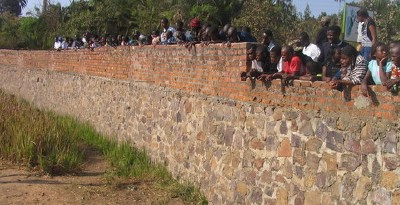 Visitors
But, today and thanks to your help, it is getting more difficult to do so, as with your donations:
(1)a second electrical fence has been fixed above the first one and very close to the top of the wall to prevent people from sitting. It also represents an extra security as the chimp babies are now growing and might be interested in jumping over the wall…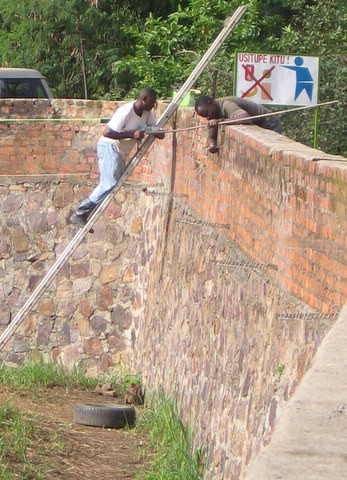 Fixing a second electrical fence
(2) boards have been drawn, painted and placed along the main enclosure: visitors must understand that it's forbidden to feed the chimps.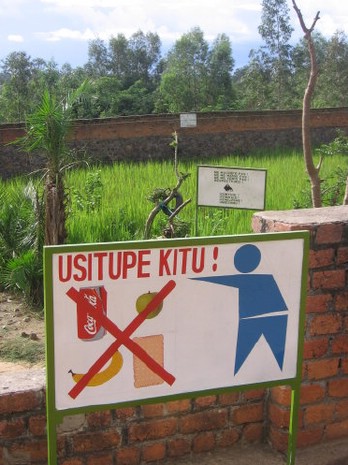 New boards have been drawn
(3) every weekend, when most visitors come, one young Congolese student, called Ghislain, stands at the entrance of the enclosure, welcomes visitors, gives any kind of details on what J.A.C.K. does and checks if people don't throw things over the wall. He's our first fence! Of course, there are surrogate mothers inside the enclosure with the babies, but when someone throws something, it goes too fast and it is sometimes too late!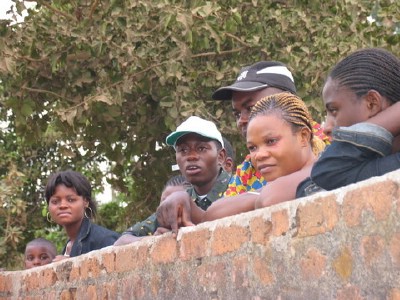 Ghislain (white cap in the middle)giving details to visitors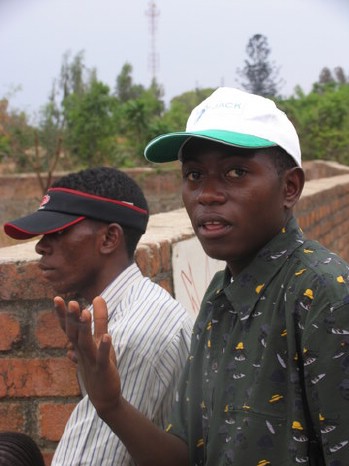 Ghislain
(4) since last weekend, an extra wired meche fence has been set up not far from the wall sothat people don't even go too close to the enclosure any more. If you stand on that little hill, you still have a nice look of the chimps in their environment. Now, lets cross our fingers that visitors won't climb onto the fence….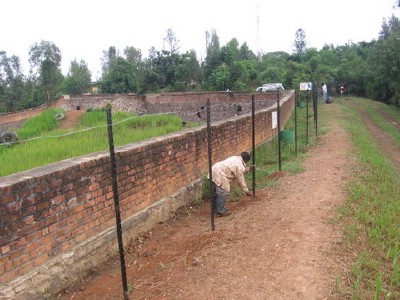 Placing an extra fence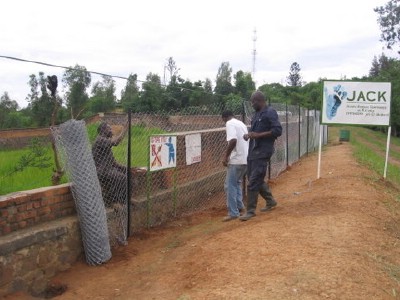 Extra fence thanks to your donations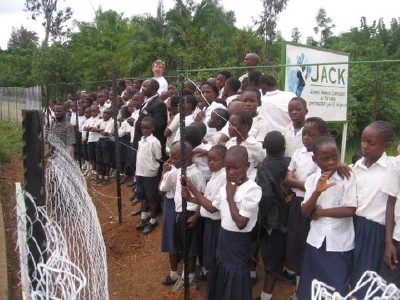 Visitors can still have a look at the chimps in their enclosure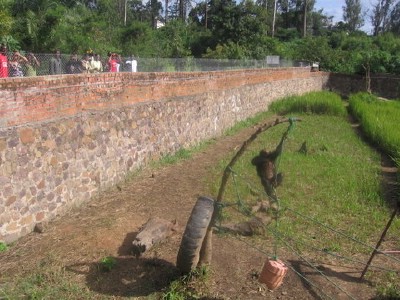 Visitors can still observe the chimps
Before ending, I really wish to apologize that I haven't been able to write you earlier. Also, I do thank all of you for your patience and support. While I was away, we did receive the following donations:
* Free donations: Lucia C (50$), Oliver T (25$) and Pirjo L (50$)
* Monthly donations : Theresa S (30), Brigitta S (10) and Theresa S (10).
Building this extra protection has been done thanks to your donations mainly and this is something we will never forget!Again, Sam, thanks to you for your indulgence (teaching me took a lot of your time!) and for your visit. Franck and I hope you'll keep a good souvenir of these short moments spent together…
Roxane, Franck and the Chimps