Dear Friends,
It was a huge surprise to hear that Dr Ian Redmond was coming for a short stay in Lubumbashi and that he intended to visit J.A.C.K. !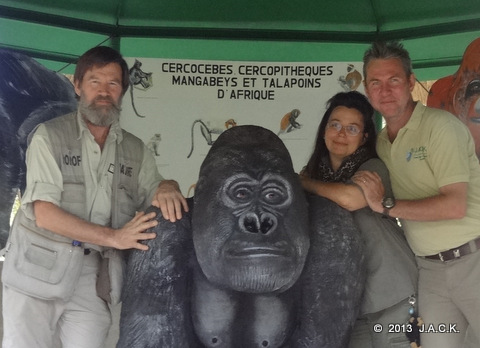 Franck and I were filled with emotion when showing him the sanctuary. Our visitor was impressed by all we have achieved so far regarding chimpanzee rescues as well as regarding law enforcement. Remember, when Franck and I started J.A.C.K. 6 years ago, you could find apes for sale on the streets and markets of Lubumbashi and surroundings. Today, no new chimpanzee has been reported in Lubumbashi since baby Vida was seized by Lubumbashi environment authorities in June 2010 and , as far as we know, no more apes have been smuggled through the Zambian border to be exported to different parts of the world. This means the action led by the DRC authorities and J.A.C.K. is essential in the process of stopping the trade of apes in Southern DRC.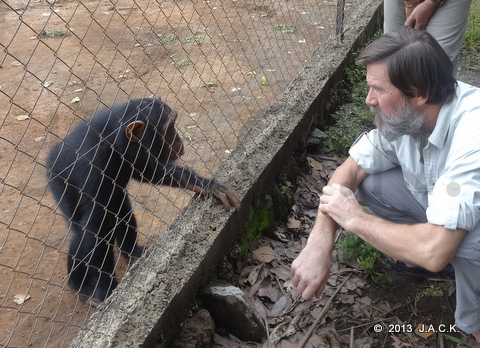 Dr Ian meeting chimp Pasa
Also, Dr Ian was very interested in hearing the stories of our hairy residents  and in seeing each and every border of our sanctuary. He loved the green garden which he found was a wonderful idea. He really liked our education center and wished to spend a night in the volunteer camp which is still being built!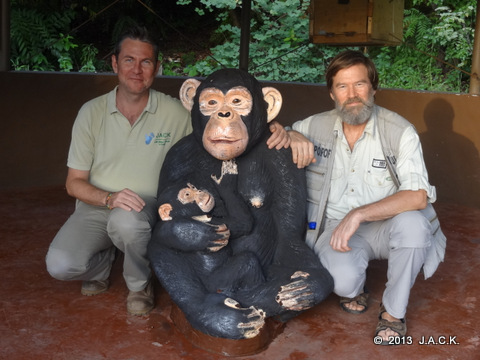 Thank you again, Ian, for your visit but also for your interest and friendship! It was a real pleasure having you at J.A.C.K. !
Roxane