Hi Everyone!
The 3 abandoned chimps from Goma I talked about early last February finally arrived at the J.A.C.K. Sanctuary in Lubumbashi.
[kml_flashembed movie="http://www.youtube.com/v/qofw-w0iQhM" width="425" height="350" wmode="transparent" /]
It has been very tough to find a means of transfer for these three youngsters as the fastest way, of course, is to transport them by air. Goma isn't that far from Lubumbashi, but there aren't a lot of planes flying directly and not a lot of flying companies agree to load chimps.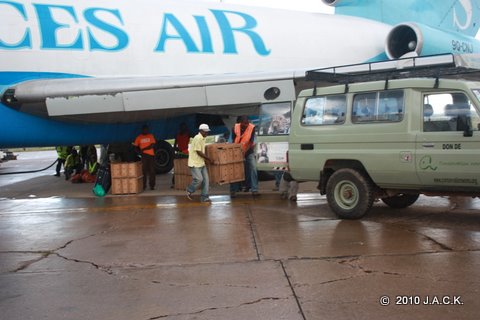 Remember, I told you the 3 young chimps (+ 2 adults) had been abandoned by expats wishing to start a sanctuary and who simply left the country as they could no longer afford taking care of the animals.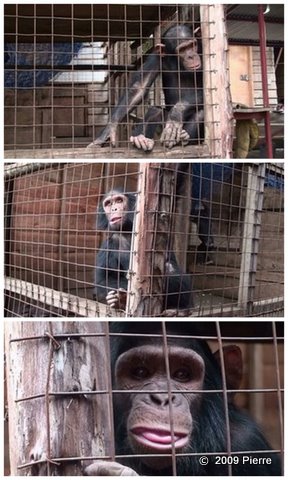 J.A.C.K. agreed  to take the 3 younger ones (2 males and 1 female) because we had no facilities available yet for the two adults who are said to be sent to Lwiro.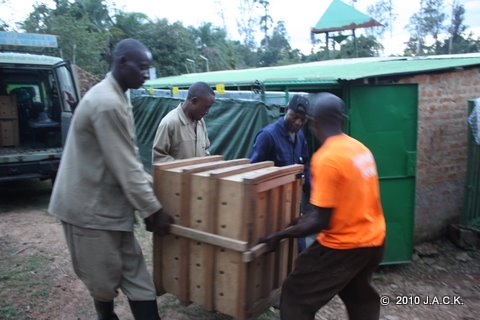 This rescue and transfer couldn't be possible without the participation of a strong team made of different associations and NGOs.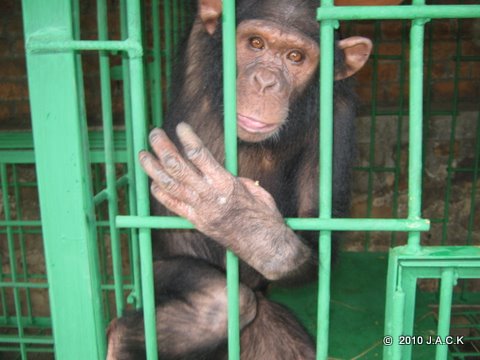 Bihati, the female
J.A.C.K. wishes to thank the Pan African Sanctuary Alliance (PASA) which covered all the food and transfer expenses with funding supplied primarily from the International Primate Protection League (IPPL) – UK, in association with the Disney Worldwide Conservation Fund's Rapid Response Fund, the Columbus Zoo, and PASA itself.
The I.C.C.N. played an important role too as the animals were confiscated by the local authorities and I.C.C.N. organised all the paper work.
We won't forget the Mountain Gorilla Veterinary Project team which did all the health checks, visited the chimps regularly and prepared the chimps for the flight to Lubumbashi.
Thanks of course to Sam and Eddy and the African Conservation Fund which followed each steps of the transfer and of course managed to get the flight straight to Lubumbashi.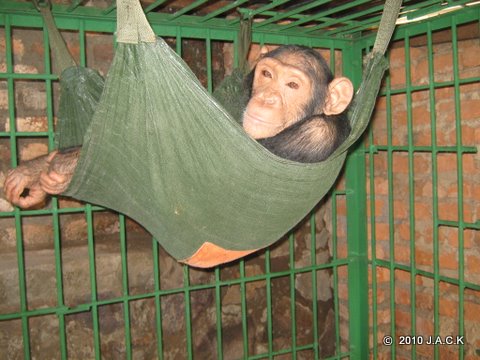 Attangha relaxing
Attangha, Bihati and Padda are now adjusting to their new life and great thanks to Papa Faustin who has been working with them for several weeks now and who has agreed to fly to Lubumbashi in order to help us to assist the newcomers and give them the love and care they deserve.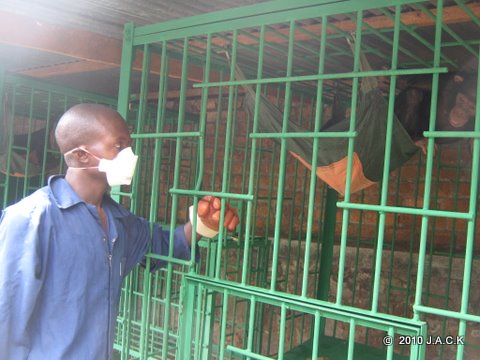 [kml_flashembed movie="http://www.youtube.com/v/eR0l5G6SRz0" width="425" height="350" wmode="transparent" /]
Before I end, J.A.C.K. wants to thanks its donors : PASA, the Sweden Chimpanzee Trust, Little Jak Association, le Parc Zoologique de Saint Martin la Plaine, le Zoo de la Palmyre, Kitty and her friends/family from Johannesburg, BELL Equipment and YOU, friends of J.A.C.K. who have donated on our wildlifedirect blog and helped us building new facilities so as to be able to accomodate these new chimpanzees.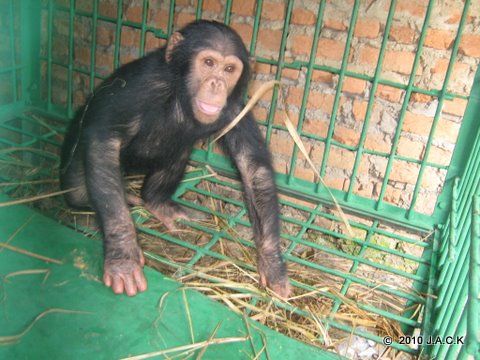 Padda, the youngest male
Roxane