A baby chimpanzee and a L'Hoest's monkey were confiscated by ICCN (DRC wildlife authority) last September in Tshopo province from the hands of hunters. They were taken by road to Kisangani to receive first aid from COPHEGS teams before awaiting their first flight to Goma.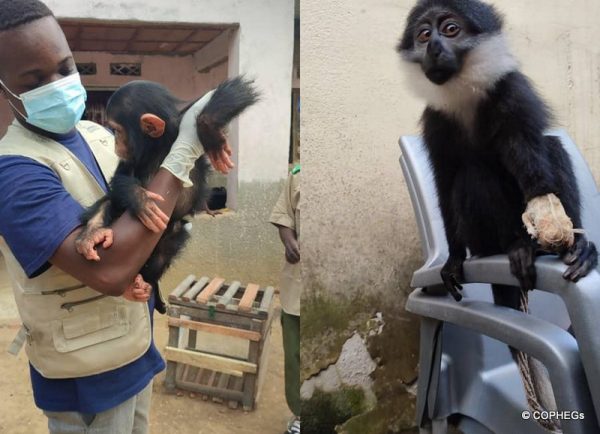 As soon as they arrived in Kisangani, J.A.C.K. was able to organize their transfer to Lubumbashi via Goma, where Dr Kizito (Cophegs) took charge of both individuals. The little chimpanzee appeared to be in good health, while the monkey had its hand cut off, probably as a result of a snare. The doctor had no choice but to amputate the forearm and provide the necessary care so that the animal could travel again.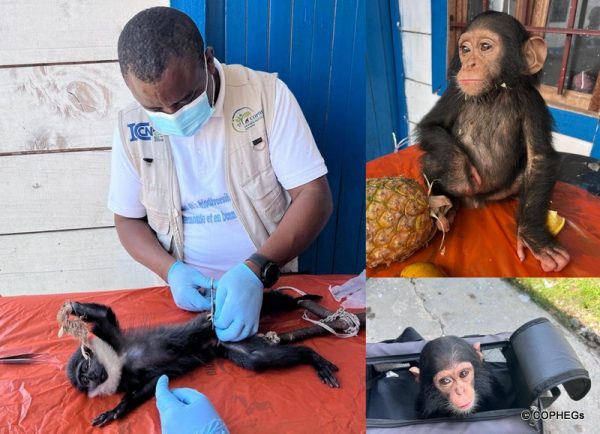 After several delays due to technical and logistical reasons, the young primates were finally put on a scheduled flight to Lubumbashi.
The J.A.C.K.'s team mobilized at night to welcome them at the airport and immediately take them to the founders' home, where they received the necessary care from our veterinarian.
FWA, the baby chimpanzee, has been entrusted by day to Mama Angeline to give him all the love and care he needs to cope with this new life. At night, our foundress, Ms Roxane, takes over to ensure that the baby receives 24-hour attention.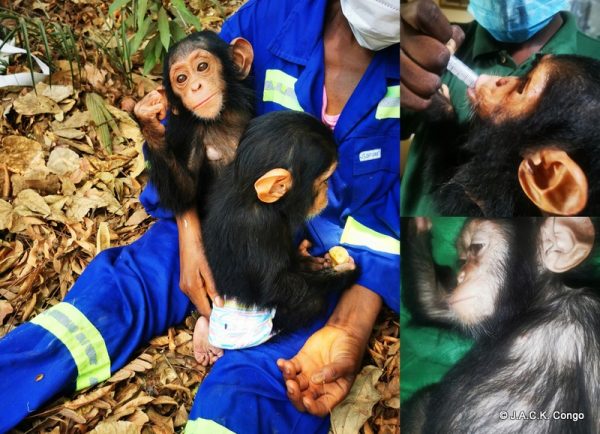 BUKU, the l'Hoest's monkey, also lives at the founders' home. Under observation, treatment and quarantine, the little female bears the scars of human cruelty. With her left forearm amputated, she is adapting to her new life. Rehabilitation following this physical trauma, in addition to all the abuse she suffered at the hands of poachers, has left her a very vulnerable creature, and every effort is being made to ensure that she develops at her own pace and recovers both physically and mentally. Today, she enjoys the full attention of the entire team, including her caretaker, Papa Victor.  The question now is whether she will be able to join a group, or even return to the forest… BUKU seems to be a warrior, but only the future will tell.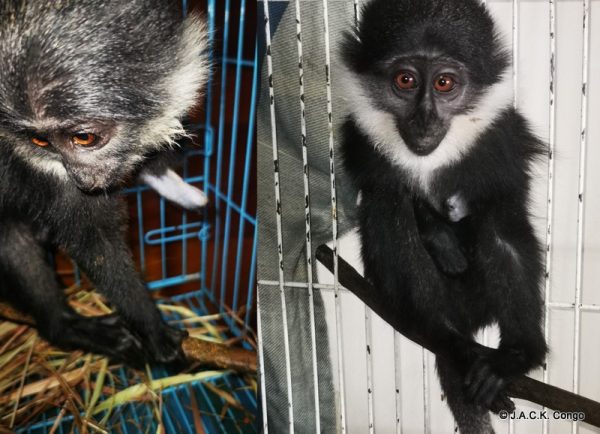 Thanks to all those who were involved in this latest rescue. Thanks also to the COPHEGs team for its various interventions during the transfer of these two young primates.