Hi Everyone,
In my former post, we had a happy rescue story. But also as mentioned, saving wildlife doesn't always have happy ends. Today, I'll talk about Ikia, a baby chimpanzee, who unlike so many others, had lost her family and hope…
End of June 2009– Julius, a Congolese man working in the city of Kalemie (Eastern DRC), saved a baby chimpanzee he had seen stranded in a bag.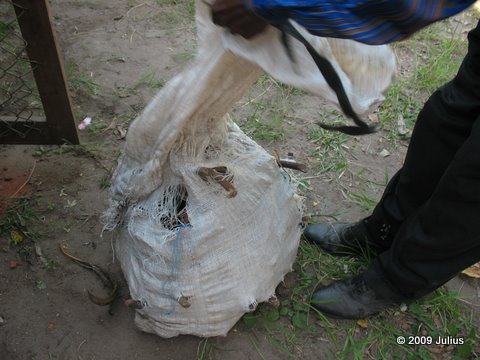 The baby female surely was meant to head for Lubumbashi on the Kalemie-Lubumbashi train,
but Julius got really interested in the content of the bag…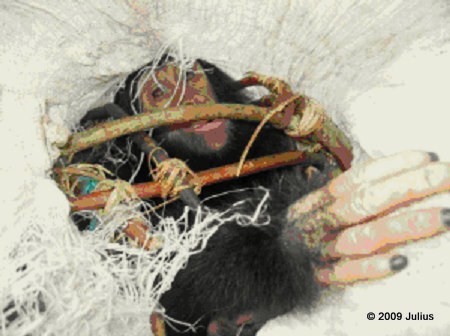 That's how Ikia entered in Julius'life…
Early July 2009 – Not knowing exactly how to look after a young traumatised chimp, Julius managed to get in touch with our Refuge in Lubumbashi. He wanted the best for the little one and needed advice and help.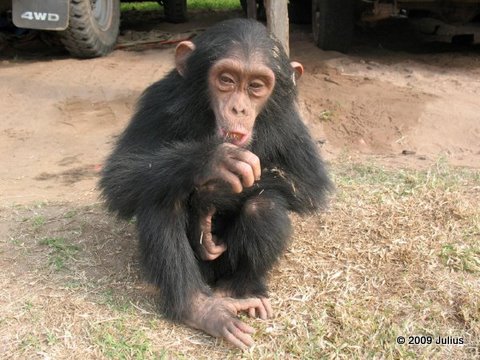 Franck and I were in Europe, so it was Chantal who first had contacts with Julius. She was running the project and sent me Julius' email address so that I could correspond and help the young man of  Kalemie…
Ikia was in a bad condition. She needed medical assistance and a lot of love and attention. Julius did a wonderful job and was assisted by other friends when he had to travel.
July 16, 2009 – Once all the paperwork had been done, transfer to Lubumbashi took place thanks to people wishing to help the baby.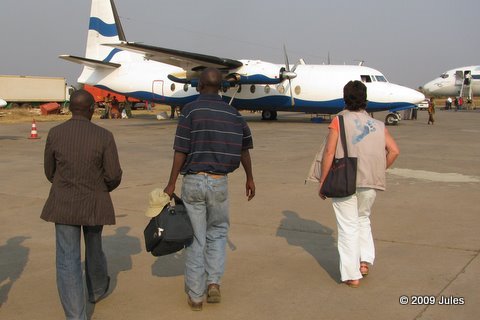 Chantal welcomed Ikia at the airport with the ICCN authorities and the representatives of the Ministry of Environment.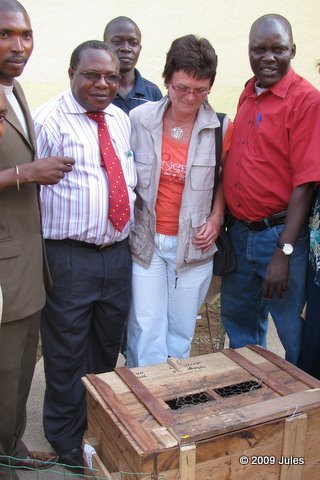 At the Refuge, our team welcomed a traumatised, weak and extremely stressed baby.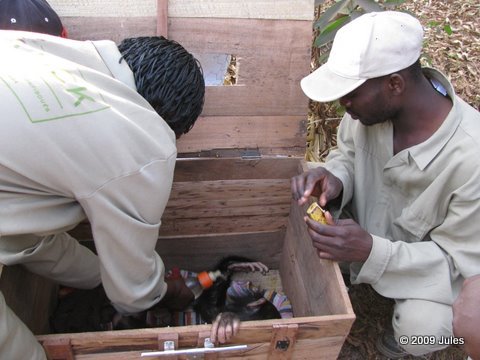 Ikia was lethargic, remained at the bottom of the box.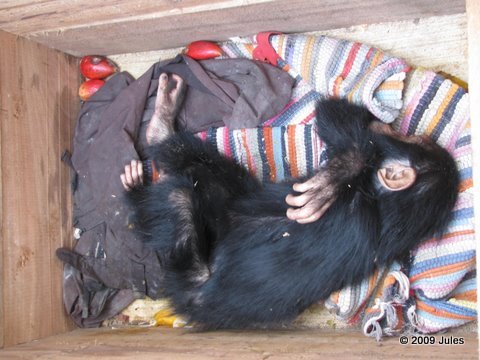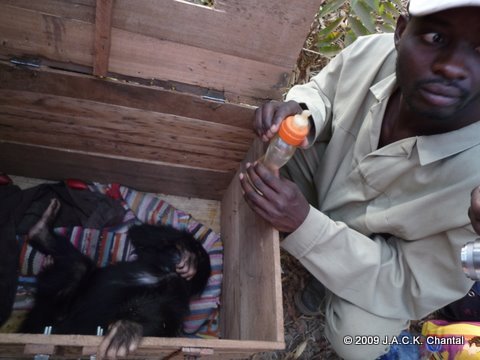 Carefully, Ikia was set into quarantine for observation and care.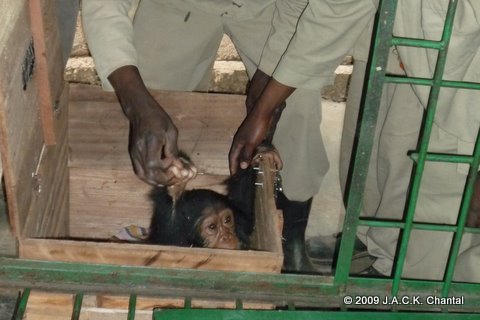 Assisted by the vet and a young man from France volunteering at the Zoo of Lubumbashi (Cyril), Chantal did all she could to help the new baby. But Papa Augustin and the others were extremely worried as it was clear the baby had had enough….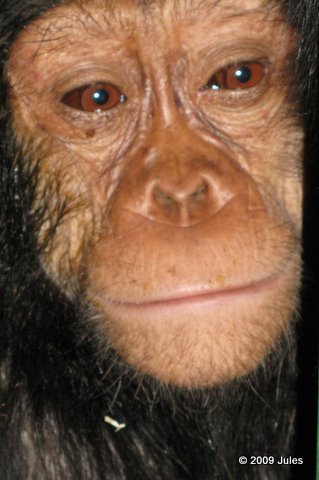 July 17, 2009– Ikia's last day. Early in the morning, Papa Augustin took Ikia to feed her and to give her love and care…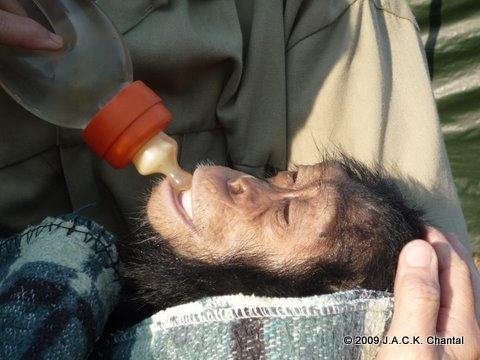 Although  the team knew something was going wrong,  everyone wanted to keep on believing Ikia was going to recover soon…. But Ikia had gone already. Papa Augustin held her in his arms when Ikia decided to give up the fight and to let herself die of desperateness.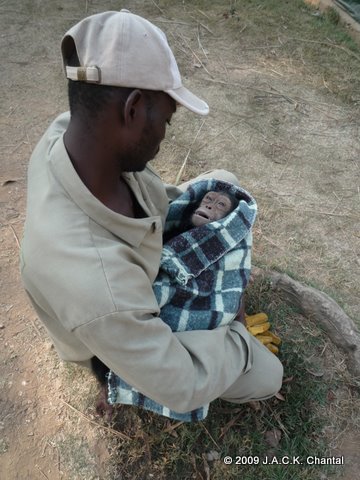 Everyone cried and felt guilty of not having done more… This was the first time the team went through such sad experience….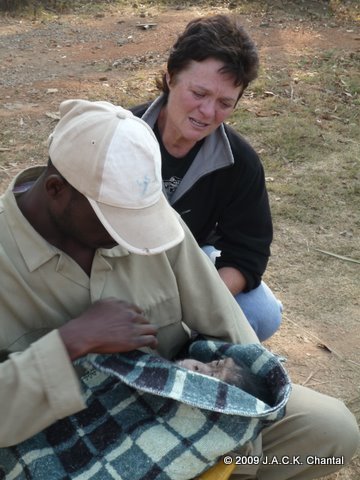 Our team and some friends of J.A.C.K. organised a small burial ceremony.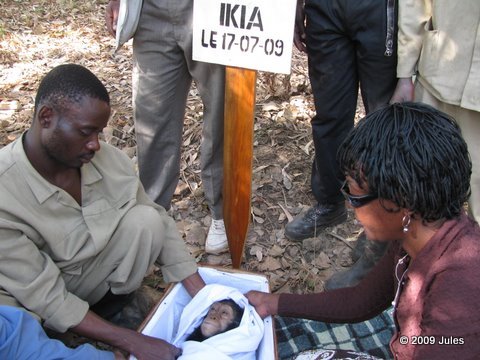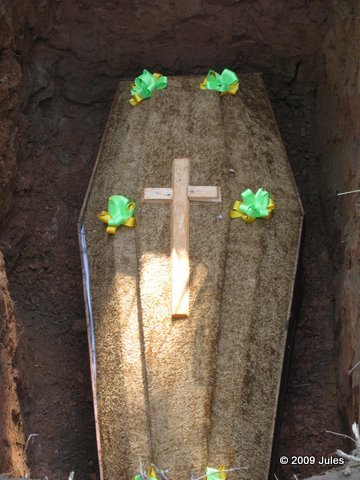 Ikia now lies in piece at the Refuge. This has been a painful event to everyone and it was even more frustrating for Franck and myself who weren't  in the DRC at that time…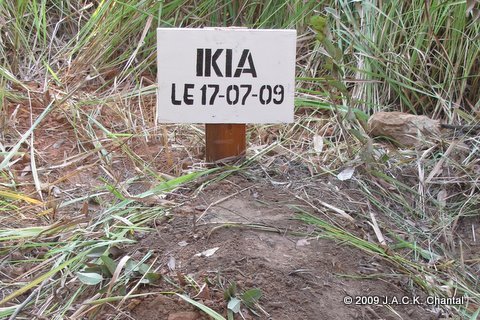 Rescuing animals can be very tough and each time a new confiscated baby arrives, it is a challenge to us. Sometimes, we struggle very hard to give the newcomer hope and confidence. And sometimes, it doesn't work…
Julius did a great job although he had never worked with Great Apes before. He started blogging about Ikia and you can read her story and see more pictures of her on the following link:
http://ikia1962.spaces.live.com/?_c11_BlogPart_pagedir=Previous&_c11_BlogPart_handle=cns!3A28F4683963E719!180&_c11_BlogPart_BlogPart=blogview&_c=BlogPart
Thank you Julius for your help and for all you did!
Thank you Chantal for all that energy spent in giving Ikia the best!
And great thanks to all the people who were involved in this rescue!
Your assistance was precious!
Ikia, I have never met you, but you'll stay forever in my heart!
Roxane