Hi Friends of JACK,
Several months ago I talked about a baby chimp called Doguy having eye issues. People of France and of the US decided to do something and helped in the best way they could: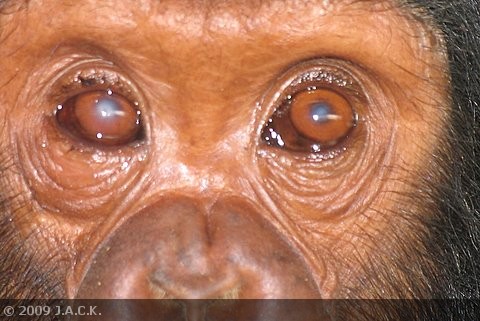 1/In the United States, Doguy's Guardian Angel, Tristan, managed to find a very kind Veterinarian, Dr Sullivan who is said « to be an involved animal advocate and care giver ». Dr Sullivan sent the drugs for Doguy to Tristan who actually came  at JACK end of June to give us the medecines.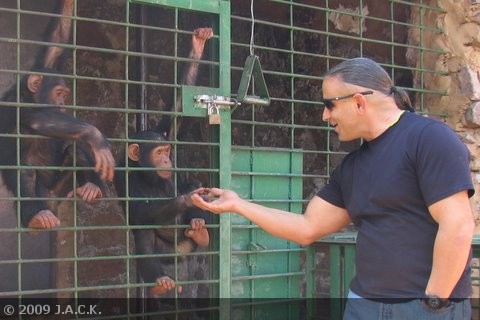 Tristan meeting Doguy
While being with us in Lubumbashi, Doguy's Guardian Angel  had a better idea of Doguy's disease and treatment and, of course, also met the other chimpanzees of JACK. Little Tongo was Tristan's favorite baby chimp!
Tristan also recorded our every day life at the Refuge to set up a short reportage about our project.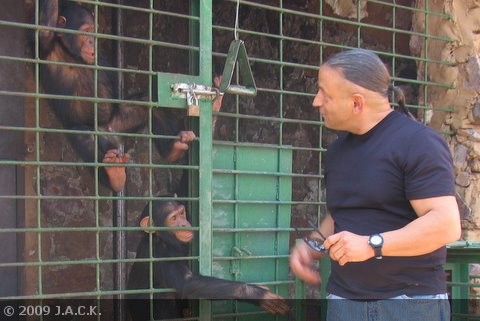 Thank you Tristan for having flown to the DRC for Doguy's sake and thanks too to Dr Sullivan who has been advising and following us for the last months!!
2/In France, Justine and another lady called Sylvie (two Friends of JACK having « adopted » Doguy on the http://www.littlejak.fr/ website) sent us medication too as they were very worried about Doguy being not well.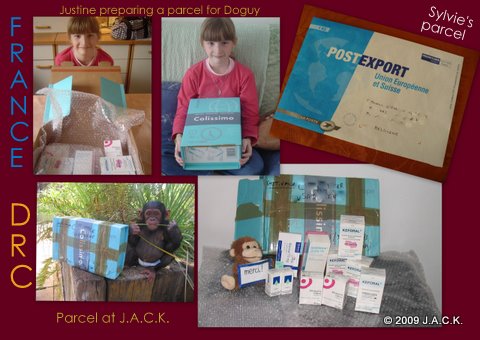 Merci à toi Sylvie ainsi qu'à Justine et à sa famille d'avoir fait le nécessaire pour Doguy. Il est sous traitement déjà et les résultats sont actuellement très positifs! Nous croisons les doigts pour la suite!!!
Meanwhile, as we were waiting for the medicines to arrive, Doguy had been separated from the others to be trained to eye drops.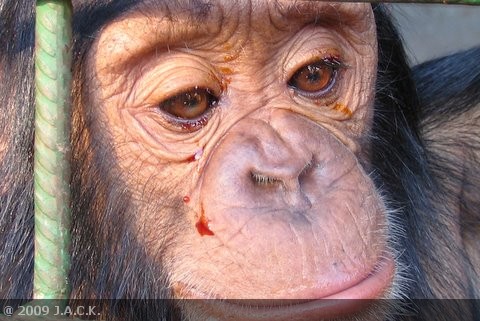 Doguy having eye drops
Yes, let me tell you, it really isn't easy at all to put eye drops to chimpanzees and that is why it took me about two months to have Doguy trained  by means of small grapes: he got some raisins once he had let me put a drop into his eye. If he hadn't let me do so, then sorry, no raisin….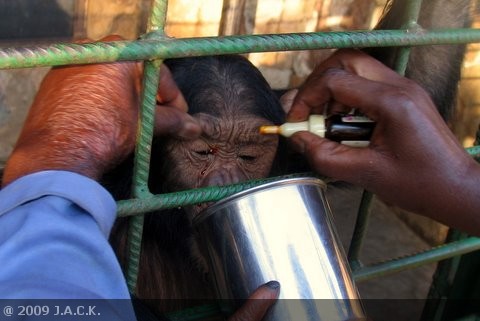 It took me hours of patience to get the final positive results. Today, when drinking his milk, Doguy can be given the eye drops in both eyes without showing any more resistance!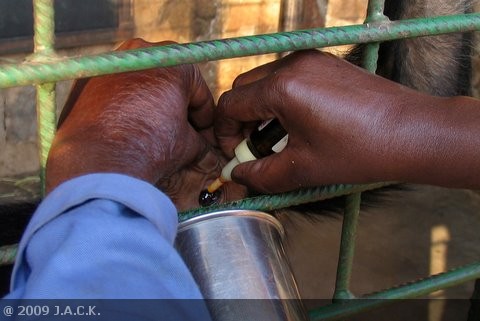 I therefore need to thank Maman Maguy and Maman Angeline who have been assisting me for these long hours of training…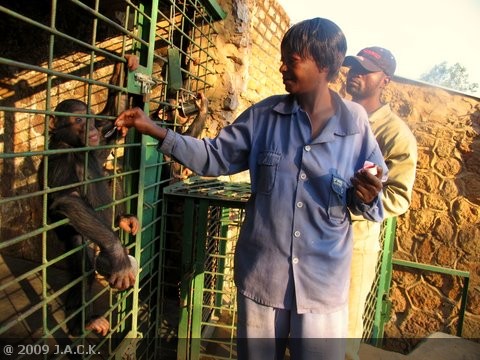 Maman Maguy and Papa Christian giving Doguy's treatment
Doguy's eyes have improved thanks to the medication received from the US and from Europe. One eye has cleared up nearly totaly but the right eye still has a slight white stain…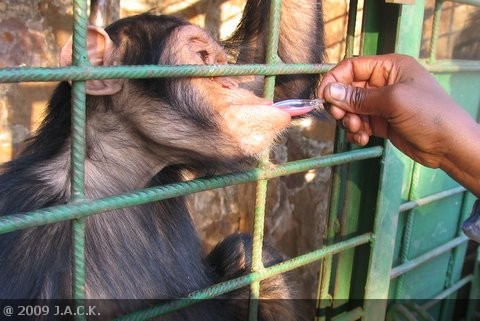 Treatment isn't finished yet and I'll keep you posted on the evolution of the treatment. But one thing is sure: JACK wouldn't have been able to get these results if people hadn't helped us that way.
Thanks again to all of you!
Encore un grand merci à tous!
Roxane