Remember, J.A.C.K. is committed to transfer around 20 primates rescued in LODJA by APPACOL-PRN, a Congolese NGO which raises awareness to the population about trafficking of bushmeat and endangered species by also providing alternative means to villagers/hunters.
Given the number of rescued primates to be brought back to J.A.C.K., the rescue  had to be done in two trips because it was impossible to take them all at once.
This is why, last June, and thanks to several of our partners, we were able to bring 10 young primates back to our Rehabilitation Center in Lubumbashi. All arrived safe and are recovering together from the trauma experienced before their confiscation.
As the second group is still in Lodja and other primate seized by the authorities have been added (including a seriously injured Lesula female), we are looking for the best and fastest solution to transfer them since some of them are fragile and vulnerable (dehydrated, emaciated, hurt) and they urgently need appropriate care!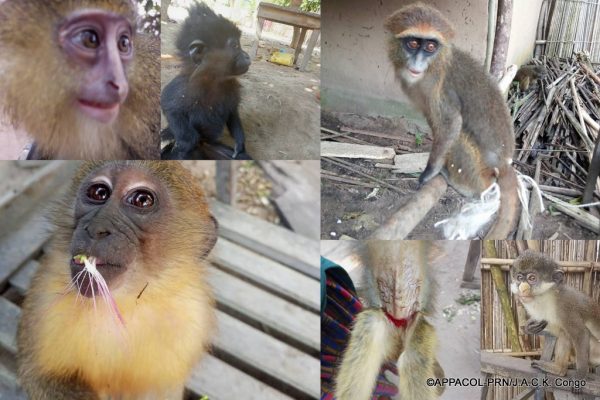 We hope to set up an imminent transfer to J.A.C.K. and will be sure to keep you aware. Remember that every bit counts and that these animals will need more food and veterinary care. If you wish to participate in this great challenge, you can join our fundraising.
We are extremely grateful to the precious partners who are always keen to help these victims of bushmeat trade:
Thanks also to Mr MPO Héritier, head of the NGO APPACOL-PRN who makes all these seizures with the authorities of Lodja/Sankuru and who takes care of all these orphans.