Dear Friends of JACK,
Great news for today! The two 5-to-6-year-old-chimps, Coco and Miwsho, that have been in quarantine for so many months, have finally been introduced into the main group!
Coco arrived in April 2008 and Mwisho was brought at JACK in December 2007. Both had undergone severe trauma while being detained by their owners and it therefore took quite some time before they recovered and got confidence again in themselves and in humans.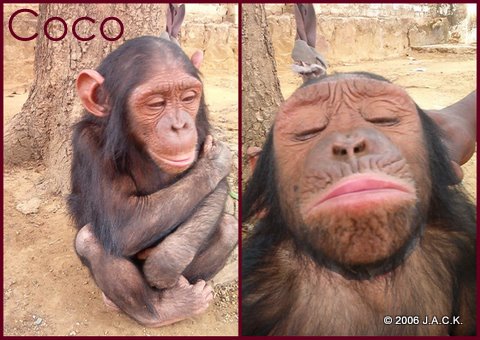 Why were they put together during their isolation period?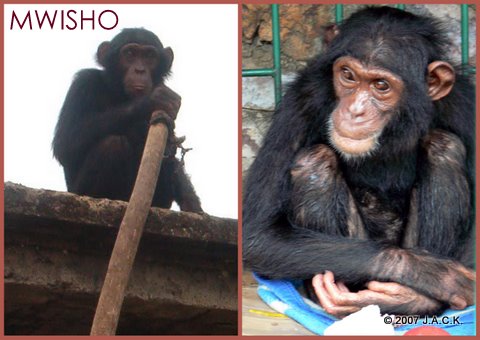 Coco did fine quite fast once handed over to the Refuge. But Mwisho was very wild and aggressive with the team. That's the reason why we introduced him to Coco. He for sure had anger towards humans but had none towards others of his own kind… Coco thus became Mwisho's first mate. And since Mwisho has had his friend, his anger and personality changed…
Last February, I showed the first footage of their presentation to Chita, the alpha male. Since this period, we have been working daily in order to make them be accepted by the remaining 15 members of the main group. This of course wasn't an easy task! Shasa and Wimbi were determined to boycott each attempt to put the newcomers into the group and sometimes it all ended up in a big quarrel and fight.
In May, things turned out to be very positive and all the group got on well with Coco and Mwisho. Then, it was high time the two new ones got used to the main enclosure. So, while the main group was already set inside the night facilities, Coco and Mwisho were allowed to discover the open air enclosure on their own.
These first visits of the enclosure were amazing moments: both chimpanzees hadn't seen the open air for so long and slightly crept out of their quarantine area to prospect the new place that was offered to them!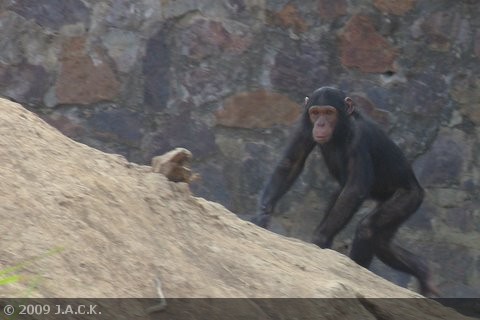 Mwisho coming out for the first time and (below) Mwisho lost, searching for Coco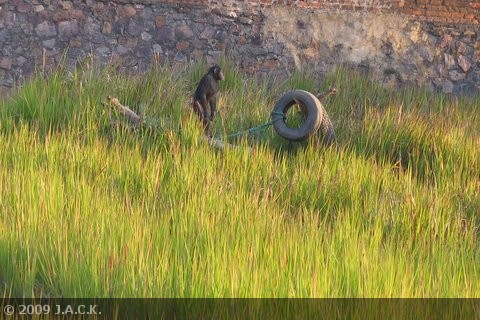 They ran, played hide and seek, got lost in the high grass…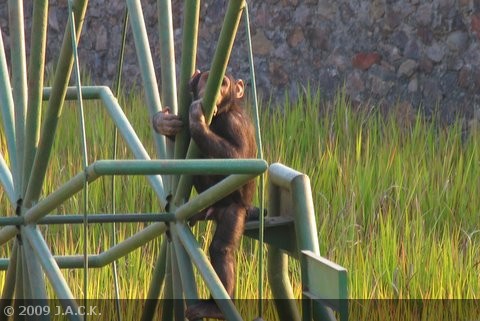 Coco discovering playground
I had tears in my eyes. I couldn't believe the moments Franck, the team and I were living: Coco and Mwisho in the main enclosure! My God! Was it a dream???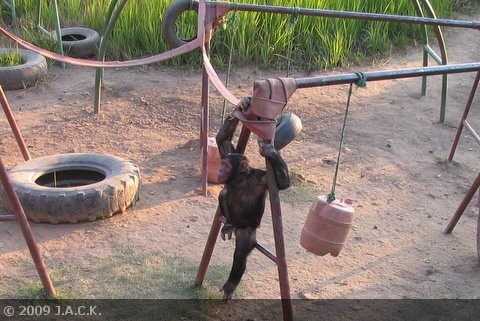 Coco seemed happy to be in the open air
Then, D-Day arrived! Thanks God, all went perfectly well! Franck was extremely nervous and observed the group all day long ready in case they would fight or in case one would try to escape! For more security, and with the agreement of the Lubumbashi Zoo Manager, the Refuge had been closed to any visitors.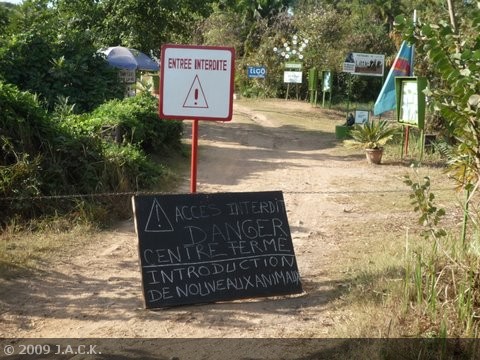 Mwisho spent his first day in the group, surrounded by the others. He had quite some fun and seemed to settle in very fast.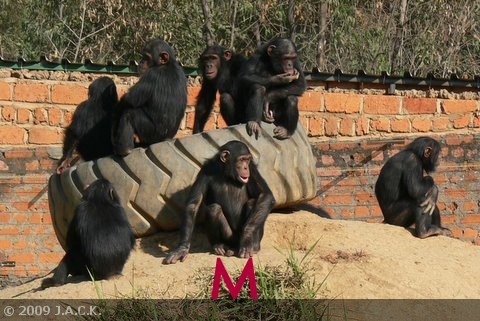 On the other hand, Coco had decided to observe the group from a short distance. He didn't want to mix with the others and chose one friend: Tongo, the youngest chimp who would not harm him.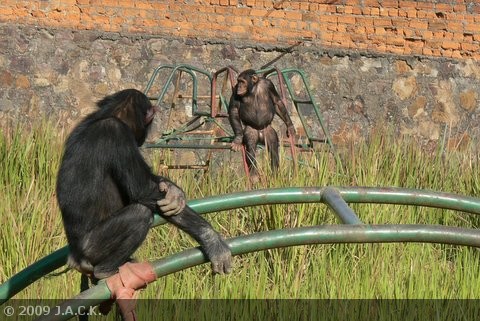 At the end of the first day, Mwisho entered the night facilities without hesitation. He wanted milk, food and a nest.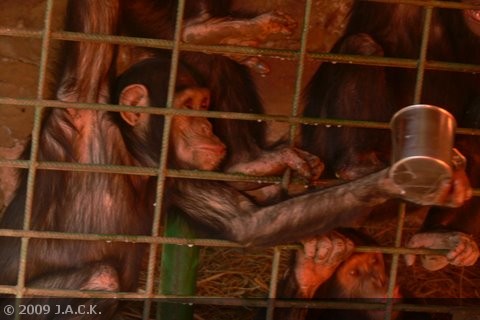 Coco had the opposite attitude. He refused to follow the group and waited for the quarantine gate to open in a bit to return to his quarantine enclosure. But we couldn't let him go back to that former place and Franck managed to get him in the night enclosure with the group.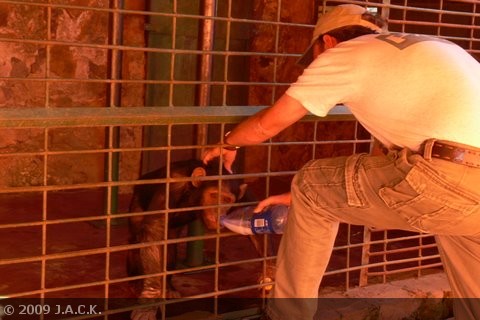 Today, both newcomers are used to the routine of Chita's group. Coco has now several friends and so does Mwisho. This is the result JACK has been waiting for for so long! And we are happy for them!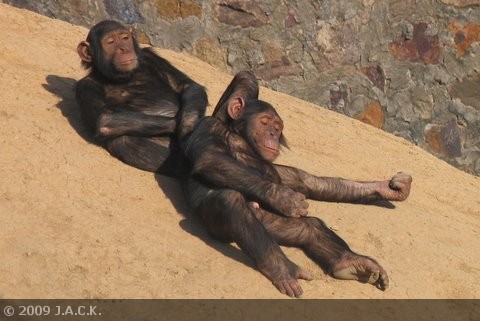 Roxane