The company BSI STEEL in the DRC deserves a big thank you from us. For over 12 years, this company has indeed supported us by offering discounts on our purchases of iron, wire mesh and construction materials such as metal sheets, angles, cutting discs, etc… Thanks to its generosity, J.A.C.K. has been able to build and maintain all the structures it needs to run our sanctuary efficiently.
As you know, our sanctuary is home to primates that have been rescued from a variety of difficult situations. These animals need a safe environment adapted to their specific needs. That's why all our internal facilities, such as night enclosures, platforms, feeders and drinkers, and all our external structures (enclosures, play areas and jungle gyms) are made in metal.
The choice of metal is explained by its resistance to the strength of chimpanzees. These animals are incredibly strong and can easily destroy more fragile materials of all kinds. Iron is therefore the ideal choice to guarantee the safety of the chimpanzees, while ensuring the durability of the structures.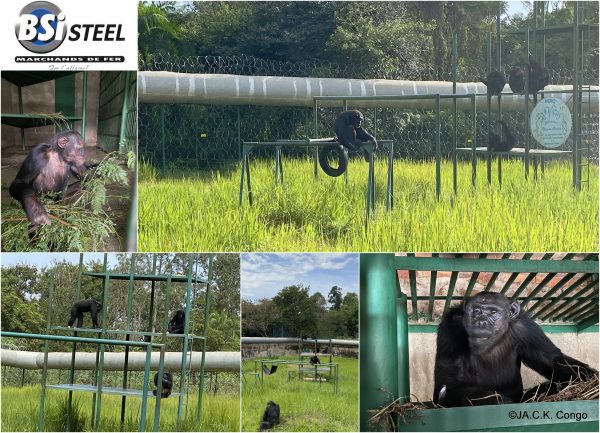 What's more, the region in which our sanctuary is located is infested by voracious termites, which cause rapid natural degradation of organic materials. By using metal for our constructions, we avoid this problem and extend the lifespan of our facilities.
Another advantage of metal is its ability to withstand the elements. By coating the iron with anti-rust paint, we can cope with the vagaries of the weather, from heavy rain to extreme heat. It also enables us to disinfect our structures daily with water and disinfectants, ensuring a clean and healthy environment for our chimpanzees and other primates.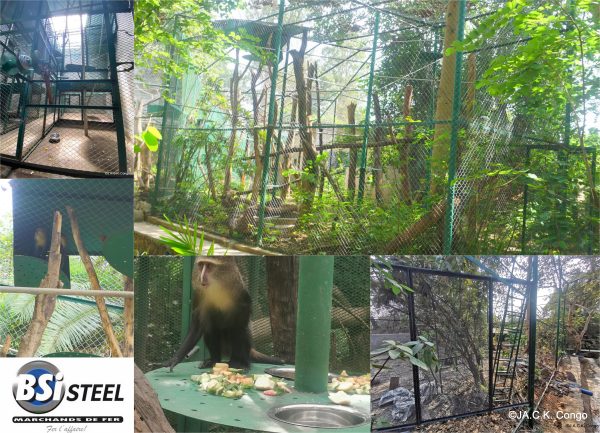 None of this would have been possible without the invaluable support of BSI STEEL.
We would therefore like to express our deep gratitude to BSI STEEL in DRC. Its ongoing support has had a significant impact on our sanctuary and on the well-being of the primates who reside at J.A.C.K.. Thanks to its interest, the sanctuary can continue its mission of protecting and preserving these extraordinary animals.
Thank you to BSI STEEL for your commitment to our cause and for your invaluable contribution to our sanctuary. We look forward to your continued support in the years to come.