A few months earlier we  started the works of building a Nursery for our baby chimpanzees. The massive arrival of great apes (5  in 7 months) made it difficult for the Founders of the sanctuary to accept new rescues because the facilities became insufficient.
A Nursery facility  was indeed necessary where the young chimpanzees could stay with their keepers during the rainy days and the cold weather.
Last July, the ANIMAL WELFARE INSTITUTE did not remain insensitive to our call and its amazing grant allowed us to continue building the so needed Nursery.
The Nursery Project consists of a brick and rubble stone building of 7m high, 10.15m long and 7.43m wide equipped with a double entrance door and large windows with mosquito nets to ventilate while protecting the babies from insects.
The building is divided into two internal metal cages. These contain metal platforms, access doors and a plumbing system has been installed to permanently provide drinking water via pig nipples.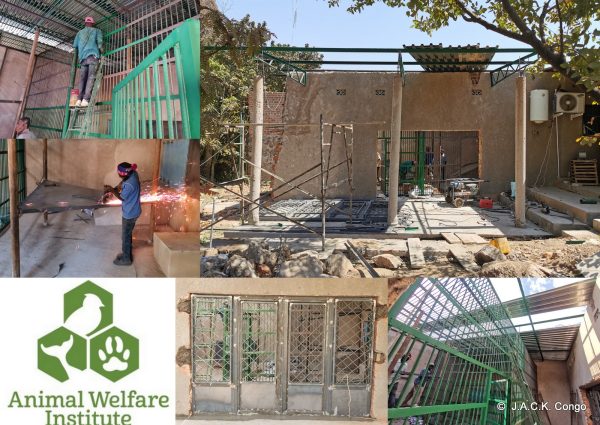 Last August, the building was inaugurated by the 5 baby chimpanzees: Founder Franck introduced Monga, Cesar, Hussein, Banda and Bunia to their new facility. We were all happy to see them discovering their new territory.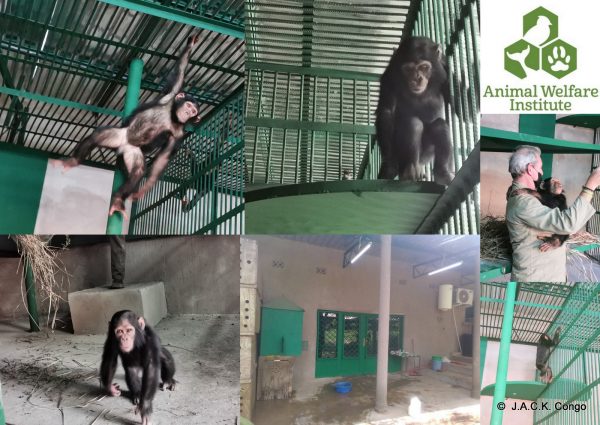 The babies have been using their new Nursery. Unfortunately, today, since 3 out of the 5 orphans were  abducted last September, only Banda and Bunia do enjoy staying there. We really hope and pray the 3 kidnapped babies will come back at J.A.C.K. and that they will spend hours playing and laughing again with their friends.
The Rehabilitation Center (J.A.C.K.), its team and its residents are grateful to ANIMAL WELFARE INSTITUTE for its generosity and interest in its work.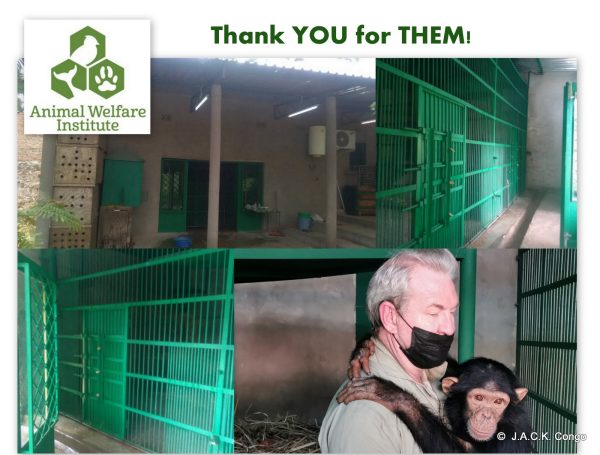 PLEASE, DO KEEP MONGA, HUSSEIN AND CESAR IN YOUR THOUGHTS AND PRAYERS. THEY MUST NOT BE FORGOTTEN!