Dear All,
Early this morning Faustin took the plane back to Goma. Remember, Papa Faustin arrived at JACK with  3 young chimps last March and he had come to help them settle in at our J.A.C.K. sanctuary.
[kml_flashembed movie="http://www.youtube.com/v/nGCUcfGzwPg" width="425" height="350" wmode="transparent" /]
Faustin was very sad to leave these 3 babies  but told me yesterday he was glad he had come and that Padda, Bihati and Athanga had found a safe place to stay…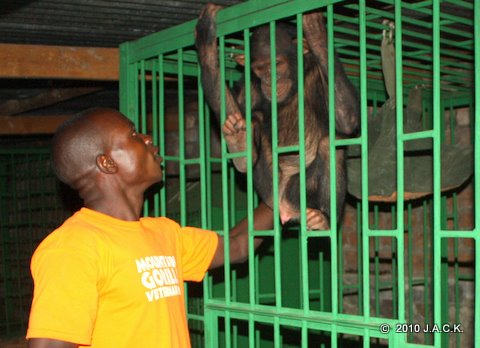 Thank You Faustin for these long hours of work. Thank Your for your help and devotion: we all are grateful for all the love and care you gave these 3 chimps! Merci de tout coeur Faustin pour ton aide, ta patience et surtout pour ton affection pour ces nobles créatures. Tu as fait du bon travail! On espère te revoir bientôt!
J.A.C.K.