Dear All,
Chers Tous,
J.A.C.K. is a young sanctuary located Southern DRC and was established to give state confiscated chimpanzees a safe place to stay. Today, 33 young chimps aged 1 1/2 to 7 years old are being looked after by J.A.C.K. as well as 5 bush babies.
J.A.C.K. est un jeune sanctuaire créé dans le Sud de la RDC en vue de donner un lieu sûr aux chimpanzés confisqués par les autorités du pays. Aujourd'hui, 33 jeunes chimpanzés âgés de 1an 1/2 à 7 ans ainsi que 5 galagos y sont encadrés au quotidien.
Your aid is more than ever appreciated as our aim is to bring these wonderful creatures back into the wild. We need your help to build them a secure place in the forest and we need your help to continue our work.
Votre participation est plus qu'appréciée puisque notre objectif est de remettre ces magnifiques créatures dans leur milieu naturel. Nous avons besoin de votre aide pour leur créer un lieu sécurisé dans la forêt et nous avons besoin de votre soutien pour continuer notre travail.
A fundraising event is organised in France on the 4th of July. Should you be near the city of LYON and in case you might be able to pop up, know that Franck,  manager of J.A.C.K., as well as Little Jak Association will cheerily welcome you. The event takes place at the Espace Zoologique of Saint-Martin-la-Plaine known for its manager, Mr Pierre THIVILLON, but also known  for its gorillas.
Une journée spéciale de collecte de fonds est organisée en France le dimanche 4 juillet. Si vous êtes proche de LYON et si vous avez la possibilité d'y faire un saut, sachez que Franck, président de J.A.C.K., ainsi que l'Association Little Jak  se feront un plaisir de vous accueillir. L'événement aura lieu au Parc de St Martin-la-Plaine connu pour ses gorilles mais aussi pour son directeur Monsieur Pierre THIVILLON.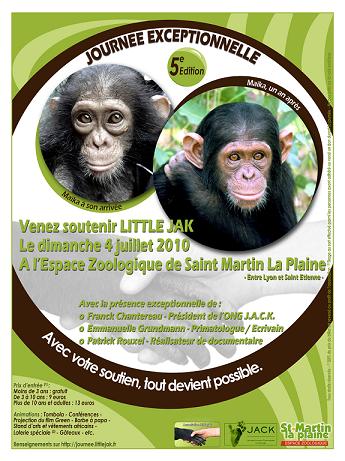 In case you can't attend this annual event, your participation is always welcome. Any donation can be sent via our wildlife direct « donate »  button run by our dear friend, Theresa.
S'il vous est impossible de participer à l'occasion, sachez que votre soutien financier est toujours bienvenue et que vous pouvez faire un don soit sur le site www.littlejak.fr soit en haut à droite de ce blog.
Thank you for what you can do. Any support goes straight to these orphans of the J.A.C.K. sanctuary which  is striving every day to give them the BEST!
Merci pour ce que vous pouvez faire. Tout don est consacré essentiellement au bien être des orphelins encadrés par J.A.C.K. qui se bat au quotidien pour leur donner le MEILLEUR !
Thank You! Merci!
J.A.C.K.