Aren't bonobos meant to be found in the central basin of the DRC? somewhere not far from the Congo River?
Well, yes, this is theory. But actually, bonobos unlike so many other Great Apes (chimpanzees, gorillas) are now on sale on several local markets throughout the country because of bushmeat and because of pet trade demand…
End of May, our friend and J.A.C.K. volunteer, Sue, contacted us saying there was a bonobo in Lubumbashi. The bonobo had been bought recently and was kept by a high ranking authority starting its own wildlife and ecotouristic centre/farm about 1 hour driving from the city of Lubumbashi.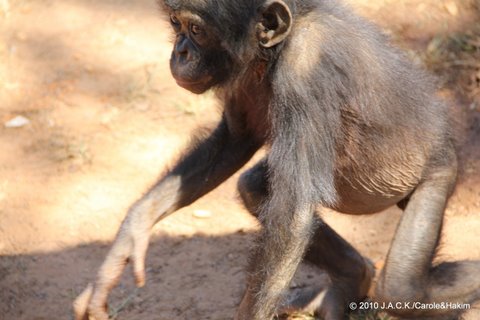 Franck decided to visit the place and why not try to  meet this very important DRC person? A bonobo in Lubumbashi, Katanga, this was complete nonsense!
While being on the farm, the bonobo was running around. Thin, with hardly no hair and a big belly, the young animal seemed fine but missing so much warmth and appropriate care.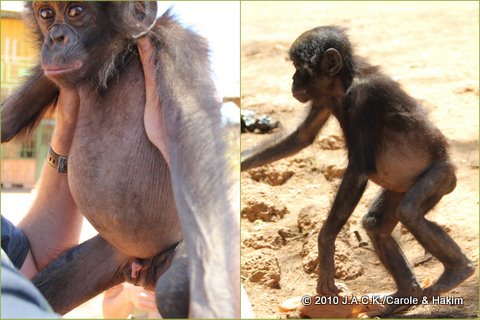 Franck talked to the manager saying that the bonobo was going to die if it wasn't in good hands and sent to Lola ya Bonobo in Kinshasa…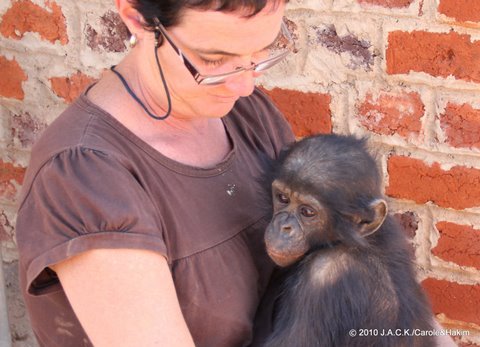 Talks lasted quite long. At the end of the day, Franck drove back to Lubumbashi with the bonobo in the car. Sue and her friend Sherryl working on that farm  had managed to talk to this authority and it seemed fine to put the bonobo in a place where it would have all the love and care.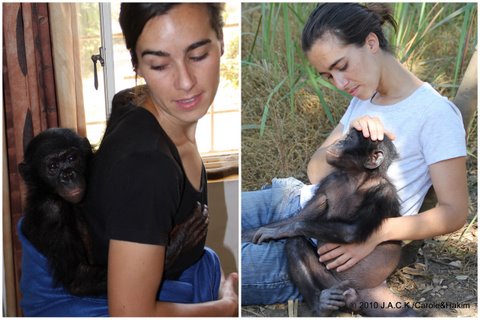 Unfortunately, we couldn't put the bonobo in our chimpanzee quarantine area. Because the little male needed a lot of attention, it was decided to keep him at home with Carole, member of our French J.A.C.K. team and coming to help at J.A.C.K. for a few weeks. Carole created  an impressive bound between her and the young bonobo. In a few hours time, she had become his new mum and they got on extremely well together.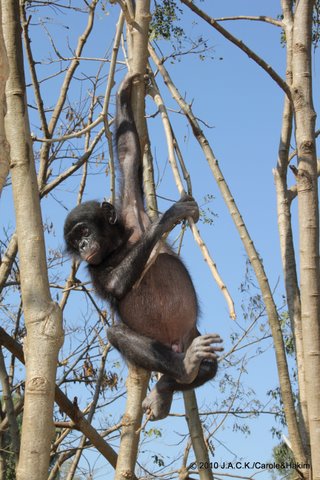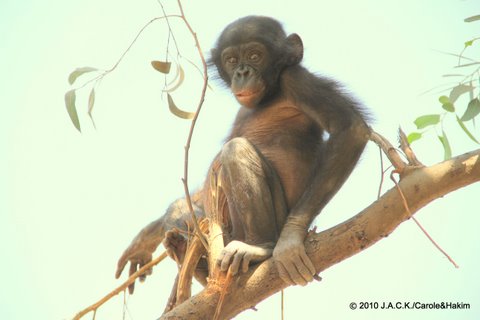 Meanwhile, although Franck never met the authority, he was told this latter had agreed to hand over the bonobo to  the DRC Environment authorities  and that confiscation papers have been delivered by the Ministry of Environment. Thank you, Sir, for having handed over the bonobo and for trusting J.A.C.K. Merci pour votre geste, Monsieur, et pour avoir fait confiance à J.A.C.K.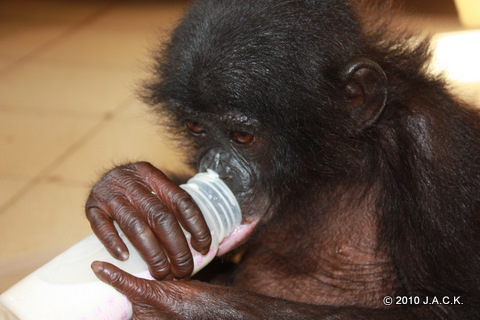 Also, something had to be done as it was clear this little « Bobo » or « Chibo » couldn't stay with us  in Lubumbashi. Franck contacted Claudine and her team of Lola and now a plan is being set up to fly the young bonobo to Lola ya Bonobo (Kinshasa)  where he will be among others of his own kind.
Carole has gone back to France and it is now Papa Augustin who is taking good care of the baby.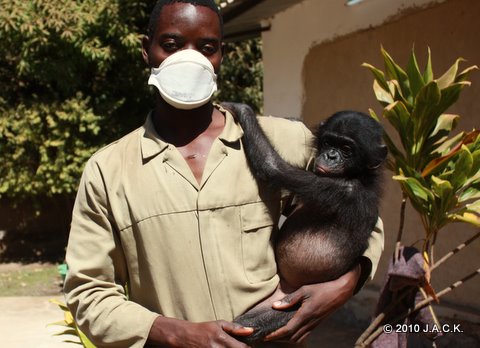 Once called 'Bobo' (on the farm), then 'Chibo' (at J.A.C.K.), this little one will have a new name upon arrival at Lola. Our little friend is ready to fly, has gained in weight and  strength. The flight will be in the coming days. I am very excited and extremely fortunate as I am the one who will fly with the little boy   in order to  introduce him to his new life.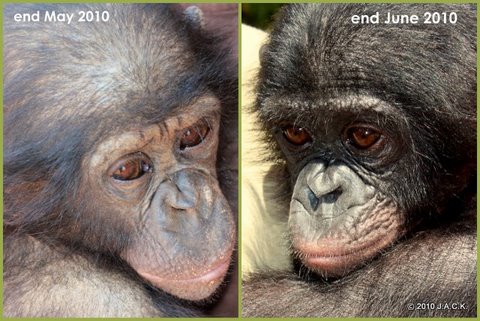 I'll come back soon with the end of this long story and with lots of pictures,
Thank you for following us,
J.A.C.K.