Sorry, Friends of JACK, the month of May has been so busy with everlasting power cuts that I haven't been able to update the blog.
Today I wish to introduce our keepers. I know you have met some of them already while reading our blog but this time you'll learn more about them.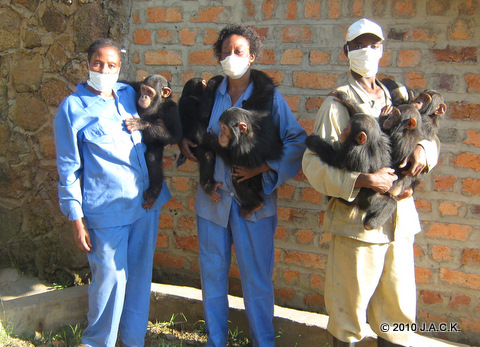 from left to right: Maman Astrid, Maman Maguy and Papa Augustin
1- Maman Angeline started working at JACK just after the fire in September 2006: 3 babies survived and needed more than ever love and care. Being a biologist, Angeline has always been interested in wildlife and when her sister, a friend of mine, told her about what happened to us, she decided to come and to apply for the job. Maman Angeline has worked with us since the early beginning and is today in charge of the quarantine area and helps in the kitchen.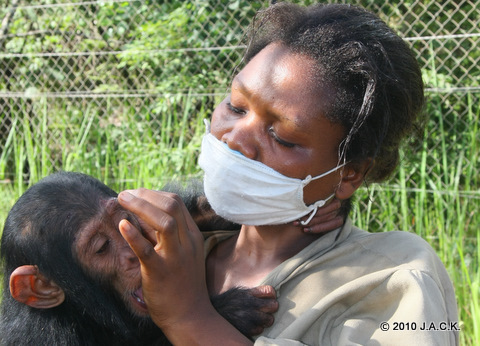 Maman Angeline with baby ROSIE
2- Maman Maguy worked with chimpanzees when she was a child. Yes, her father actually had chimps at home and Maguy took good care of them, played with them and fed them. This experience makes her feel extremely confident with the chimpanzees of our sanctuary and in addition to being a keeper, Maman Maguy is in charge of the kitchen. She prepares food every day for each orphan of the refuge and is usually assisted by Maman Angeline for the cooking. Maman Maguy started working at JACK in October 2007.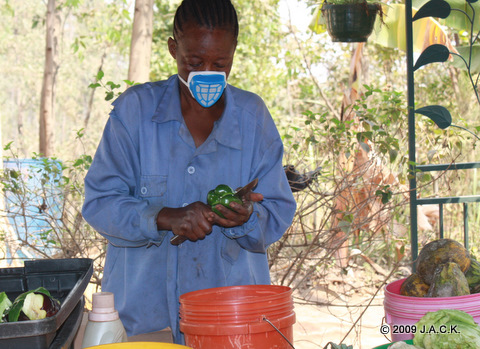 Maman Maguy preparing food
3 – Papa Augustin is in charge of our infant group. He is an electrician and started at J.A.C.K. in 2008. Father of now 8 children, he knows what it is to look after babies/young ones and his natural nursing instinct has always impressed me! All the little chimps of the group do love him. He's is patient, full of attention and love.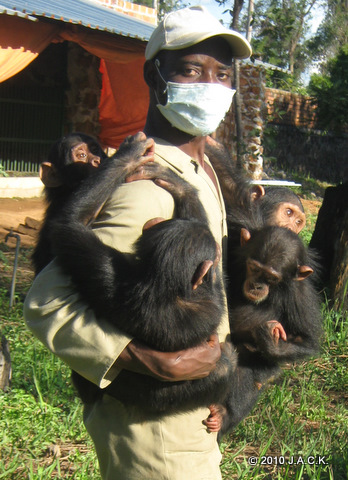 Papa Augustin with the Pundus, Santa & Kimo
4 – Maman Astrid is the newest keeper who arrived last February. Maman Angeline was  on maternity leave and we needed someone to help.  That's how Maman Maguy introduced us to her friend, Astrid, loving wildlife and ready to assist us in our everyday tasks at JACK. Today, Angeline is back but Astrid is staying with us as she wishes to continue working with the chimps.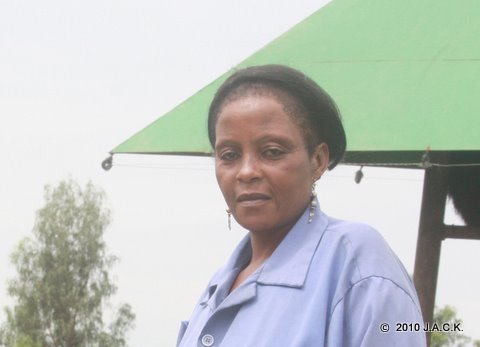 MERCI A VOUS,  CHERS SOIGNEURS DE J.A.C.K. VOTRE DEVOUEMENT ET VOTRE PASSION POUR CES MAGNIFIQUES CREATURES FONT QUE NOTRE PROJET EST FORT ET SOLIDE. NOUS VOUS SOMMES RECONNAISSANTS POUR TOUT CE QUE VOUS FAITES AU PROJET.
 THANK  YOU !!!  
J.A.C.K.