Hello Everyone,
Let's talk about Elia, this young female chimpanzee which had been detained in a horrible bird cage and was rescued by J.A.C.K.  in October 2009.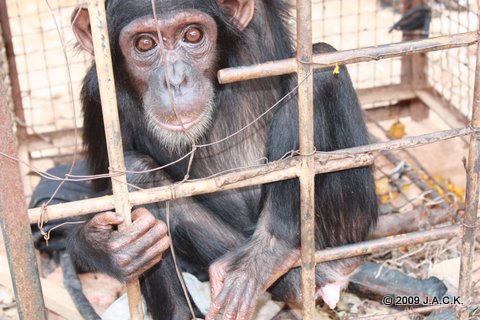 Since her arrival at J.A.C.K. we have been quite preoccupied with this orphan.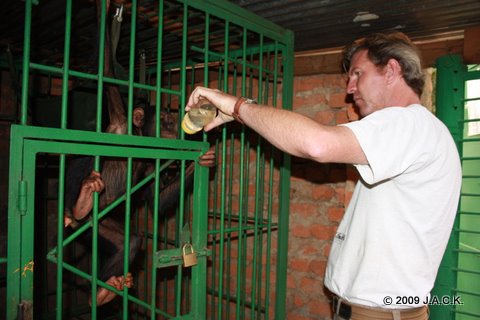 Aged of about 4 years old, when arriving at our sanctuary, the young female lost most of her teeth because of the food she had had. She had been fed on peanuts and water only and while tasting/eating apples or cabbage for instance her teeth simply dropped off or remained stuck into the apple/cabbage.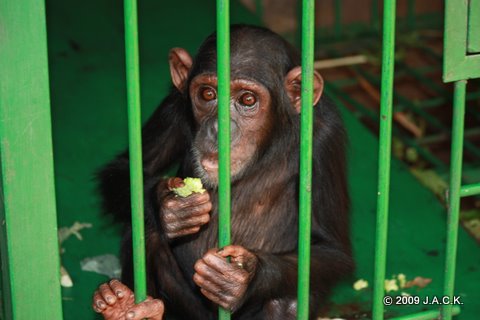 Elia is thin, healthy and strong physically. But her mental health somehow worried us. At the beginning, she was alone. Then, she stayed with JOMA, the chimp that arrived shortly after her. She showed signs of stress and sat the all day in her nest even during feeding time. Not that JOMA was (too) naughty, but she seemed to be scared of something.[kml_flashembed movie="http://www.youtube.com/v/tEuRV3Mh190" width="425" height="350" wmode="transparent" /]
Things started to be better when I realised she needed something of her own. Elia actually kept her pooh collected in the upper side of her leg and the day she stole a milk bottle to keep it close to her – just the way a child can hold a teddy bear – I simply let her do the way she wanted: the milk bottle literally  replaced the pooh!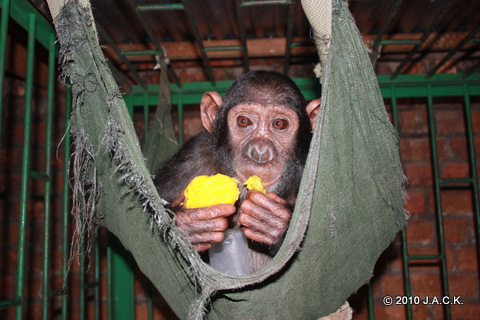 Elia had never had company before nor any possessions. The cage she had been in  had been extremely small and located on an abandoned back yard… Hardly no one came to see her…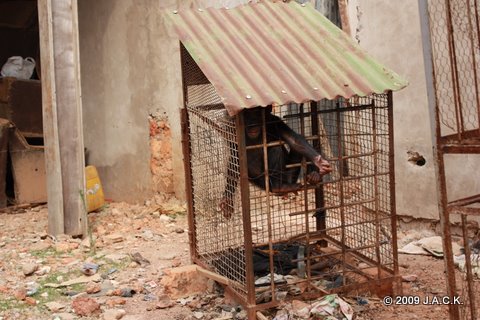 Then other chimps arrived and Elia and JOMA were introduced to them. They all were removed to a bigger enclosure and Elia's behaviour changed again. She decided not to be part of the group, started rocking movements and shut herself completely from the others. I thought Elia had developped an autistic attitude…[kml_flashembed movie="http://www.youtube.com/v/Fg9nnTmxjko" width="425" height="350" wmode="transparent" /]
After having talked and worked with a friend working on Evolutionary Psychology, we decided Elia would not  be introduced into the main group: the others would hardly  accept her differences, would maybe slam her at any time and would reject her maybe. Therefore, the young female has been presented to the infant group several times already as we believe little ones will stimulate her more than elder/stronger ones. Elia has a great heart. She has lots of love to share but can't do it with chimpanzees of her age who frighten her. Only little ones will give her the self confidence she has lost by being stranded in that dreadful place she was when JACK found her.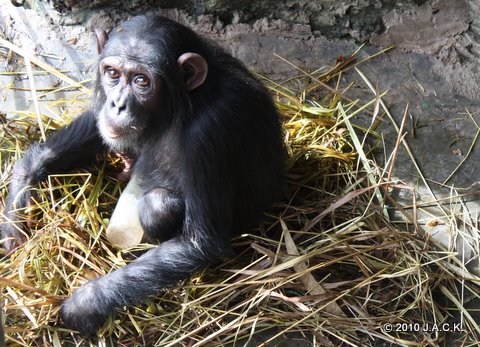 Elia will be transferred very soon into the infant enclosure and I'll therefore keep you posted on her progress. I'm sure everything will be alright and that Elia will progress very fast! I trust her the way she trusts me!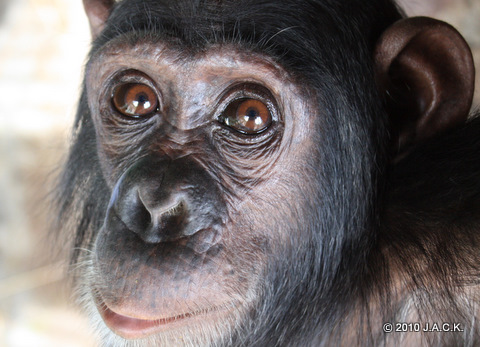 Thank You
J.A.C.K.