Dear All,
A new chapter today related to the two founders of the JACK Sanctuary: Franck & Roxane.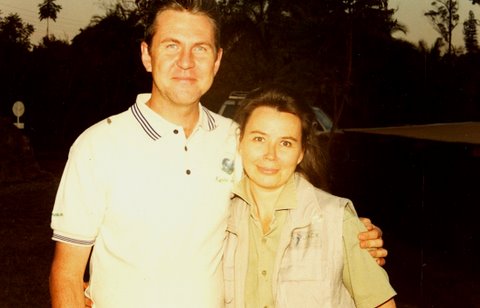 Aged of  5, Franck was already  dreaming of Gorillas, Chimpanzees, Orang-Utans and spent all his childhood in books on wildlife, Africa, Asia…
Born in France, he mostly lived in Spain (Madrid) where he started  vet studies. But because  his family moved to Belgium, Franck  didn't have the opportunity to continue his veterinary training  (Belgium didn't recognize the Spanish diploma) and therefore studied Business Management.  
Since the early beginning, Franck knew he would work for the  survival of Great Apes and when he met Roxane, it was a sign one of his dreams was going to be fulfilled….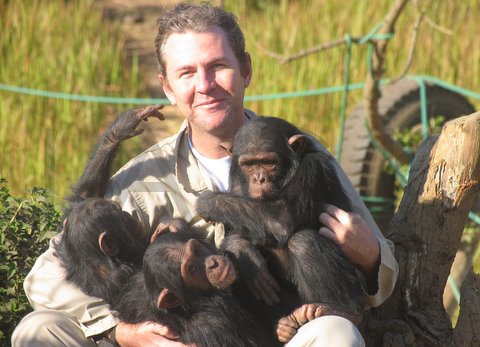 Yes, Roxane was born in « Zaïre » (now called DRC). Her family had moved from Europe  to the Congo after World War II following the steps of a great-great-uncle who had settled in the former Belgian colony as a missionary at the end of  the 1890's.
Belgian, Roxane left Africa for some time to study in Brussels. She studied French, Dutch, English, German, Spanish, Russian and in addition started Hotel Management. But life in Europe wasn't easy especially for someone who had lived in Africa before…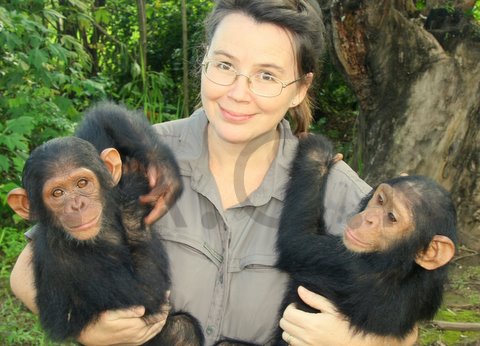 When Roxane met Franck, they both decided to go to the DRC. They had job opportunities in the companies owned by Roxane's  family and that's how their dream of going to live in Africa came true 16 years ago…
Some of you already know the rest of the story as seeing chimpanzees for sale on the streets  of Lubumbashi intensified Franck's determination to stop this horrible  trade. Expats  were buying young apes (pets) while so many other baby chimpanzees transited through Lubumbashi before crossing the border to Zambia, South Africa…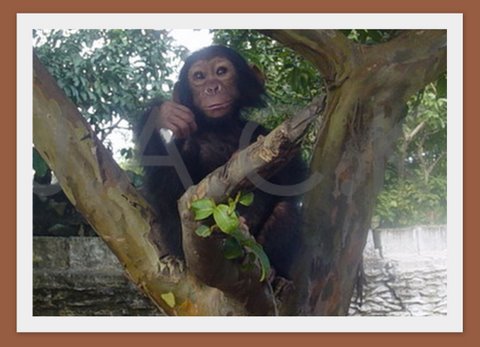 On April 6th 2006, baby JAK entered the lives of these two wildlife lovers and the assassination of this same baby made the decision of protecting Great Apes (especially common chimpanzees) in the DRC even more  stronger.  Baby JAK hadn't died in vain: his short stay with Franck & Roxane had increased their passion for these endangered creatures as well as their willingness to fight for their survival. It is with this love and rage that both Roxane & Franck managed to cope with the sad departures  of  babies JAK & TOUZO.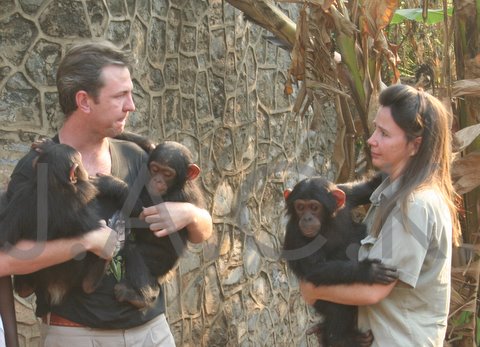 Today, 4 years later, Franck is the president of the J.A.C.K. sanctuary and is in charge of the financial department, the improvements of the complex (constructions), works with the authorities, medias, etc.  Roxane is the secretary and deals with the personnel, supplying/stocks, the vet department, education, … Both are volunteers. Any donation, sponsorship goes straight into the project, the founders do not draw any money and have to work full time to provide their own family a decent living …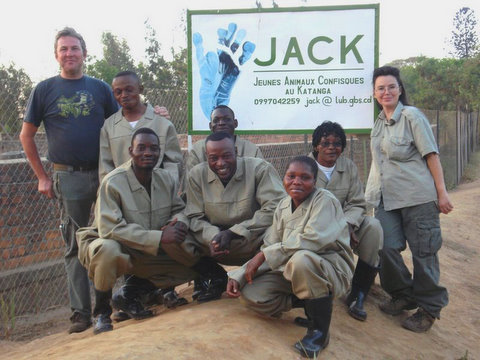 Running a sanctuary is a huge responsibility and represents lots and lots of sacrifices and risks. Thanks to their passion  and thanks to their strong team work, Franck & Roxane have been able to give these orphans the best and are already working on the future. Yes, because there must be an « after Franck & Roxane »…
J.A.C.K.