Hi every one
You know about Mwisho, the young chimp who now runs the group as a 'dominant' male.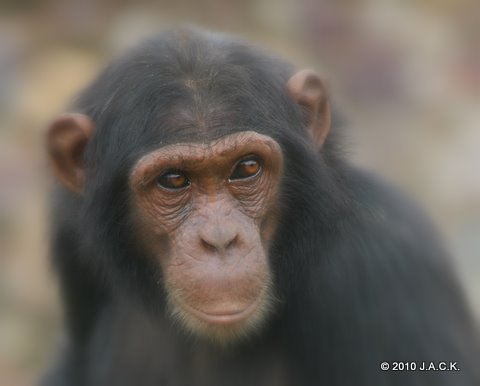 It isn't an easy task to him: unlike all his friends of the group, he has been taken away very early from his family, he hasn't experienced much authority of his family group  and therefore doesn't really know how to guide the group in the best way. He's around 7 to 8 years old. He's is the oldest.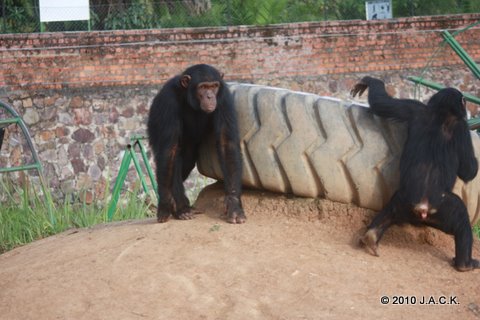 But some days can be very very tough for the members of Mwisho's group. Mwisho can wake up a morning in an extremely bad mood and attack any member (except baby Tongo!)
[kml_flashembed movie="http://www.youtube.com/v/LrpxAxwlYy8" width="425" height="350" wmode="transparent" /] On the footage, Mwisho is chasing JAC and then recognises baby Tongo arriving and slams gently the baby's back...
Some days ago, young female Zambadidn't pay much attention and was on Mwisho's path. He was so angry he attacked Zamba and bit her left foot ripping off the skin of one of her toes.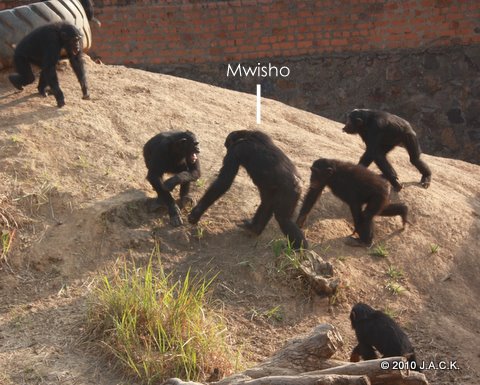 The young female ran away from him, licking up the wound that was bleeding so hard.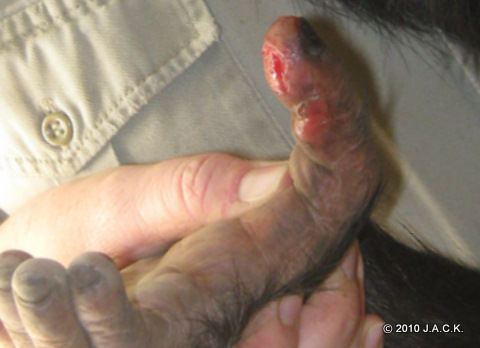 We have decided to separate Zamba for a short while as to provide her the medical assistance.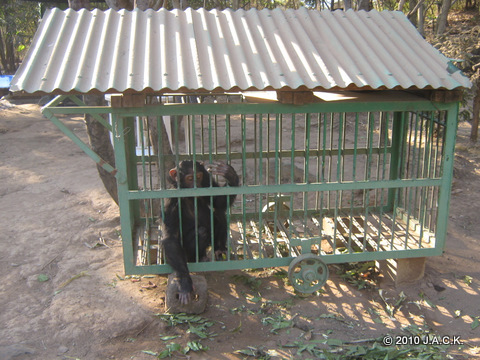 She isn't very happy to be alone – nor is Doguywho now has to face life alone without Zamba guiding and protecting him….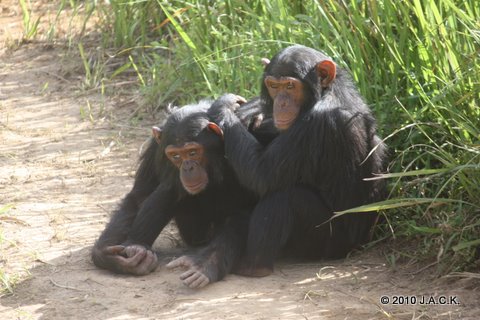 But Zamba won't be separated for too long. The wound isn't deep but need to be cleaned and treated regularly to prevent infection.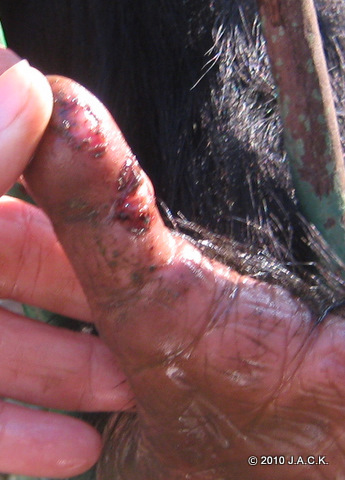 Mwisho is so rude. He had a horrible past (trained as a watch dog to keep the prostitutes inside the brothel where he was kept) and is now using his canines to reign upon the group. The solution to calm him down would be to put an adult chimpanzee (male or female) into the group. But our facilities aren't built for adult chimps yet… However, one thing is sure, since the day he arrived, Mwisho has progressed a lot and has become less aggressive. I am convinced baby Tongo has socialised Mwisho a lot!
Thank you for reading us,
J.A.C.K.