Dear All,
Doguy is a little chimpanzee friend you have already read about and who had awful eye problems. Yes, remember, his eyes had keratitis and we received appropriated medication via Tristan but also via the Pan African Sanctuary Alliance (PASA).
One eye was cured. Not completely, but at least was saved due to these different treatments.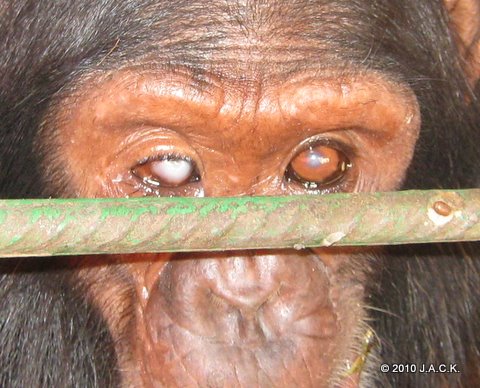 Today, the right eye is still very sick. We do our best to get rid of that fungus located underneath the cornea, but it isn't easy. The best way would be to get a sample of the fungus so as to know exactly what treatment to provide.
Unfortunately, this kind of intervention needs qualified people and we haven't found any in Lubumbashi.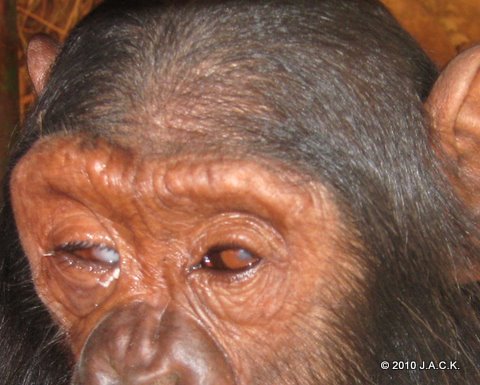 Because of the dusty dry season, Doguy's eyes are crying a lot. He therefore must have his best friend Zamba to walk with him and to guide him.[kml_flashembed movie="http://www.youtube.com/v/phbapXVb4MQ" width="425" height="350" wmode="transparent" /]
Zamba has been with Doguy since their quarantine period.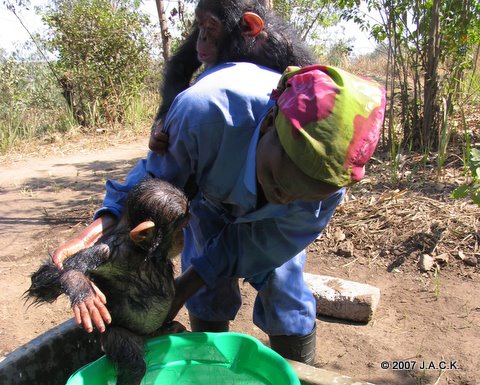 They both arrived at the same time (April and May 2007) and they are very close friends. The young female, Zamba,  is extremely patient with Doguy and protects him a lot!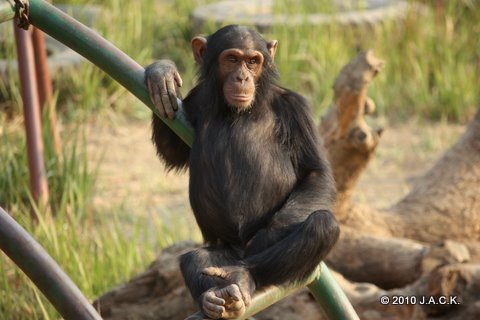 Thank you Zamba for helping Doguy so much! We are so proud of you! And don't worry Doguy, we still do our best to help you…
J.A.C.K.