A few months earlier and thanks to the immense support of amazing donors and partners, 23 primates were transferred to J.A.C.K. from Lodja, a small town in the center of DR Congo.
This time, 20 primates of 5 different species have been in great need of transfer from Lodja to our Rehabilitation Center.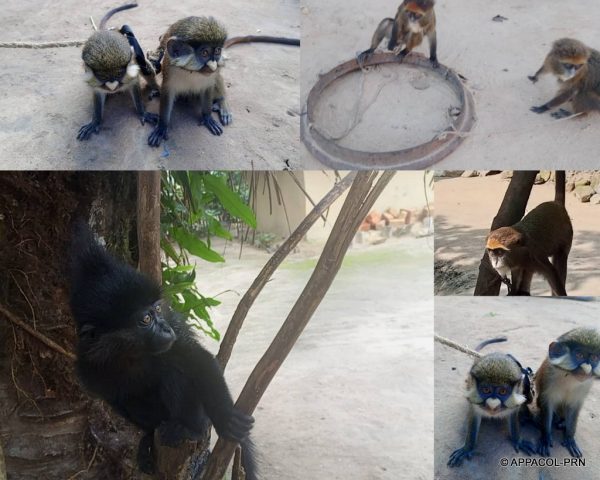 Our partner, the Congolese NGO named APPACOL-PRN, is doing a huge job in spreading awareness on endangered species/zoonosis,  confiscating and rescuing primates all over the Sankuru Province – all the rescued individuals are driven to the headquarers of the NGO in  Lodja where they all get food and veterinary care.
Sadly, these rescues are filled with obstacles. Most of you know that you do not always make friends when you want the law to be implemented. A few months ago, the headquarters of APPACOL-PRN were set on fire and people have recently tried to enter the property at night to steal the confiscated monkeys. This is why the transfer had become more than urgent – these rescued primates need TLC at the soonest as well as appropriate vet care and accomodation.
Transfer of the primates is ongoing on this March the 7th, 2023
Our team is on its way to J.A.C.K. with the rescued monkeys saved from a brutal life. Two monkeys died since they were badly traumatized and hurt. Some are very fragile mentally and physically and demand help.Urgent donations are needed to complete this mission. We require transfer fees which include transport, airport taxes, and also food before-during and after the trip as well as medical care. To give you an idea of some costs:
1 crate of oranges costs $30
2 boxes of second stage milk , $40
vet care 20 monkeys (vitamins, deworming drugs), $100
transfer by air (private plane) and taxes airport, $200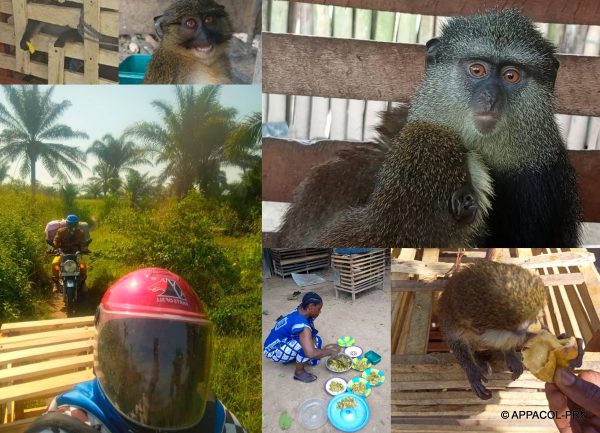 Our French Charity « LES AMIS DE JACK » has just launched an appeal on the Internet to collect funds for this very important event. You can donate
via our French link ( here )
or via SAFE WORLDWIDE , a US registered orgaization which allows tax deduction. Every single donation sent onto the J.A.C.K. DONATION PAGE (click here) will be wired to us in the DR Congo to achieve this first rescue of year 202.
Please, rush a donation to help end their suffering! 
Save lives.
Thank you for THEM