Hi Everyone,
Too many things are taking place. Time is scarce and passing by so fast I hardly find the opportunity to sit behind the computer to give any minute detail of what is going on…
CHI-CHI's is a chain of restaurants and bars located mainly in Belgium, Luxemburg and you can also find them in The United Arab Emirates, Kuwait and Indonesia… They offer delicious Tex Mex cuisine and have a great variety of dishes on their menu.
Wishing to be part of the Great Apes survival,  CHI-CHI's Belgium decided to join our Cause. Therefore, and thanks to the insistence of Mr Francis Leroy (CEO at Chi-Chi's Europe) and also thanks to the kind participation of Mr Cyrille Chantereau (Manager of CHI-CHI's Waterloo) and the CHI-CHI's team, posters were designed and hung  in the different Belgian CHI-CHI's restaurants.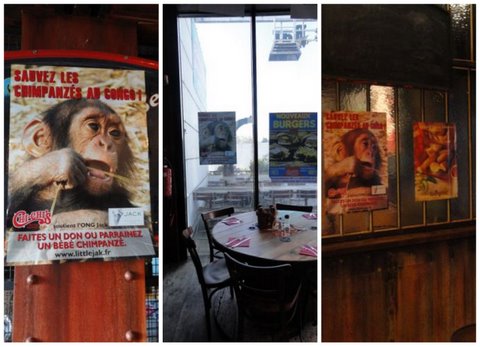 It is actually our deceased baby JAK who has been chosen to spread CHI-CHI's conservation message in both French and Dutch: « Sauvez les Chimpanzés au Congo! / Redt de Chimpanzees in Congo! » (=Save the chimpanzees in the Congo!).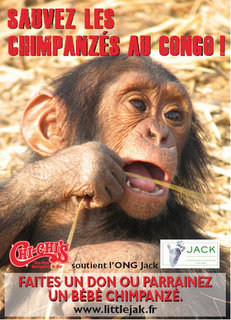 In addition to this, CHI-CHI's  Belgium has also adopted 2 chimpanzees of our infant group,  Santa and Maïka, via our Little Jak adoption programme and J.A.C.K. is extremely grateful for CHI-CHI's help and contribution.  CHI-CHI's Tex Mex bars and restaurants have now their place at J.A.C.K. !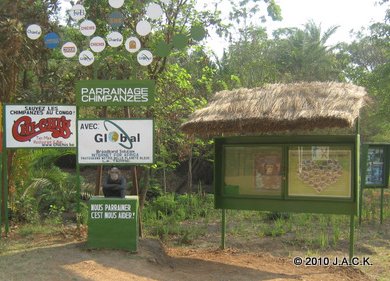 Thank You Mr. Francis, Cyrille and the CHI-CHI's team for your interest and your will to give this endangered  species a chance to survive!
Merci Mr Francis, Cyrille et toute l'équipe du CHI-CHI's pour votre intérêt et pour votre volonté de donner une chance de survie à cette espèce menacée!
Roxane & Franck/J.A.C.K